Gangsters try to steal Robert Ryan's boxing future.

In film noir there are procedural cop movies. The Set-Up is a procedural boxing movie. It tries to take viewers behind the scenes of the violence, bloodlust, and money to focus on the nuts and bolts of the fight game. Starring Robert Ryan as an aging heavyweight and Audrey Totter as his fretful girlfriend, most of the first half of the film takes place in a claustrophobic locker room as boxer after boxer goes out for subsequent bouts of a six card program like gladiators in Rome's Coliseum. Ryan is the main event, and when his name is called the action shifts to the ring for his fight, which is shown in something close to real time.

Ryan is hoping a win over an up and coming young fighter will earn him one last shot at fortune and glory, but he has no idea the fix is in. Somebody should have told him, because if he wins the bout he'll be in heaps of trouble. This is a good flick. It was helmed by Robert Wise, has some fantastic directorial extravagances, and looks spectacular in general, like the gritty documentary photos of Arthur Weegee Fellig, which is no small feat for a film shot entirely on an RKO backlot (Weegee, incidentally, has a cameo as a timekeeper). In the realm of boxing movies The Set-Up stands toe to toe with most. It premiered in the U.S. today in 1949.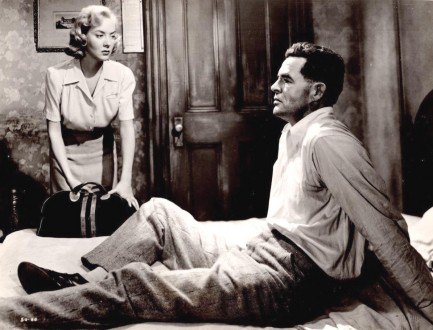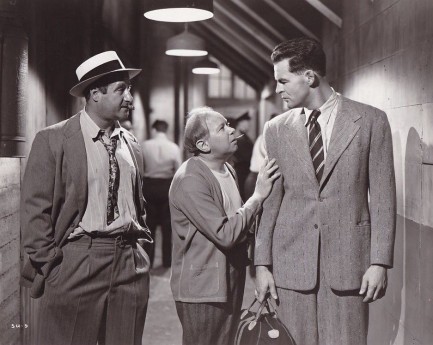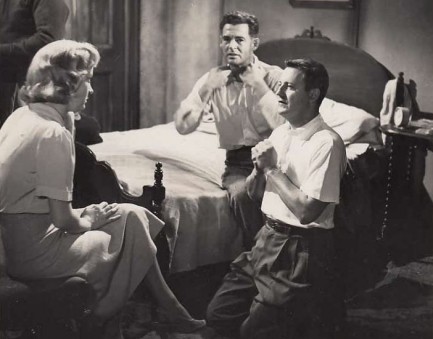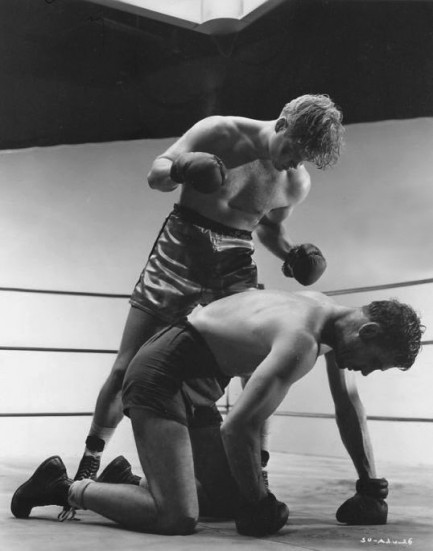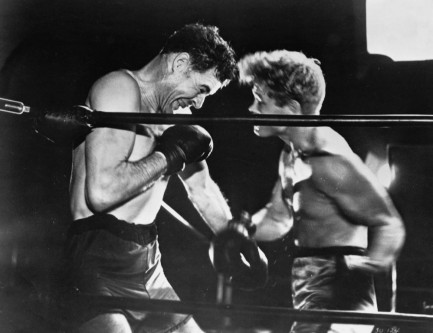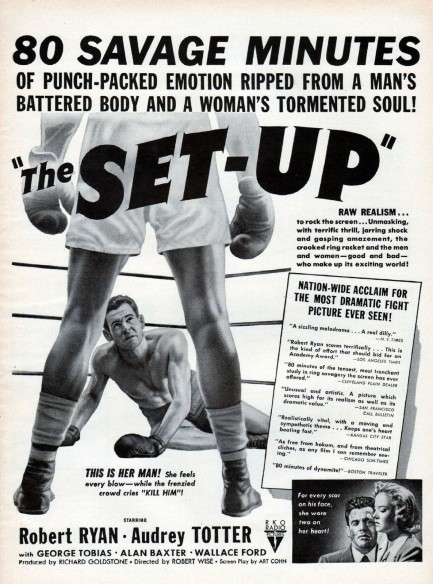 ---
"This place is amazing. Nice bay windows, original wood floors—" Booooo.... get ooout! "Too bad we can't stay."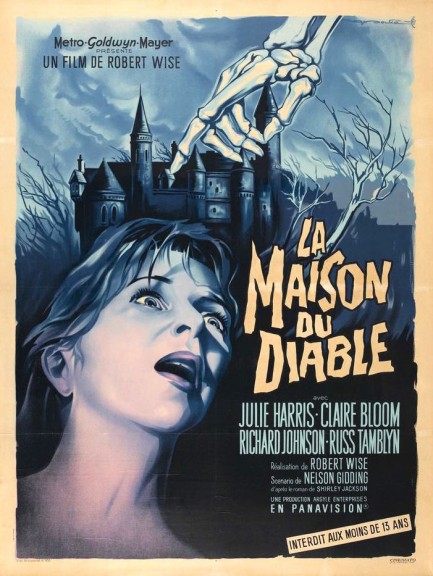 French illustrator Roger Soubie has a long and impressive résumé. He painted more than 2,000 posters during a career spanning four decades, and produced iconic promos such as those for Lolita and The Unholy Wife. The above effort is for The Haunting, called in France La Maison du diable. Based on Shirley Jackson's classic novel The Haunting of Hill House, it's about an anthropologist who rents a creepy old mansion in order to determine whether it's haunted. Of course it is—and it proceeds to seriously flip out the anthropologist and the witnesses he's brought along to verify his findings.
Jackson wrote her chiller in 1959, and it's considered by many to be the greatest haunted house tale of all time. Director Robert Wise uses zooms and odd angles to jar the audience but follows the novel's plot closely, which was a good decision. Today his movie is likewise considered to be one of the finest in the horror genre. Horror has really improved with time, but The Haunting holds up nicely. If you haven't seen it, know going in it's fueled by atmosphere rather than events, but we think it's worth a gander. After its 1963 Stateside premiere it opened in France today in 1964.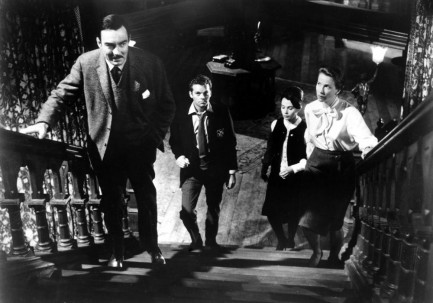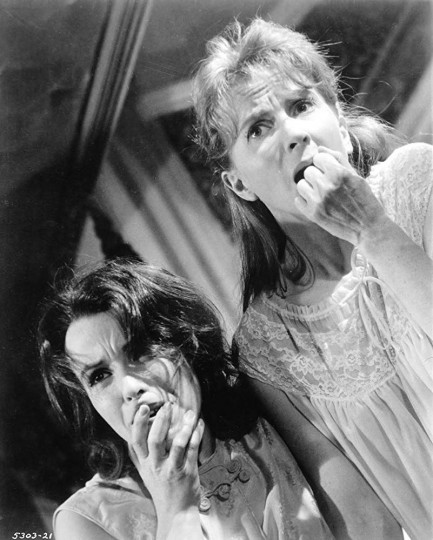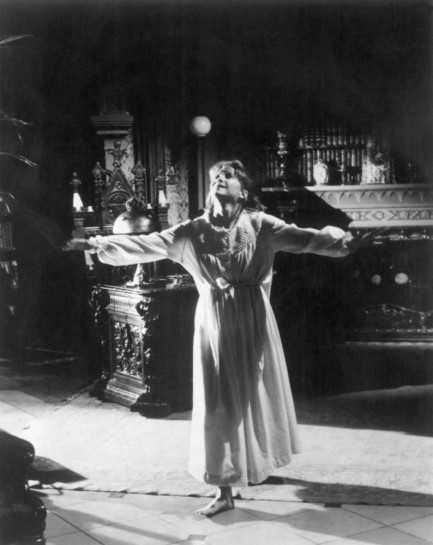 ---
They'll have to choose what they hate more—their circumstances or each other.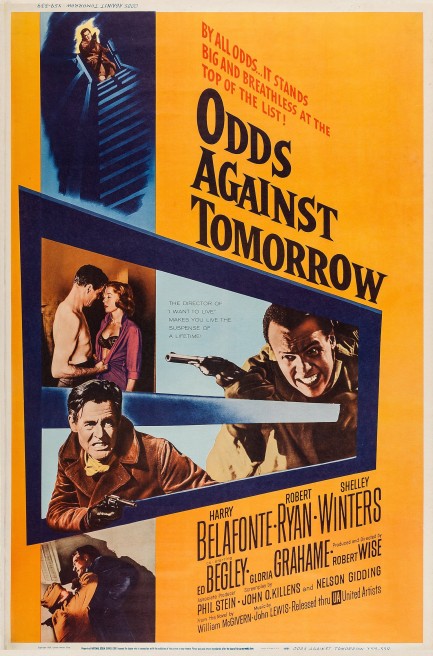 The Noir City Film Festival rolls on with Robert Wise's 1959 thriller Odds Against Tomorrow. Harry Belafonte and Robert Ryan star in a heist story that brings a touch of underground jazz and an edge of racial tension to the narrative mix. It would play nicely on a double bill with In the Heat of the Night, but fits at Noir City too. In fact it might be the darkest film noir on the bill. Belafonte is in debt to mobsters and Ryan is broke and feels emasculated being supported by his girlfriend. When ex-cop Ed Begley brings the two together for a lucrative robbery both see it as the only answer. The robbery has the same problems associated with any heist, with the added complication of Ryan's racism.
Some reviews of this film try to suggest equivalence between these two characters. Uh, no. Belafonte's separatist leanings and distrust of whites in a society that is unfair toward him is a precaution; Ryan's separatist leanings and distrust of blacks in a society that favors him is oppression. This is a basic sociological truth as it relates to power in any society, and it's irksome that some reviewers miss this. Belafonte responds
to aggressive hate with reactive hate. The expectation that he possess superhuman forbearance while his oppressor can be merely human removes context and wrongly demands that everybody behave identically despite their different circumstances and different locations within the spectrum of power.

Much of the movie examines Belafonte's and Ryan's respective attitudes along these lines, with the heist coming in a flurry of action at the end. The robbery is basically foolproof, but only if the powder keg of racial resentment doesn't blow it sky high. The points Wise is making here, which originate with William P. McGivern's novel, are simply these: cooperate and succeed, or fight and fail. All Ryan needs to do extend the hand of respect, but because of his prejudice he fails again and again, which hardens Belafonte's already suspicious attitudes. Who do these two hate more—their circumstances or each other? That's what Odds Against Tomorrow asks, about its characters, and the U.S. Festivalgoers will leave the cinema talking about this one.
---