Been through the desert on a horse with no name.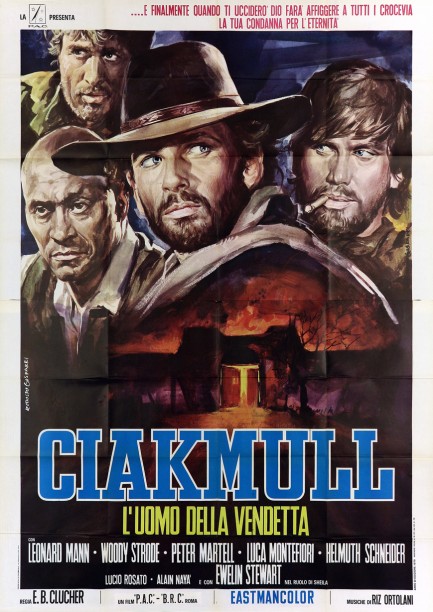 It isn't the horse that has no name in the spaghetti western Ciakmull—L'uomo della vendetta, but the man. Probably that's true in the song too, though we've never given it serious thought. In any case, above you see a beautiful Rodolfo Gasparri promotional poster for the movie, which premiered in Italy today in 1970. The title means "Ciakmull—Man of Revenge," but it was changed to The Unholy Four for the movie's English language release.
And what's unholy about the four characters referenced by the title? They're all lunatics to one degree or another, freed from a mental asylum when it was burned down by robbers as a diversion during a gold heist.
The four nutjobs band together and what follows is formless Cormac McCarthyesque wandering until Ciakmull, who's amnesiac hence nameless, collides with his former life.
He learns he's actually Chuck Mool, a real bad hombre, and he has some scores to settle. You're thinking, Mool? Like from the Reno Mools? The Abilene Mools? What the hell kind of last name is that? Well, it isn't his last name. But he has one of those, and when it's revealed everything finally becomes clear. Or at least it's clear only if he's been told the truth. But what if somebody has lied to him about his identity? Well then all bets are off.
On the whole Ciakmull—L'uomo della vendetta is a pretty good spaghetti western, but maybe not a good movie. That's okay, though. Spaghetti westerns aren't supposed to be good. If they were, they'd have called them strangozzi al tartufo nero westerns. The movie slots into the genre perfectly—which is to say it's filled with gunplay, dust, horses, hard sun, five o'clock shadows, and lots of steely eyed glares. Give it a watch with cheesiness foremost in your mind and you may like it.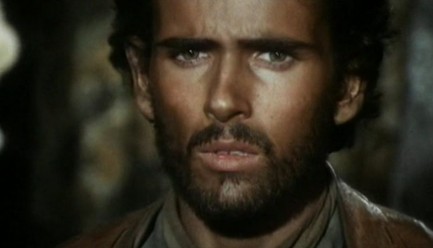 Does anyone here know my name? I'm hoping it's something insanely cool, like Beardy McMustache.
Ciakmull? That's horrendous. My hair is way too good for me to have a name like that.
I ain't fuckin' around here, buddy. Stop calling me that.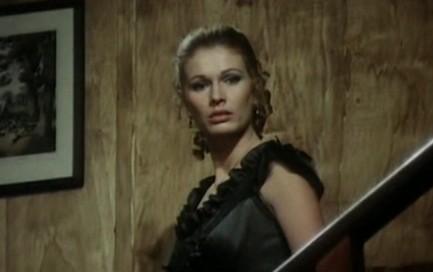 Wait. What? You're my sister? Holy shitballs, girl—you fine!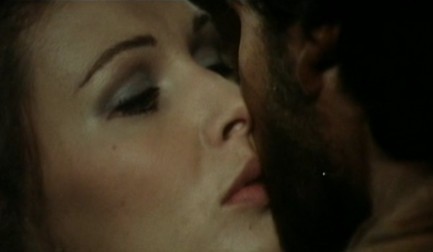 I know you haven't touched a woman in years, so I'm just gonna rub up on you a little. There. Isn't that nice?
This amnesia thing has its advantages, because I feel totally fine about what's happening in my Wranglers right now.
Did you see that? That was not a brother-sister type greeting. You saw that, right?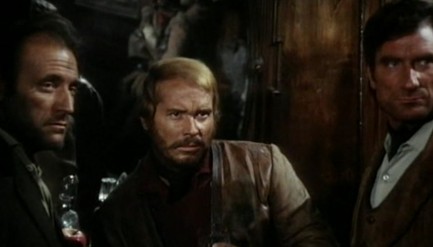 Yeah, we all saw it. Hey, Ciakmull? Buddy? Those chaps ain't doing a good job hiding that pup tent you got going.
---
In the land of the blind the painter is king.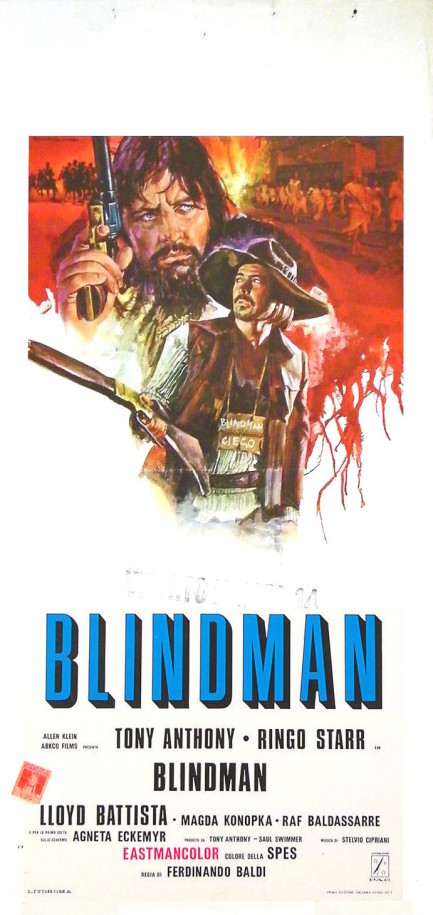 Above, two more posters for the spaghetti western Blindman, starring Tony Anthony and Ringo Starr. We talked about the movie last month on the day of its 1972 Japanese premiere. Its Italian premiere was a year earlier, today in 1971. These two great pieces were painted by Rodolfo Gasparri, yet another top notch Italian poster artist, whose work you've seen before on his nice promo for Klute. We'll have more from him later.
---
Fonda and Sutherland's understated murder mystery remains a top film of the era.
This Italian poster was painted by Rodolfo Gasparri to promote the mystery/thriller Una squillo per l'ispettore Klute, which means "A call girl for Inspector Klute," but was of course originally released in the U.S. as merely Klute. Jane Fonda won a best actress Oscar for her portrayal of the big city call girl Bree Daniel, Donald Sutherland received acclaim for his role as a soft-spoken rural detective, and the movie remains quite good, a game changer when it was released, and an enduring time capsule of 1960s culture turning the page to something different. If you haven't seen it add it to the queue. Klute premiered in Italy today in 1971.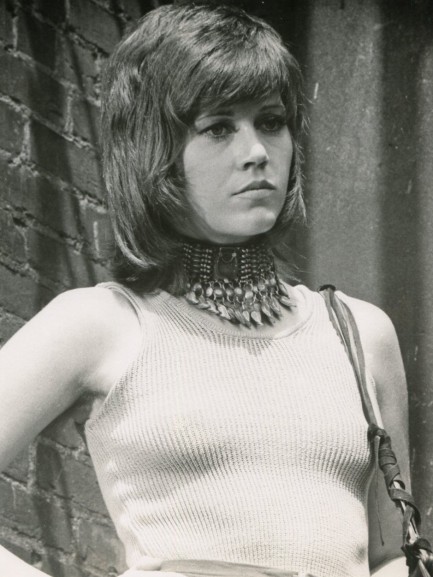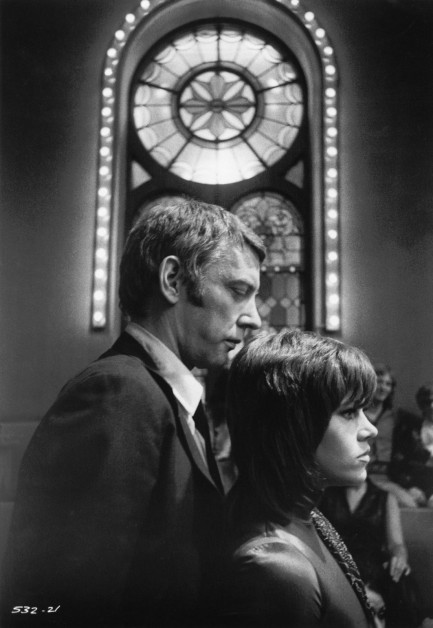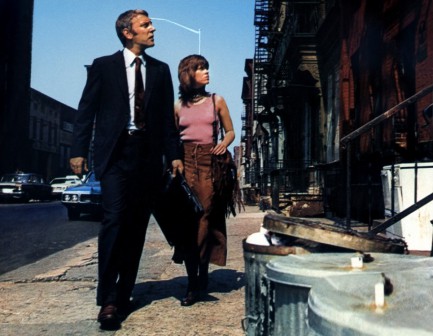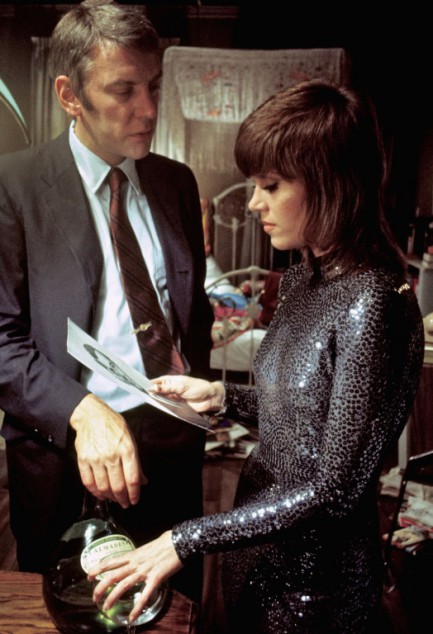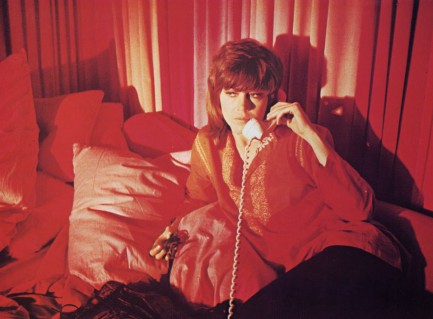 ---