Bogart counts down to zero hour.
This striking Roger Soubie promo poster for La maison des otages, aka The Desperate Hours, doesn't leave much doubt about what happens to Humphrey Bogart, but even without the poster there wouldn't be any doubt. Bogart stars, in his last villain role, as an ex-con who takes a family hostage in order to use their home as a hideout. During the Leave It To Beaver 1950s there was no way his character was going to go unpunished for pointing a gun at a kid. Even seeing it in the promo image below makes you cringe a little, doesn't it? But the inevitable consequences of Bogart's actions aren't the point—how he struggles to maintain the constantly evolving hostage scenario is what generates the drama, and the imprisoned family aren't his only problem. La maison des otages is a later noir, but a better one. It opened in France today in 1956.
---
Come, human female. We will go to my crib and get to know each other better.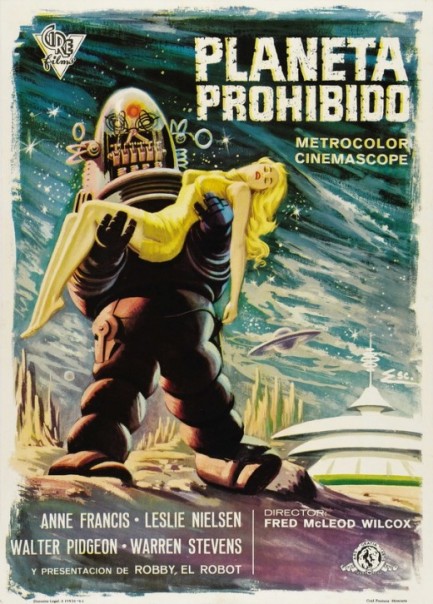 Spanish artist Carlos Escobar painted this poster for the sci-fi flick Planeta prohibido, better known as Forbidden Planet, which premiered in the U.S in 1956 and reached Spain today in 1957. Escobar was a master of realistic figures, such as those he painted of Sharon Tate and Beba Lončar, but for this piece he used a more stylized technique to depict Robby the Robot and an unconscious figure we suppose is Anne Francis. We don't remember Robby carrying her in the film, but it's been a while since we watched it, so maybe we've spaced that. But in any case this is a fantastic piece of promo art. We especially love the trippy sky. It reminds us of this time we dropped acid in Bryce Canyon National Park.
Interestingly, French artist Roger Soubie painted an almost identical promo, which you see here also. We can only assume the studio dictated the look of the poster and each artist expressed their personal style with the backgrounds. Why not use the same poster in both Spain and France? We don't know the answer to that. We can't help but think it would have been more economical than paying two artists to reproduce the same basic image. But it's fine with us, because all these years later we have two top shelf promos to admire. As a bonus, we've uploaded a Robby and Anne Francis promo photo below. For a robot, Robby's got game. Leslie Nielsen better be careful or the far reaches of the galaxy are going to get a lot colder.
---
Diana Dors dirties her golden locks for another turn as a woman behind bars.
The excellent promo above for Le femme et le rôdeur, aka The Unholy Wife was created by Roger Soubie, one of the best French poster artists of the mid-century period. His art drew us to the movie, which we watched only to discover Diana Dors in identical grime mode as in her prison drama Yield to the Night. Not only do both productions feature Dors locked down with her blonde tresses gone brown due to lack of available dye, but both involve her being on death row for murder. Since The Unholy Wife was the next film she did after Yield to the Night we can only assume her initial foray into
crime and incarceration was such a success it needed to be repeated. Like almost exactly. Unfortunately, two visions of a bruise-eyed Dors about to receive state-sponsored revenge were too much for audiences, and her repeat excursion was roundly panned.
And sadly, we must agree. Dors is living in California and is married to a Napa winery baron, but since she's also sharing her affections with a hot young lover, she soon ponders murdering her unsuspecting hubby for his estate. When we lived in Berkeley, just south of the California wine country, we rarely pondered anything more than sunlit grapes and a nice Schug Syrah. But okay, The Unholy Wife is a film noir, which means Dors is no more happy with her heaven-on-Earth existence than a Wall Street stockbroker is with his untaxable Cayman Islands shadow fortune. Both inexplicably want more. Dors starts the film in prison and tells her story via flashback, so we already know her schemes backfired. If only the same were true for stockbrokers. The Unholy Wife premiered in England in the summer of 1957 and premiered in France today the same year.

---