Hayworth finds the elusive cure for zombiedom.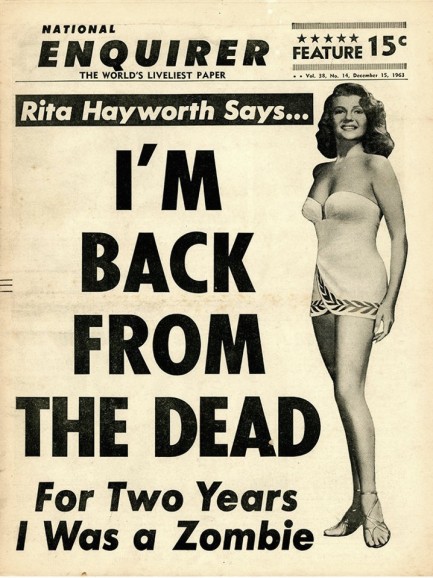 National Enquirer tells readers Rita Hayworth has come back from the dead on this issue from today in 1963. What a curious statement. We can't find corroboration anywhere, but she may been referring to the fact that she hadn't appeared in a movie in two years, but was back to work filming Circus World, which would premiere in mid-1964. Why the break? Possibly because in 1961 Hayworth had filed for divorce from her fifth and final husband, film producer James Hill, on the grounds of extreme mental cruelty. It seems she wanted to retire, but he forced her to keep working and the impasse eventually broke the marriage.
Hayworth was forty-five in 1963, and looked just fine, if stills from Circus World are any indication, but Enquirer editors figured they'd dig into the past for a more youthful cover photo. They settled on a promo shot Hayworth had made ten years earlier while making the film Salome. As a tie-in to the movie, she had modeled a figure slimming swimsuit known as a Salome Sea Mold for her Rita Special Swimwear line marketed by the company Flexees. We have no idea how well the tie-in worked, but the company is still around. Hayworth continued working after Circus World, making a movie every year or two until 1972. At that point we assume she slid into zombiedom, or at least retirement, on her own terms.
---
Working in Bardot's shadow.
Thea Fleming, aka Thea Fammy, née Thea Catharina Wihelmina Gemma Pfennings

,

is a Dutch actress who was packaged as "The Brigitte Bardot of Holland." We don't know if that was because of her talent or looks, but in any case she actually spent most of her career not in Holland but in Italy, working under the stage name Isabella Biancini. She was never a big star, no Bardot by any measure, but she made some memorable movies, including Salome '73, Asso di picche—Operazione controspionaggio, aka Operation Counterspy, and Il nostro agente a Casablanca, aka The Killer Lacks a Name. This great shot is from around 1970.


---
She may look harmless but she hits below the belt.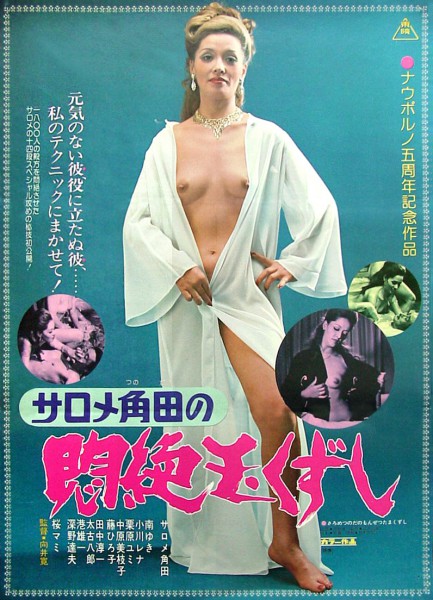 Above, a rather nice poster with Salome Tsunoda for a film that had no Western release and thus no Western title, but might be something like "Agony Ball Break." That just sounds bad, doesn't it? Some sources give a longer title that would be something like "The Ball Break of Salome Tsunoda." Hey, we only work here—anyone want to throw a better translation our way, feel free. The movie, which is a brisk 59 minutes long and was directed by Hiroshi Mukai, aka Kan Mukai, starred Tsunoda, Mami Sakura, and Lena Ogawa Lena. On the internet its premiere dates are all over the calendar, but what we consider a reliable source believes it opened today 1976.

Update: another source that seems pretty good calls this film
Salome Tsunoda no monzetsu-dama kuzushi,
which translates to something like "
Salome Tsunoda's Pain Relief Bond.
" So there you go.
---