Famed movie cemetery rises from the dead.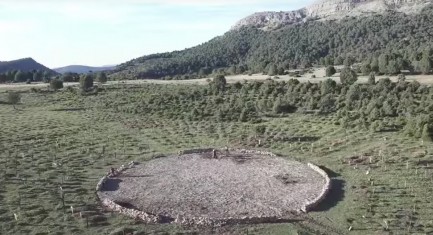 Spaghetti westerns earned their name because they generally premiered in Italy and the studios that financed them were usually Italian, but the films were often predominantly shot in Spain. The climax of The Good, the Bad and the Ugly, with its unforgettable three-way gunfight between Clint Eastwood, Eli Wallach, and Lee Van Cleef, was shot outside the town of Santo Domingo de Silos, Spain, in the province of Burgos, in a unique circular cemetery put together by set builders. In the script it was called the Sad Hill Cemetery. After the shoot Sad Hill was abandoned, and soon nature began to overtake the set.

That would have been the end of the story, but a group of film fans calling themselves the Sad Hill Cultural Association decided Sad Hill was a historic film treasure deserving of resurrection, and pledged to rescue it from oblivion. Toiling in their spare time, they labored with pick, hoe, and shovel to clear the site. They needed money to accomplish the work, so they set up a crowdfunding campaign with a unique enticement—those who contributed would have their names inscribed on the restored grave markers. The restoration efforts are finally complete, and the famous graveyard has been returned to its former state.


Spanish filmmaker Guillermo de Oliveira shot a documentary about the salvation efforts, and hopes to release a film titled Sad Hill Unearthed. He's now trying to raise money to pay for the rights to clips and music from The Good, the Bad and the Ugly, with the plan to premiere the
finished product at film festivals and share the restorer's unique dedication with the world. Meanwhile Sad Hill will become not only a tourist attraction for people passing through the province of Burgos, but a destination for those who contributed to its renewal. As Oliveira commented, "It's the only cemetery in the world where you can visit your own grave."


---
Schubert runs into trouble Nero and far.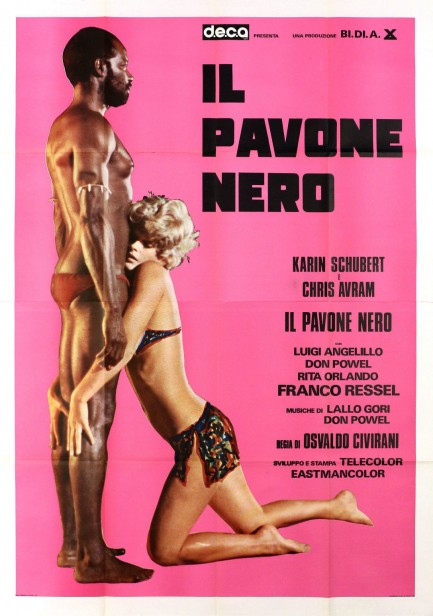 Shot in the Dominican Republic, Il pavone nero is one of those voodoo and sex cocktails that were popular in international b-cinema during the 1970s. In fact, its English title is Voodoo Sexy, which tells you everything you need to know, just in case the promo poster doesn't. Other examples from this fertile genre discussed here on Pulp Intl. include Porno Shock, aka Voodoo Passion, and Al tropico del cancro, aka Tropic of Cancer. And of course queen b Laura Gemser had a few run-ins with santería as well.
In Il pavone nero an Italian engineer goes to Santo Domingo to help build a dam. His wife—the lovely Karin Schubert—surprises him in his hotel after he thought he'd left her in Italy. It's the first of many surprises. Rather than stay in the hotel the couple opt to inhabit an isolated beach shack on the border with Haiti, a domicile that was occupied by the previous dam engineer, who inexplicably disappeared. Uh oh. This is a classic case of thumbing one's nose at fate.
We quickly find that ethnic Haitians in the region are against the dam, and that voodoo rites are their weapon of choice to prevent its construction. But their leader Balaga, played by U.S. actor, musician, and sexploitation go-to voodoo guy Don Powell, carves out a little time from his resistance activities to pursue Schubert, possibly drawn by her astounding whitegirl afro. She in turn is drawn by the local santería rituals, which involve a bit of chicken chopping—poor chickens—and some humping of the fully explicit variety, depending on which version of the film you watch. Though Schubert would later delve into porn, her scenes here were performed by a body double.

Il pavone nero ends with the arrest of the voodoo environmentalists, which means the dam is no longer in danger. Can't stop progress, after all. There may be an environmental message buried in this film, or an anti-colonial message, or a racial harmony message, or even a spiritual message, but those are all secondary to the real point—for audiences to enjoy some vanilla Schubert getting freaky with the locals. The movie delivers ample opportunities, as you can see in the promo images below. Also, there's a cockfight. There's always a cockfight. Poor chickens. Il pavone nero premiered in Italy today in 1975.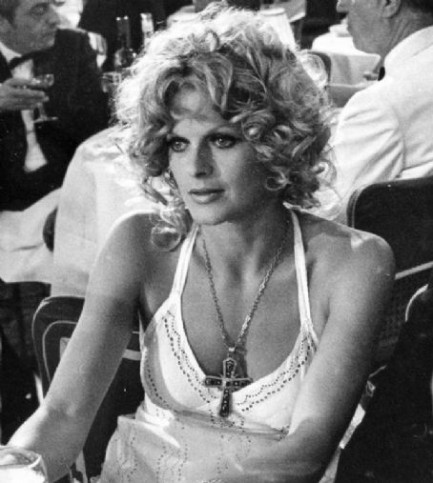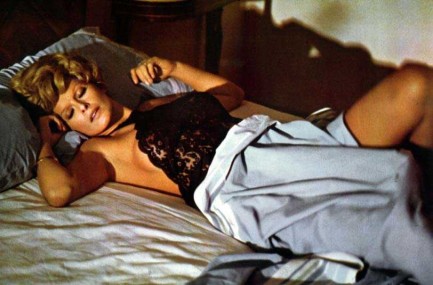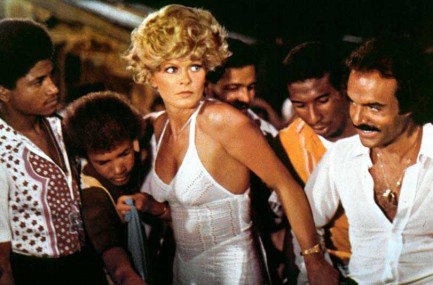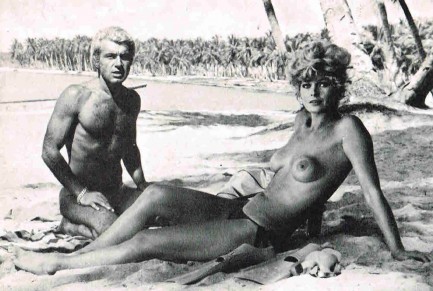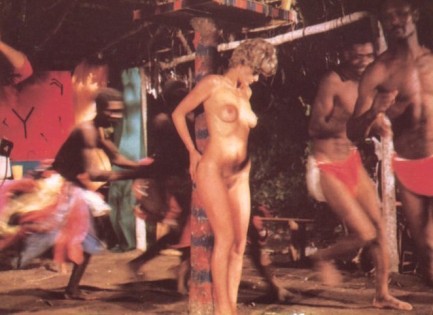 ---