What's in a name? Everything.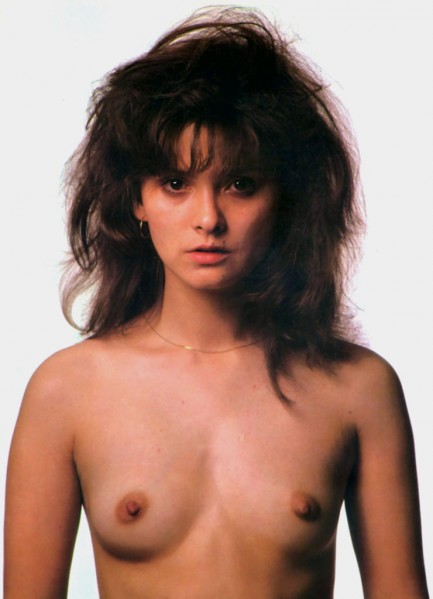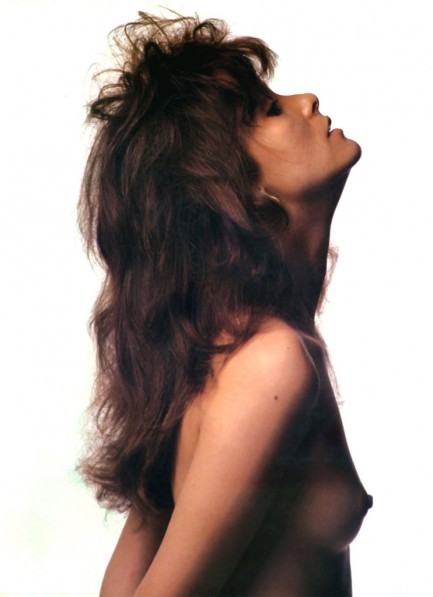 Occasionally we run across photos that we simply must post even though we have little or no information about them. Such is the case with the shots above, showing Sherry, a half-Japanese, half-Anglo actress who appeared in movies and television in the mid-1970s, and later released at least one album for RCA/Victor. A couple of websites refer to her as Shelly, probably because the two names are not distinctly pronounceable for the Japanese tongue, but Sherry is correct. Actresses in Japan often choose evocative pseudonyms. Sherry is a fortified wine with references to be found in Shakespeare and Poe, and the same term is used as slang for foreign or foreign looking women who work in Japan. So Sherry makes good pseudonym material. Also, she posed for a book of Hideki Nakagawa photos and we're pretty sure her name was spelled Sherry on the front. Anyway, with all the confusion online, plus a million websites on wine, you can see why it's tough to get a hit on her. But that's fine. These shots project an almost palpable vulnerability or reluctance, so perhaps it's fitting that's she's lost in the mists of time.
---
It's good to be the king—just don't overdo it.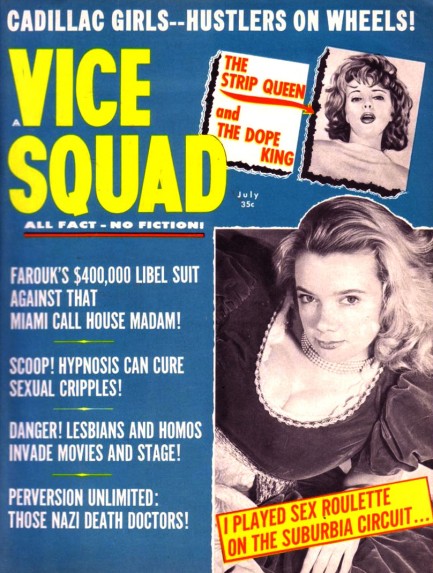 Here's a July 1962 issue of the tabloid Vice Squad, with several interesting items on the cover. Cadillac girls—self explanatory. Sexual cripples—ditto. Same with sex roulette, perversion unlimited, and the phobic feature on lesbians and homos. But, aha, the story on Farouk's $400,000 libel suit is worth detailing. In brief, Ruth Barnes, a Miami madame who went by the nom de directeur Sherry, published an autobiography called Pleasure Was My Business. Her book named a raft of celebrity clients, including the ex-king of Egypt, Farouk I. Furthermore, she claimed he was not only a regular client, but that he once snuck into the U.S. via some helpful port authority folks and rented Madame Sherry's entire house for a night of fun and games. When Farouk learned he'd been outed, he flipped and sued for libel, specifically claiming he was never in the U.S. at the time in question and he was outraged and infuriated and so forth. Long story short—he lost. So not only had he entered the U.S., he'd also entered Madame Sherry's house, and followed that up by entering a few of her employees. The epilogue on this guy is so fascinating. Always a bit of a gourmand, he started life thin, and remained so through his heyday, but as middle age approached the eating caught up with him and by age forty he was tipping the scales at nearly three-hundred pounds. One night, after gorging himself as usual, he collapsed and died. He was 45. We've taken the lesson to heart here at Pulp Intl., and we're cutting back on the fatty foods and getting more exercise. But we're never, ever giving up the hookers so don't even ask.
---