Sharks aren't the worst predators in the water.
Behold! The longest piece of promo art we've ever shared. The oceangoing thriller The Deep premiered in the U.S. in June 1977 as part of a wave of similar movies that came in the wake of Jaws (see what we did there, with the "wave" "wake" thing?). Yeah. So anyway, author Peter Benchley, who wrote the novels that spawned both films, used similar themes for the two, but switched the monster shark for human dangers in The Deep. The Japanese run of the film began today in 1977, and for once the Japanese title isn't something wildly different—they went with

ザ・ディープ

, which means "the deep."
We've never seen anything like this poster before, and we doubt we will again. Also of note is that the movie, which was not considered top notch, was a massive hit thanks to a brilliant marketing campaign that saw co-star Jacqueline Bisset wardrobed in a white t-shirt that turned transparent when wet, such as during her opening diving scene in the warm Bahamian waters. Never had a pair of nipples made such a splash. A longtime a sex symbol and thirty-three years old when the The Deep appeared, the film made Bisset a legit superstar for the first time.

---
Currents and caves are bad enough, but lies can drag you into really dangerous waters.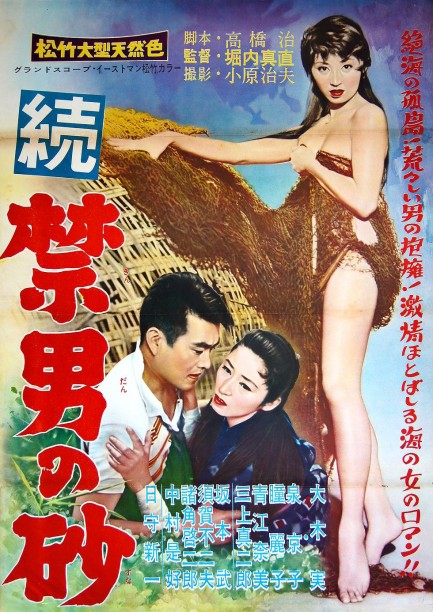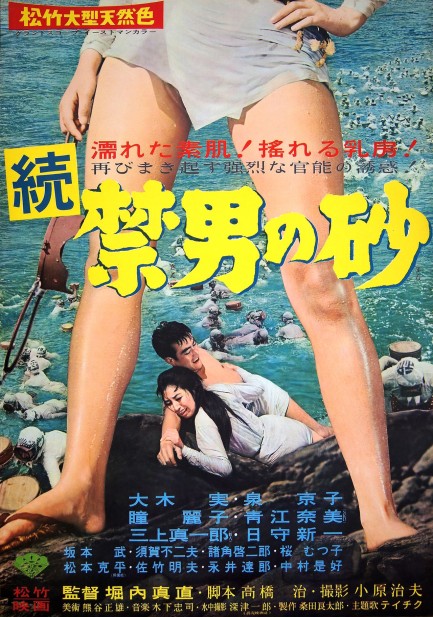 Last week we talked about the 1959 drama Zoku-zoku-Kindan no suna: Akai pantsu, third film in the Shochiku Co. franchise sometimes referred to as the Underwater Series. You know we're sticklers for talking about movies on their premiere dates, which is why today we're looking at Zoku kindan no suna, which opened in Japan today in 1958. In the west the movie was known as Forbidden Sands or The Prohibited Man's Sand, and like the others in the series deals with the loves and troubles of an ama—a female skin diver. Two bank robbers steal seven million yen, which we think is like forty or fifty bucks, and hide out on an island peopled by amas and their families. The crooks pretend to be a marine biology professor and his assistant, and they don scuba gear and hide the cash in some underwater caves known as the Dragon's Caves—a name which just screams trouble. They're convinced the treasure is inaccessible, but these amas are really good, and one in particular has no trouble at all making especially long dives. One of the crooks takes a shine to her, and warns her to stay out of the caves because they're dangerous, but the shine is mutual, so surprise surprise, as a gift she decides to swim down there to find rare specimens for his phony marine research. Yes, theft is one thing, but lies are a whole other bucket of starfish. Zoku kindan no suna is a recommendable flick, but be forewarned that if you're in the States it might be even harder to find than that loot in the Dragon's Caves. But at least you can enjoy the posters. We aren't done with this series, so keep an eye out for another installment in a bit.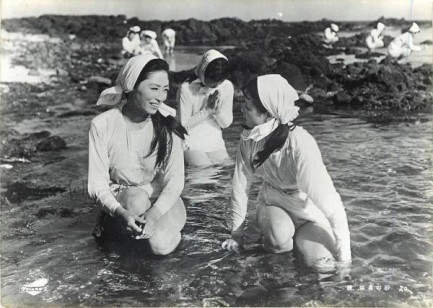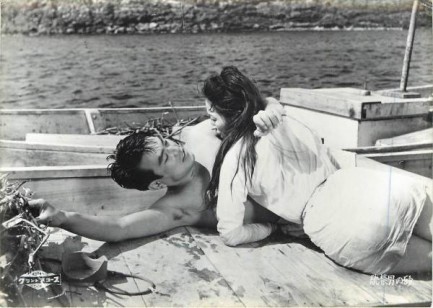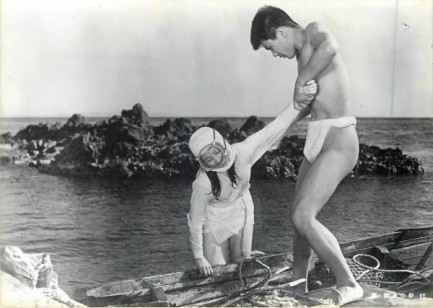 ---
For nine years the Travis McGee books featured top quality cover art.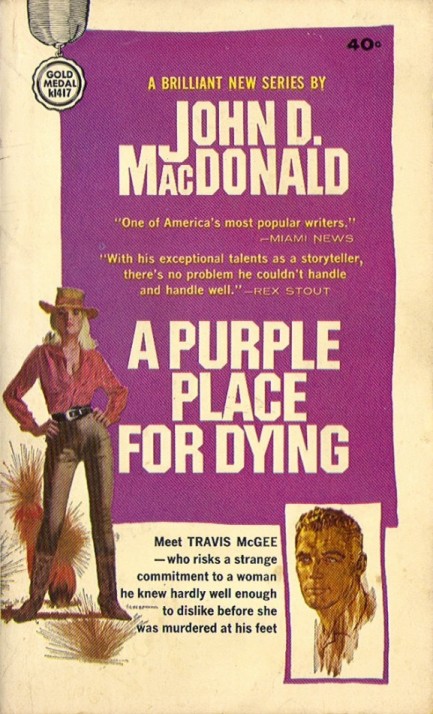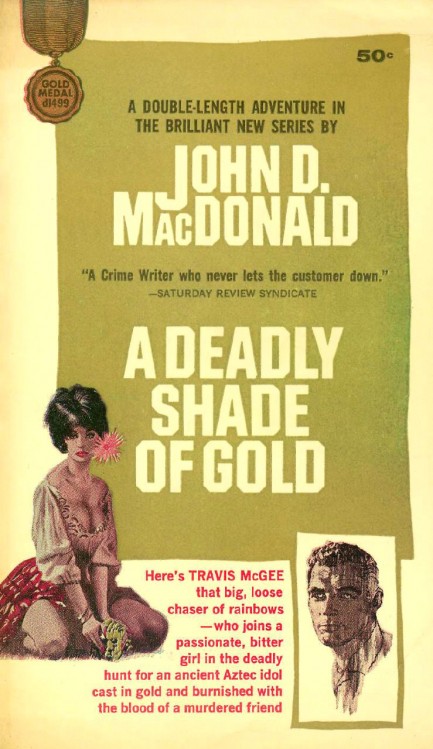 American author John D. MacDonald's popular Travis McGee series—all with colors in their titles—was published between 1964 and 1985. In late 1973 MacDonald released The Turquoise Lament, and from that point forward the McGee books never again featured high-quality pulp art. Lamentable, indeed. Above is a collection of covers spanning the golden period of McGee cover art, from 1964 to 1973. The artists were Ron Lesser, Elaine Duillo, Robert McGinnis, and others.
---