Not with my daughter you don't.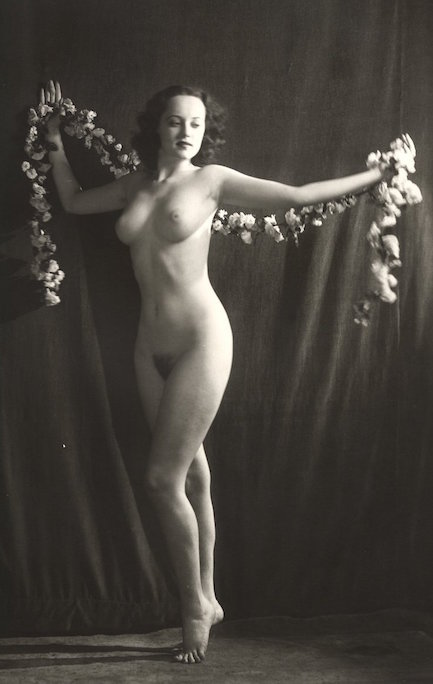 They say the apple doesn't fall far from the tree. We wonder if legendary pin-up painter and connoisseur of the nude female form Earl Moran was upset about that. We ask because that's his daughter above, Peggy Moran, posing in the altogether in this shot made by famed photographer Alfred Cheney Johnston around 1936. Did Earl and Al know each other? Well. That must have made for an interesting discussion. But what could Earl say, really? Of course, another intriguing possibility is that he never knew. Generally, models kept their early nudes secret. Marilyn Monroe changed the paradigm when her naked shots came out and she shrugged and said, "And? Pervs. So what?" We're paraphrasing.
Maybe Peggy kept her nude session quiet, but we prefer the idea of Earl and Alfred having a little tête-à-tête about it:
"But Alfred, I thought we agreed she was off-limits."
"I know, Earl, but look at her. I'm only a flawed fifty-something human male faced with youthful feminine perfection. I mean, she's 100% f'dilf."
"Wha... what? She's a what?"
"You know. A friend's daughter I'd..." *winks and grins*
"I'm gonna fucking kill you."
This stuff writes itself. In any case, two years after the above shot was made Moran got her break in films and by 1940 was a regular on the silver screen, appearing in One Night in the Tropics, Drums of the Congo, and about thirty other films. Talentwise, she had the goods, as a glance at the very enjoyable goofball horror movie The Mummy's Hand will confirm. Her career hit overdrive by 1941, but it didn't last long—she got married and gave up show business to raise a family. Her last role was in 1943. Her nudes finally saw daylight sometime after that.


---
Seven monsters for the Halloween season.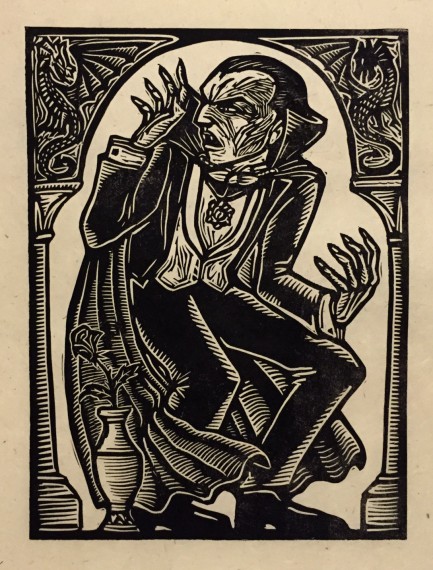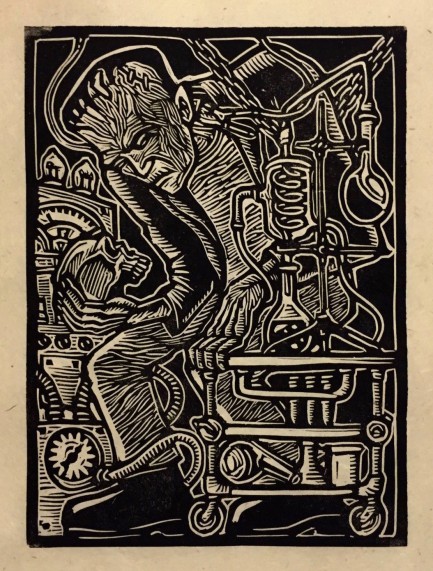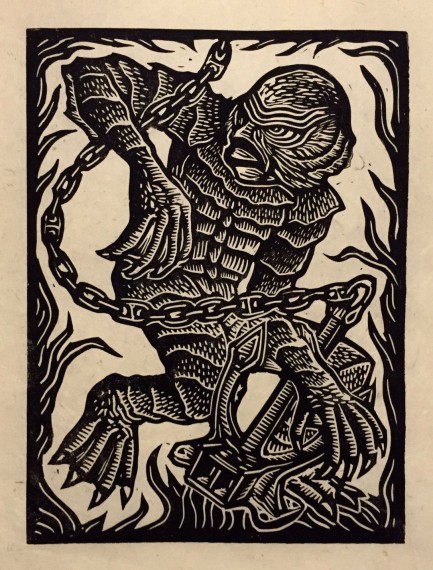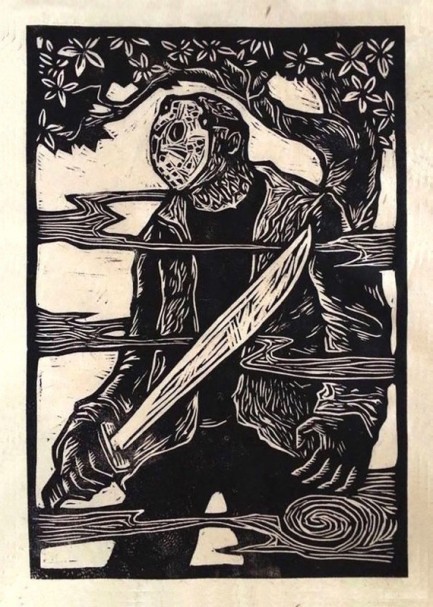 As we get a closer to Halloween we thought it was time to put together a little tribute to the types of monsters that make the occasion fun. These are carved woodblock ink prints by artist Brian Reedy of seven classic horrors. We're sure you recognize the first six, but possibly not the seventh. That one is the shadow monster from the television series Stranger Things, a modern classic creation—in our opinion anyway—from a show well worth watching if you haven't seen it.


---
Don't it make her brown eyes blue (or her blue eyes brown).
Ramsay Ames is not well known today, but she had a nice career, appearing in movies such as The Black Widow, Below the Deadline, and The Mummy's Ghost. She also worked as a model, dancer, pin-up, and television host—the latter in both the U.S. and Spain. During her years in Spain, she became close with Ava Gardner, who was also living there, and we imagine they got up to all sorts of mischief. This is an amazing photo of Ames. The photographer obviously wanted to comment on the luminescence of her eyes by setting them against several pieces of gleaming jewelry. We were curious what color they were. A quick check on the internet—and this is the thing about the internet—turned up definitive assertions that they were brown, but others that they were blue. We'd prefer brown, but maybe they were both, like one of each. In any case, it's a very successful photo. We don't have a date on it, but we can safely assume it's from around 1945.


---