You, sir, are no Steve Austin.
Mike Power, aka the Atomic Man, originated with the Hasbro toy company in the mid-1970s as part of its G.I. Joe Adventure Team. Power was born disabled. He spent his life developing atomic parts for his body, including a leg that helped him run 200 miles per hour, an arm that lifted 10,000 pounds, an eye that could see through six feet of solid steel, and an atomic heart to help him handle all the exertion. As you have probably guessed, Hasbro created him as competition for Kenner's Six Million Dollar Man action figure, but this one was going for around sixty dollars. We've seen cheaper ones that come without a box.

Power was also low rent in the sense that he never had a television show like the Six Million Dollar Man, but Hasbro put out a comic, and those are collector's items today. There were actually two versions of Power. Here you see the British version, which was manufactured by Palitoy, and the main difference was Power's plastic hair was replaced by a flocked hairdo that looked like a white guy 'fro. Below you see what Power is packing under his jumpsuit ("Daddy, why doesn't he have a wiener?" "Well son, that's because Atomic Man had it cut off when he became what's called a eunuch. Bled like a pig, he did."). You can see a couple more entries on vintage dolls here and here. And if you're into futuristic toy ray guns, check here.

---
Woman on the verge of a service breakdown.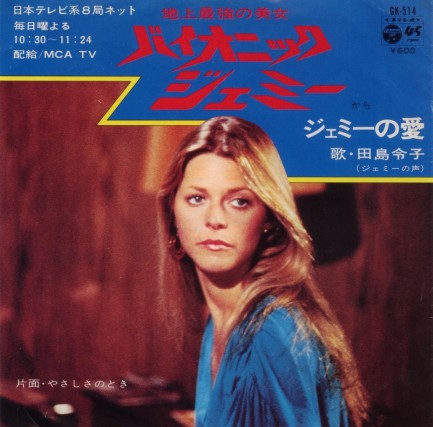 Let's not debate it. Jamie Summers was the hottest partly mechanical woman ever to appear on television. Perhaps that has to do with the fact that she was one of the only partly mechanical woman to ever appear on television, but let's not quibble. The series The Bionic Woman, starring Lindsay Wagner as a tennis pro-turned-spy who had assorted cybernetic body parts, ran on American television for three years from 1976 to 1978, and was syndicated for Japan starting in 1977. She was originally created as a sort of Bride of Frankenstein for Lee Majors' popular ABC character Steve Austin on The Six Million Dollar Man. At the end of a two-part episode Jamie Summers died, but the character had been so popular that a method was contrived for bringing her back from the dead. A year later—presto!—she had her own series on which she battled a sasquatch, got roughed up by Fembots, and malfunctioned a few times, all while searching for but never quite managing to find that special someone.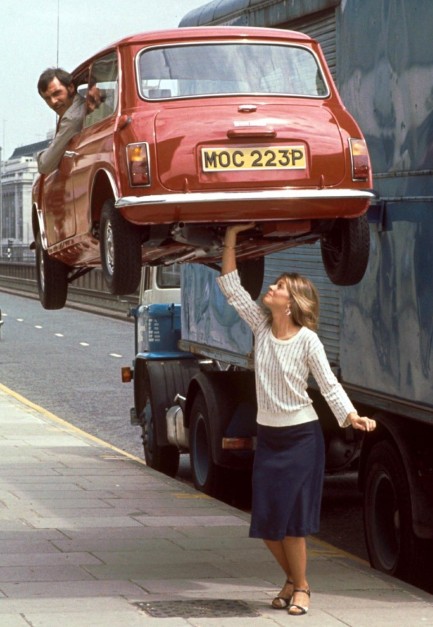 The Bionic Woman spun off books, board games, and yes, even music, as evidenced by the 45 rpm record sleeve at top of the show's theme song by Jerry Fielding. We checked out a few episodes of the show online, and let's just say that while it hasn't aged well in terms of fx or dramatic content (and it's exactly the sort of thing our girlfriends laugh at because of all the high-waisted jeans, jumpsuits and feathered hair), there is a sort of sweetness to it all that's hard (for us, anyway) to resist. Ah, the Cold War. It seems so quaint now. If you have the inclination and the spare time, you can see a clip here.
---