With husbands like these who needs enemies?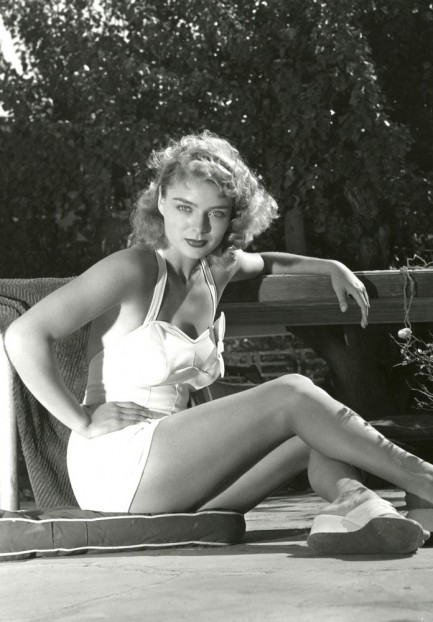 Mary Jo Tarola was born in Portland, Oregon in 1928 and by 1952 had established herself in Hollywood, first under the milquetoast moniker Linda Douglas, then under her own far more interesting name. Just two years into her career she married producer Pasquale "Pat" DiCicco. Not well known now, DiCicco was a bootlegger and pimp who became mafia boss Lucky Luciano's lieutenant in Tinseltown. He was infamously abusive toward women—one dust-up with his first wife Thelma Todd led to her having an emergency appendectomy, and another with his second wife Gloria Vanderbilt involved him slamming her head into a wall. Tarola's promising film career ended with her marriage to DiCicco, but at least she left behind a few choice artifacts like the above photo by photographer Ernest Bachrach. It dates from 1952 or 1953.
---
Photo diagrams were used as law enforcement and legal tools, but are almost an art form in themselves.

Researching the Hazel Glab case exposed us, as we mentioned in that post, to newspaper illustrations, which in turn led us to some crime scene photo diagrams. These images were used by police, lawyers and jurors to understand the geography of crime scenes and the physics of the events. We were fascinated by the images, and when an online forum pointed us toward the Los Angeles Public Library's online collection, we headed over there and dug into the archive. We've shared our finds below, with details about each crime.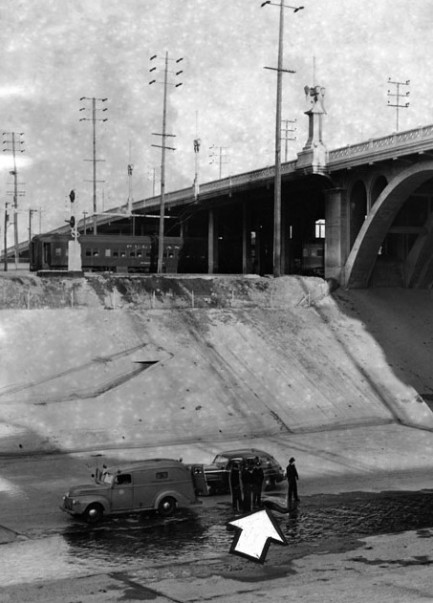 Body found in L.A. River, 1949.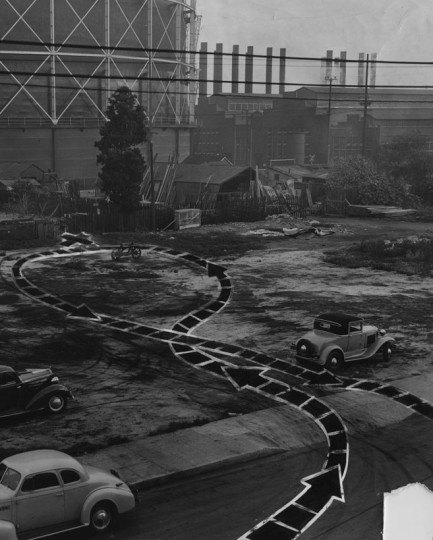 Girl found stabbed to death 26 December, 1936, at 721 Turner Street, with an X marking the location of her body and arrows marking the direction a car arrived and departed.
Armed robbery, 11 August, 1930, on East Pico in Los Angeles.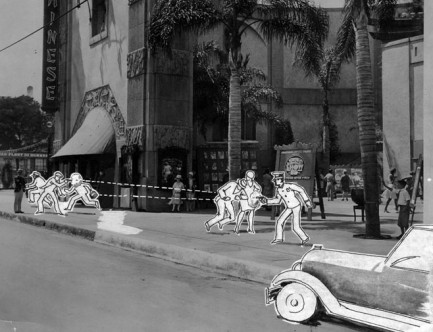 Armed robbery at Grauman's Chinese Theater, with $15,000 stolen and a police officer wounded, 16 July, 1929.
This shows the crime scene after the attempted killing of gangster Mickey Cohen, with bullet holes in a parked car across the street from where Cohen was standing, 20 July, 1949.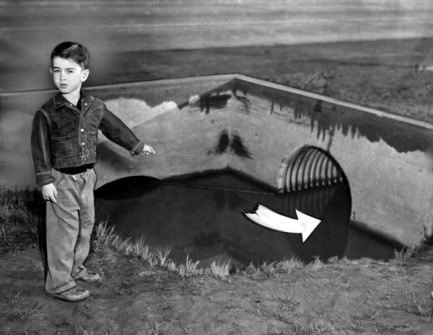 Photo of a boy pointing to where his friend was sucked into a storm drain. The friend drowned, 1953.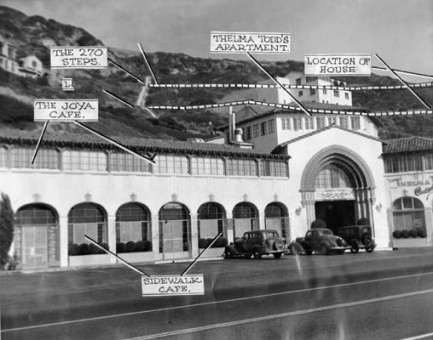 1936 photo diagram showing the last movements of actress Thelma Todd, who was found dead in her car in December 1935.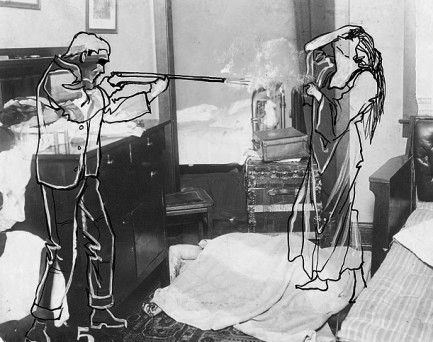 Unknown and undated crime scene photo with drawing of presumed positions of assailant and victim.
---
Putting her on a pedestal.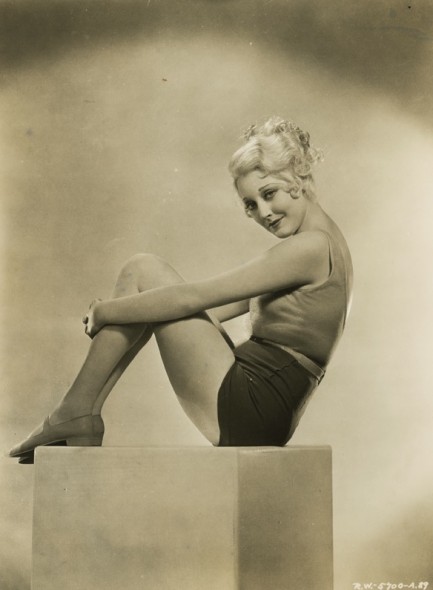 Above is a United Artists promo image of American actress Thelma Todd, who appeared in many full length and short films beginning in 1926. In December 1936 she was found dead in her car, a victim of carbon monoxode poisoning. The death was ruled a suicide, but today many biographers believe she was murdered. This image dates from 1931.
---