Dammit, because of you all the girls started calling me "just barely average Stan."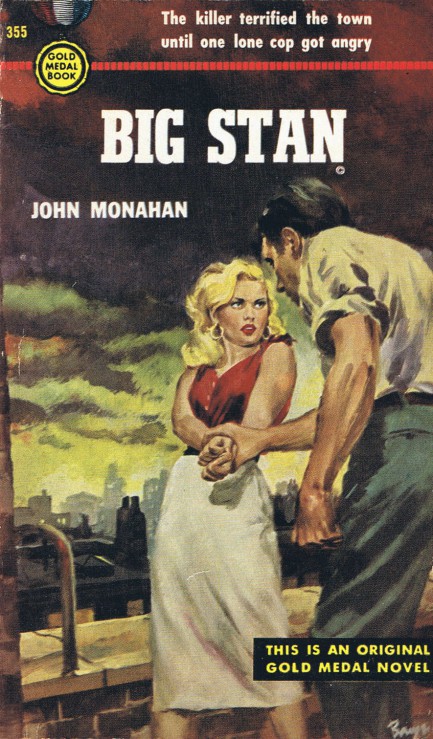 John Monahan was a pseudonym used by W.R. Burnett, the man behind Little Caesar, High Sierra, The Asphalt Jungle, and other enduring novels. He also wrote or co-wrote such screenplays as This Gun for Hire and Scarface. In Big Stan he tells the story of a cop named Stanislaus who's tasked with catching a masked criminal known as the Black Phantom. The Phantom proves elusive until he makes the mistake of targeting Stan's wife. It's a fairly well regarded book from an author who wrote some of the classics. The art on this 1953 Gold Medal paperback is by Barye Phillips.
---
This Gun for Hire is a celebrated proto-noir—but is it good?
We checked the movie rating website Rotten Tomatoes for its assessment of the thriller This Gun for Hire and learned that the film scored over 92% among its stable of professional critics. Ninety-two percent? Then surely this must be one of the greatest films ever made, a near flawless work of art. But when you read the reviews more closely, many note the film's unbelievable plot, reliance upon coincidence, cheesy musical interludes, and less-than-stellar dialogue. So then what's with the high rating? Well, let's just say professional critics sometimes rate with their sense of film history rather than their heads. This Gun for Hire helped establish tropes that would be used again and again as the film noir genre developed and flourished, so that's a big reason film experts like the movie. But is it good? Well…
Now, don't get us wrong—we aren't out to slam the flick. Who'd listen to us anyway? We're just a couple of heavy drinkers who slapped together a website out of sheer boredom. But we're also fairly bright, and fairly well-versed in film, and we feel confident in saying that any honest assessment of This Gun for Hire would stress the bothersome structural improbabilities. Example A: Veronica Lake plays a San Francisco nightclub performer/magician who happens to catch the eye of a big-time
club owner, who invites her to perform in L.A., resulting in a train ride that not only coincides with his, but with that of a hired killer he has betrayed, leading directly to an eye-roller in which that very same killer sits in the only empty seat in the carriage—right next to our singer Ms. Lake. Anything that puts Alan Ladd and Veronica Lake together is justified, to an extent, so you'll probably let that pass. Example B: Lake is engaged to a cop who happens to be part of an investigation into two murders committed by the very same killer sitting next to Lake on the SF/LA night express. Hmm. There's more, much more, but you get the point.
So what about that 92% rating? Well, Alan Ladd is magnetic and brutally handsome as the ice-cold killer Philip Raven. Veronica Lake is less good as the chanteuse Ellen Graham, but still manages a game performance in a role that could be better written. Robert Preston is note-perfect as the boyfriend detective. So there's all that. The film looks good, is well-directed by Frank Tuttle, moves quickly and builds a nice atmosphere of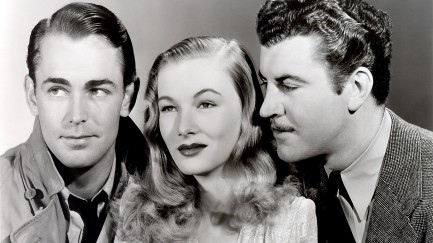 menace. So there are those things too. And again, the film is a building block in the genre that would later become known as film noir. But if, hypothetically, you've never seen a film noir or classic melodrama and This Gun for Hire were to be your first, it would not convert you into a fan. On the other hand, if you already enjoy mid-century cinema, this one will fit snugly in your comfort zone. All in all, we very much appreciate the movie, but a film that rates 92% among professional critics should not be so chock-full of coincidences that even a fourteen-year-old would be incredulous.
At top you see one of the movie's three French-language posters. The other two are below. This Gun for Hire, which opened Stateside in 1942 but went unseen in Europe due to the inconvenience of World War II, finally premiered in Paris as Tueur à gages or "Hired Killer" today in 1947.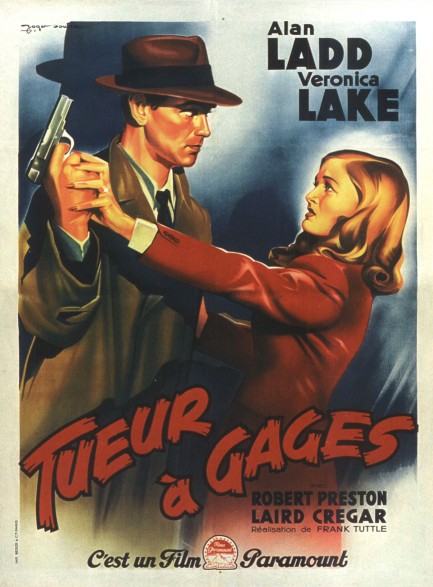 ---
Down Argentine way.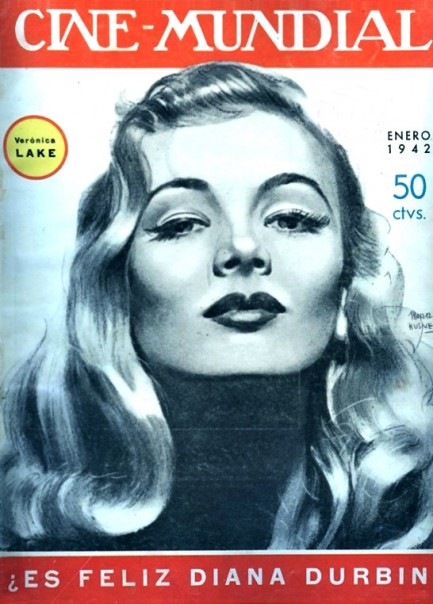 Above, a cover of Cine-Mundial, published in Argentina in January 1942, with an illustration of Veronica Lake by Morr Kusnet. Lake was just twenty years old at the time, on the cusp of a big year that would see her star with Alan Ladd in two of her best films—This Gun for Hire and The Glass Key.
---