Long before the general public knew it existed, LSD was the drug of choice among celebrity elites.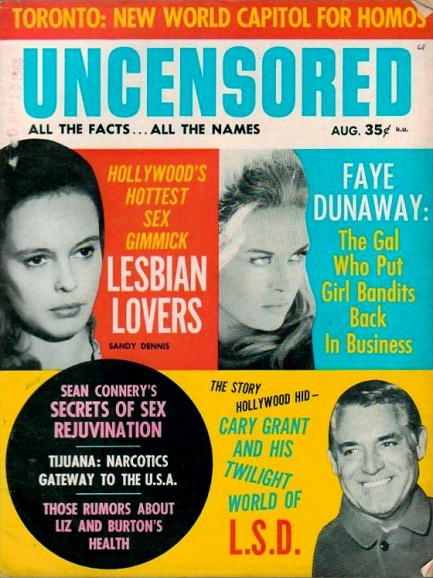 We're back to the gossip magazine Uncensored today, with its info-packed cover telling us about gay Toronto, lesbian Hollywood, Sean Connery's sex secrets and rumors about Liz Taylor and Richard Burton. But the standout item here (aside from the appearance of the non-word "rejuvination" and the misused term "capitol") is the one on Cary Grant and his experimentation with LSD. Before the Beatles, Timothy Leary, and Carlos Castaneda, LSD was the drug of choice for a rarefied circle of glamorous elites who ingested it as part of their psychiatric therapy sessions. We're talking about people as famous and diverse as aquatic actress Esther Williams, Time publisher Henry Luce, director Sidney Lumet, authors Aldous Huxley and Anais Nin, and composer André Previn. Cary Grant never tried to keep his LSD use secret. In fact, he spoke glowingly about it in a 1959 interview with Look magazine, saying that it had brought him close to happiness for the first time in his life. He also said that LSD taught him immense compassion for other people, and had helped him conquer his own shyness and insecurity.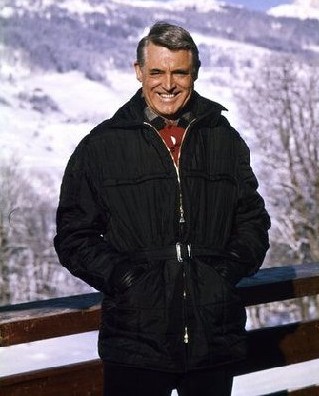 But by 1968 the U.S. government—which had experimented extensively with LSD in hopes of using it as a truth serum or a form of chemical warfare, and had dosed thousands of people both willingly and unwillingly—was moving toward declaring the drug illegal. Grant's wife Dyan Cannon had famously cited LSD usage as a primary factor in seeking a 1967 divorce, and the counterculture embrace of the drug was beginning to frighten middle America and the White House. That's the backdrop against which this August 1968 Uncensored appeared, and by October of the year LSD was illegal. But the fact that public opinion had shifted—or more accurately, had been pushed by a steady, government-initiated anti-LSD campaign—did not particularly harm Grant's public standing. When he died in 1986 he was still one of the most revered American actors ever. And about his LSD usage he had no regrets. Quite the opposite—he commented: "Yes, it takes a long time for happiness to break through either to the individual or nations. It will take just as long as people themselves continue to confound it. You'll find that nowadays they put you away for singing and dancing in the street. 'Here now, let's have none of that happiness, my boy. You cut that out; waking up the neighbors!' Those darn neighbors need waking up, I can tell you, constable!"
Toronto
,
Hollywood
,
Uncensored
,
Time magazine
,
Cary Grant
,
Esther Williams
,
Henry Luce
,
Sidney Lumet
,
Aldous Huxley
,
Anaïs Nin
,
André Previn
,
Timothy Leary
,
Carlos Casteneda
,
Sean Connery
,
Dyan Cannon
,
Elizabeth Taylor
,
Richard Burton
,
Sandy Dennis
,
Faye Dunaway
,
lesbian
,
tabloid
,
LSD
,
drugs
---
Drugs corrupted her so much she stopped wearing a bra.
Though this could be a public service announcement or a magazine ad, it's actually a poster for a movie—a real movie that really came out in 1937 and people really went to see. The plot: girl meets drug, girl smokes drug, girl gets the munchies and eats Häagen-Dazs until she gets a lethal brain freeze. It's a cautionary tale, but you probably got that from the poster.

Here's a list of admitted "marihuana" smokers who, despite their love of the demon weed, went on to great success: Barack Obama, Bill Clinton, John Kerry, Sarah Palin, David Bowie, Celine Dion, Eric Clapton, Robert Downey, Jr., Jacqui Smith, Alistair Darling, Al Gore, Clarence Thomas, Newt Gingrich, Michael Bloomberg, Timothy Leary, Paul McCartney, Kate Moss, Mickey Rooney, Robert Mitchum, Elizabeth Taylor, and of course, Charles Manson. Wait—sorry, scratch that last one.
Assassin of Youth
,
Barack Obama
,
Bill Clinton
,
Timothy Leary
,
Kate Moss
,
Robert Mitchum
,
Charles Manson
,
Sarah Palin
,
Elizabeth Taylor
,
Mickey Rooney
,
drugs
,
poster art
,
cinema
---