Japan's favorite radioactive monster has a Gigan-tic problem.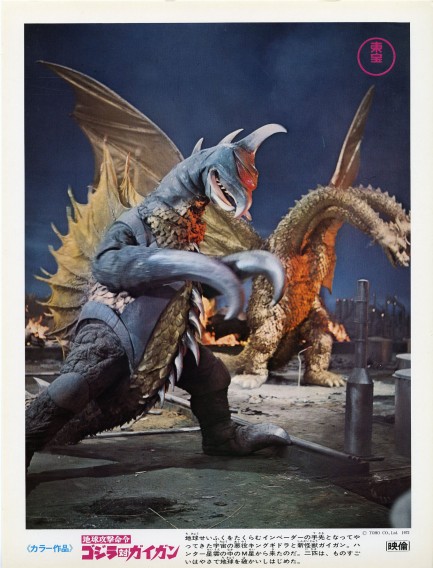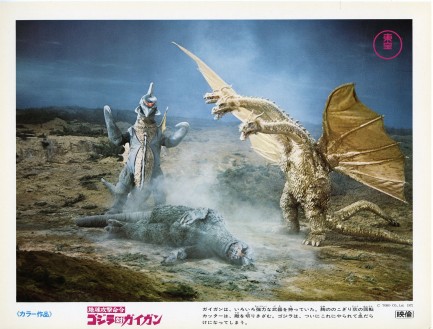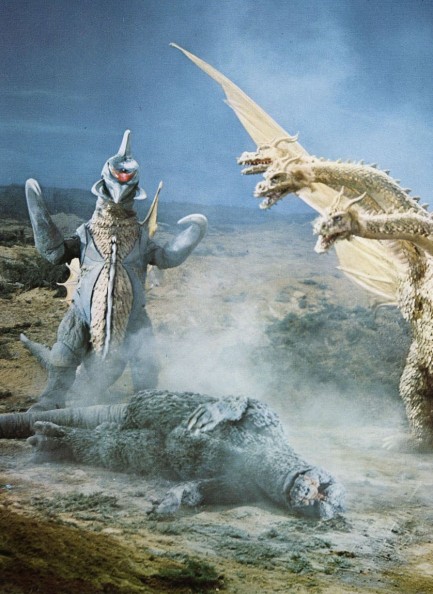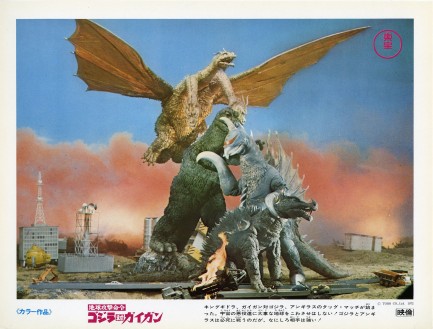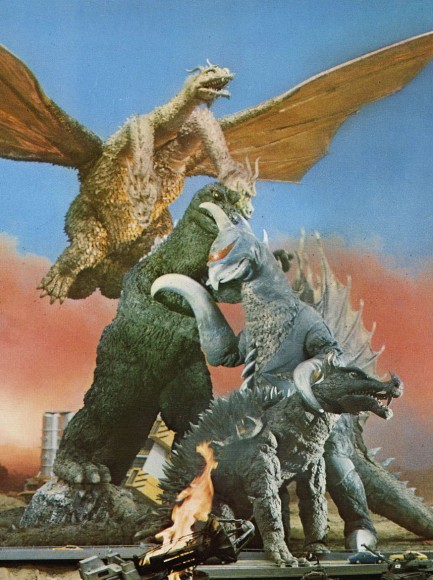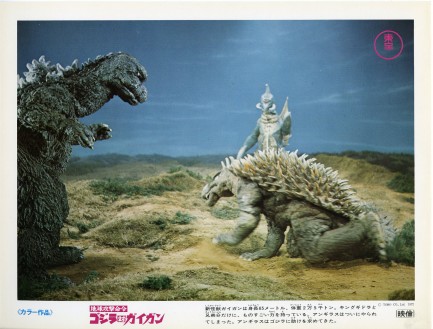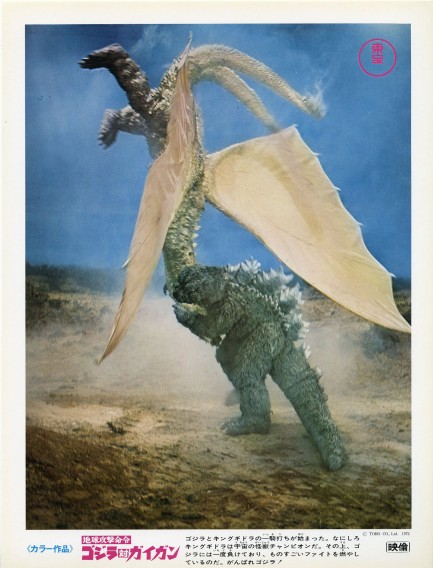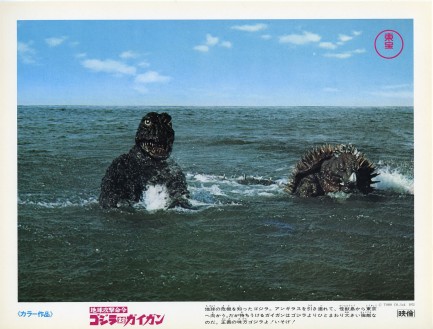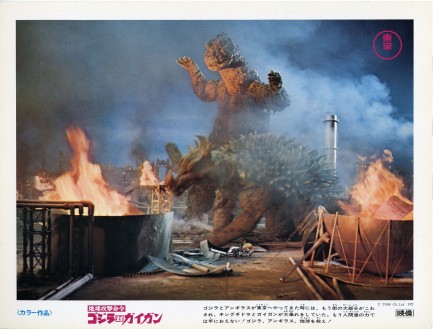 Above, a set of cool promo photos from the Japanese sci-fi kaiju flick Chikyû kogeki meirei: Gojira tai Gaigan, known in the English speaking world as Godzilla vs. Gigan. It was the twelfth film in the hit Godzilla franchise and appeared in 1972. Gigan was probably one of Godzilla's deadliest foes. He had a buzzsaw in his abdomen and hooks for hands. Major weakness? He had hooks for hands. We have plenty more Godzilla art. Just click his (or its) keyword below.


---
Ironfinger is exactly what it sounds like—a low budget Bond. But a particularly entertaining one.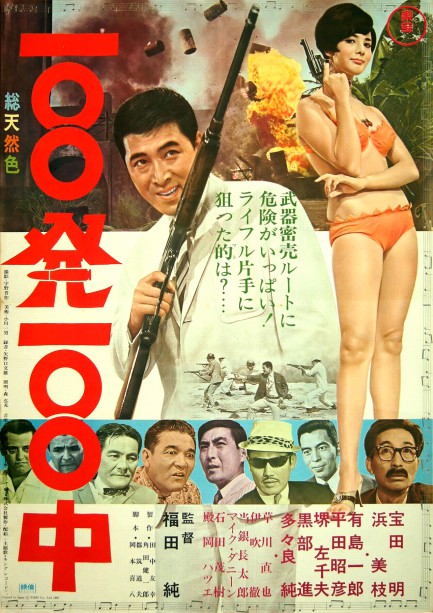 The poster above was made for the Japanese spy movie Hyappatsu hyakuchu, a title which translates to "100 shots in 100"—i.e. to be infallible—but which was called Ironfinger for its English language run. A French-Japanese Interpol agent is assigned to break up a gun smuggling ring led by a mystery man known as Le Bois. The James Bond-inspired action starts in France, ends in the Philippines, and is preposterous the entire distance between, which we suppose we might have expected from the studio that made Godzilla. Our favorite moment: Mie Hama is flying a small airplane and sees minor villain Huang Chang Ling making an escape by parachute. She decides the best solution to the problem is to run into him with the plane—cue buzzsaw sound effect and bucketful of red paint. That isn't even the most gruesome demise on display here, but the movie isn't particularly violent—it just reserves a few clever deaths for those who deserve them. It also has a pretty rocking burlesque number right in the middle, performed by Hatsui Tanooka, who you may remember we mentioned a few years ago. Hyappatsu hyakuchu premiered in Japan today in 1965, and a sequel—which for a movie this weird was needed beyond doubt—came a few years later.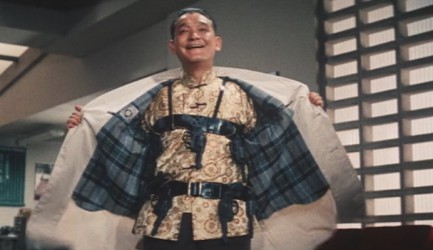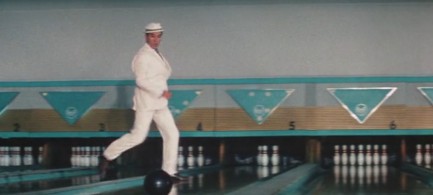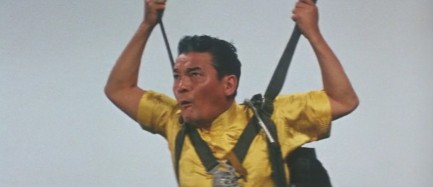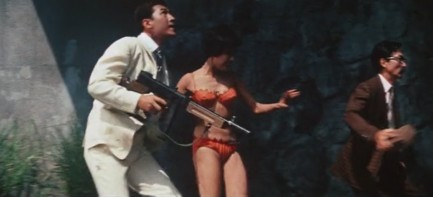 ---
Godzilla's kid is a real son of a beast.

Above is an unusual poster for the 1967 Toho Co. flick Kaijū-tō no Kessen Gojira no Musuko, aka Monster Island's Decisive Battle: Godzilla's Son, which was shortened in the U.S. to Son of Godzilla. Below are eight lobby cards. Probably the centerpiece of the film is the proud rite of passage when Godzilla's son, named Minilla or Minya, learns to gout radioactive fire. At first he can only manage what looks like a smoke ring. Pretty much harmless, we gather. In order to get his boy to blow a stream of proper radioactive chaos Godzilla resorts to stepping on the little one's tail. That does the trick, but certainly such a move would constitute child abuse today. But you know what they say: Spare the claw, spoil the child. Anyway, we'd like to recommend Godzilla's Son, but there's no way—it's laughably cheesy. But if you tend to be entertained by utterly ridiculous vintage sci-fi, well then, maybe it's your cup of radioactivity.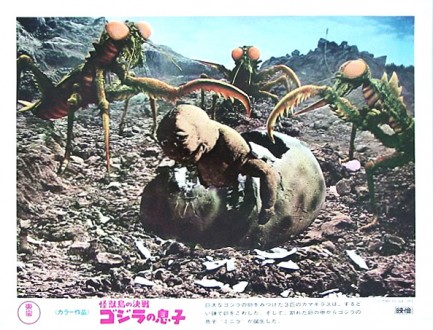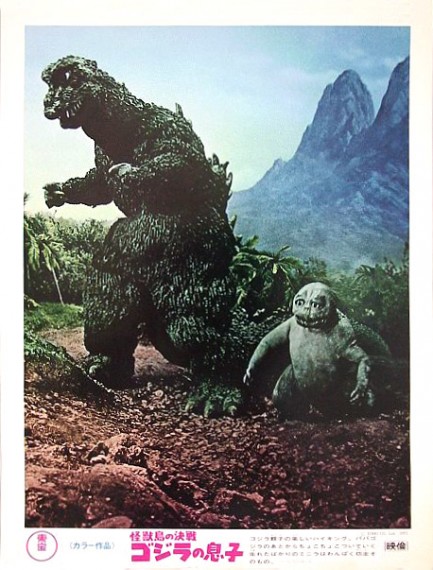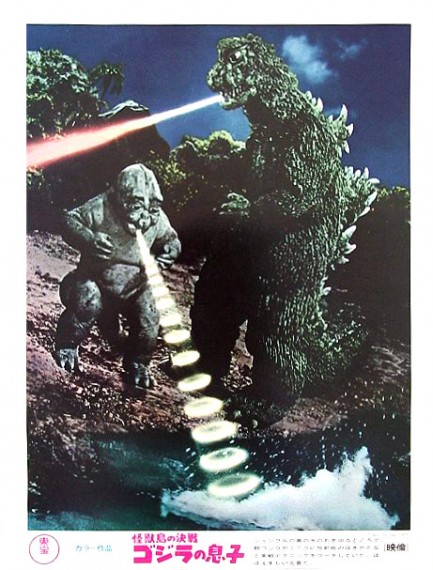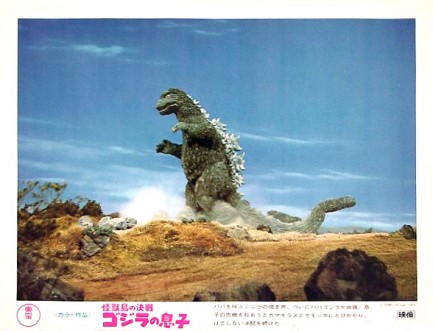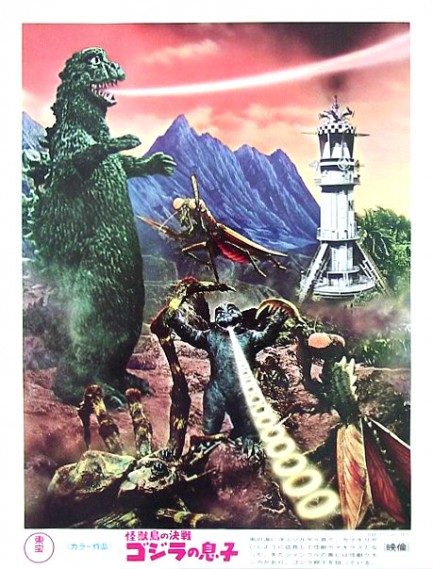 ---