Change is inevitable—especially if you're dealing with Ian Fleming.
Ian Fleming was not an author to be trifled with. We talked about how he shifted the rights for Casino Royale from Popular Library to Signet. Well, here we go again. The above 1957 Perma paperback of Diamonds Are Forever with excellent William Rose cover art is rare because Fleming shifted the publishing to Signet after Perma changed the title of Moonraker to Too Hot to Handle. Since this happened after the Casino Royale fiasco you'd think the editors would have known better.
Perma: Ian, Moonraker is a terrible title. It sounds like a sci-fi novel.
Fleming: You listen here, you sniveling little pup—
Perma: This is my job, okay. I'm telling you a bad title hurts your whole brand.
Fleming: Well, I have an idea for a book called Goldfinger. I suppose you think that's a bad title too?
Fleming: Why you rotten eel. And Octopussy? You don't like that either?
Perma: Sounds pornographic. It's ludicrous.
Fleming: You have two tin fucking ears is what's ludicrous! And Chitty-Chitty-Bang-Bang?
Perma: The worst of the bunch, and pornographic. I'm sorry, Ian—
Fleming: Chitty-Chitty-Bang-Bang? Pornographic? That's the last goddamned straw, you pimply little Yank!

---
Went down down down and the flames went higher.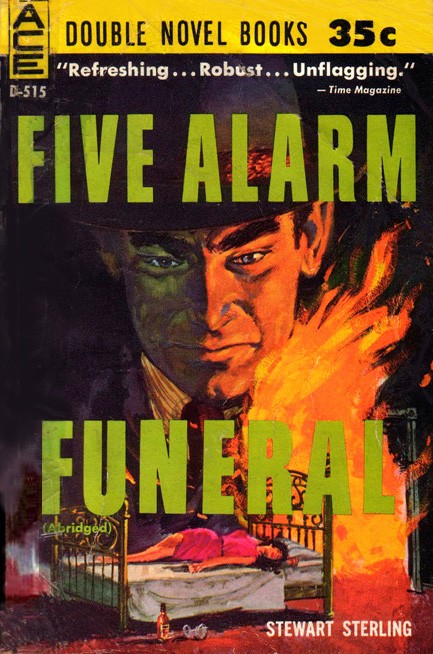 Stewart Sterling, aka Prentice Winchell and several other pseudonyms, began as a writer for radio but eventually branched out into pulp novels and carved out a literary career that lasted almost twenty years. He created two running characters during that time. One of them was Gil Vine, a house detective in a hotel. The other—Ben Pedley—was a fire marshall who relied upon training and experience to foil arsonists (who typically were merely the hired thugs of more highly-placed criminal elements). Fire Marshall Pedley had the drive and toughness you'd expect from a fictional firefighter, as well as the flaws you enjoy in an anti-hero. There were nine Fire Marshall Pedley novels, including Five Alarm Funeral, which you see above, Where There's Smoke, Fire on Fear Street, Alarm in the Night, Too Hot To Handle, Hinges of Hell, and others. For more detailed information on Sterling and his body of work, visit his page on the website Mystery*File.com.
---