I love the way you wait for the hole to open then just pound it in there.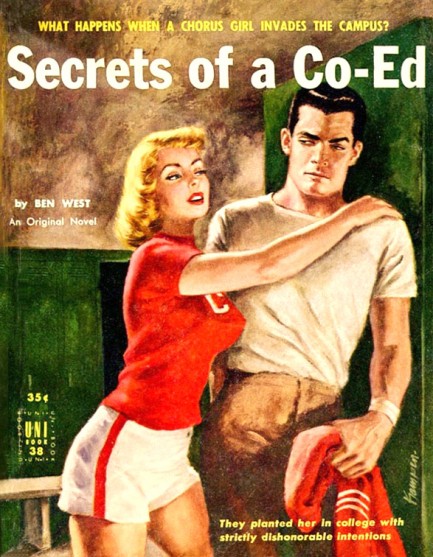 It's amazing how explicit sports commentary can be. In baseball you hear phrases like, "He shortened his stroke," and, "He likes to go hard inside." In basketball you'll hear, "He's always around the rim," or variations thereof. But the winner has to be football, where you'll hear quite often, "His tight end was wide open." Ben West's Confessions of a Co-Ed falls squarely into the sports sleaze niche of fiction, and the cover falls even more specifically into what we think of as locker room sleaze. We wouldn't go so far as to say it's an official genre, but we've noted many covers of this type.

Confessions was actually written by James W. Lampp using a pseudonym early in his writing career, and in this book he tells the story of a Broadway showgirl named Sally who enrolls in high school and pretty soon is distracting the football team so much they can't win games. As noted on the book front she's being paid by an organized crime ring. The idea is for the crooks to make a killing betting against the team, and of course the boys are pretty much powerless against Sally. But complications ensue when she finally comes across a player she actually likes—the studly quarterback. 1952, with cover art by Owen Kampen.


---
The way you're throwing yourself at this stranger, I'm guessing you and your cousin Cletus have called it quits.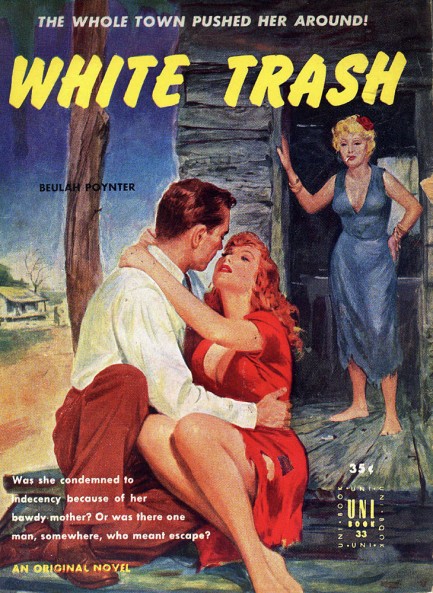 White Trash appeared in 1952 from Universal Publishing and it was written by Beulah Poynter, who in addition to authoring many novels was a notable silent film actress and playwright. Obviously, this tale is from the oversexed hicks bin, with the required boozing and fighting intermixed. The story features a moonshining mother, Mattie, and her precocious teenaged daughter, Hagan, who are equally beautiful, popular, and available. But eventually a line is crossed and the community gets up in arms about these two. Think of the story as cut rate Erskine Caldwell with pretensions to Faulkner, and a violent climax tacked on. It was Poynter's last novel. The cover artist is uncredited.
---