You know, every few years we vote about changing the name but just enough people in this town really are hateful.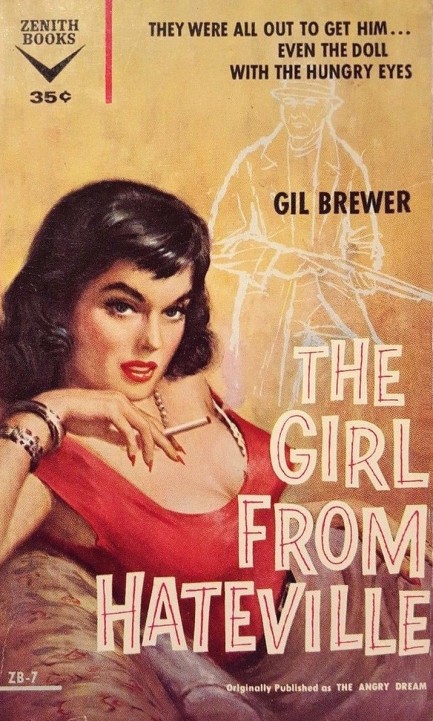 Gil Brewer's The Girl from Hateville was originally published as The Angry Dream, but this is one time changing a title was a good idea. Not only is the original title a bit limp, but Hateville is the perfect word to describe the town at the center of the narrative. These people are rabid. They're furious at the main character because his father, a banker, cost quite a few of them their savings, but geez, people—it was eight years ago and his son wasn't even living there when it happened. But that doesn't matter to the haters. They do just about every horrible thing to the guy you can imagine, even as he's trying to unravel the mystery of the missing bank funds. As hostile-hick-town-versus-innocent-man tales go, this one is pretty good, as well as unusually vicious. This Zenith edition was published in 1958 and has great Samson Pollen cover art.


---
He fell for her—hook, line, and sinker.
Above is a nice cover for Ed Lacy's Blonde Bait. We talked about Lacy recently—he was a white writer who lived much of his life in Harlem and wrote many black characters. Blonde Bait isn't one of those books. It's about a guy named Mickey who's sailing the Florida Keys on his yacht and comes across a woman stranded on a sand bar. Strangely, she has a suitcase. Her name is Rose, and how she got there, as well as what's in the bag, is what the book is all about. That and whether she's telling the truth about highly connected and dangerous men trying to kill her. Lacy wasn't a master stylist—at least not this time around—but for those who like books with boats, islands, and mysterious femmes fatales, this one will fit the bill. The art on this beautiful 1959 Zenith Books edition is by Rudy Nappi.
---
Very funny. Why don't you just call it your penis like an adult and stop with that stupid nickname?
Not only does the book's title sound like a nickname for a penis, but so does the name of the author—John Wyllie. Well, the story has nothing to do with sex. It's a World War II saga set in Sumatra and revolving around a group of flyboys. Wyllie got some of his ideas from firsthand experience—he was a flyer for Canada during the war, was shot down, and spent some years in Japanese prison camps. He wrote about a dozen books, with this one coming in 1955 (paperback in '58), and enjoyed moderate success.


---