… blah blah blah … free you from sin and save you … name of the lord ... amen. Okay, all done, guys. Cook him.
En deux manches et une belle... translates to, "In two sleeves and a beautiful..." offering us no idea of its actual meaning. Doubtless this is another French colloquialism. The author is Patrick Rock, an obvious pseudonym. These can be difficult to untangle, but in this case the main clue comes from the fact that the translator Louis Valgrand is listed on the cover. That sort of attribution is somewhat rare. And considering the fact that this book was almost certainly never actually written in English, but rather was part of the wave of French language imitations of American crime novels, we suspect Valgrand was the author. Probably the publishers Éditions Flamme d'Or wanted to Americanize the novel with an appropriate sounding pseudonym, but Valgrand couldn't forego seeing his name on the cover. Don't cite us on that. It's still just a guess, but one that makes sense. The cover art is by René Brantonne and the copyright is 1952.


---
Don't it make her brown eyes blue.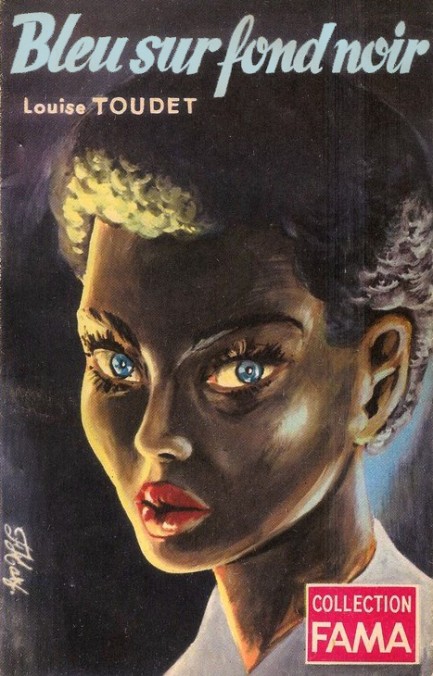 We said yesterday that we had located a few more Harf pieces, and here's the best of the lot, in our opinion, the cover for Louise Toudet's romance Bleu sur fond noir, which would translate to something like "blue on black background." It was published in 1956 by S.E.P.I.A. for the Fama series. This is the only book that Toudet ever wrote, according to our research, but we have a lot more great Harf art that we'll share down the line.
---