Sightings of bizarrely garbed figures have South Carolina residents baffled and worried.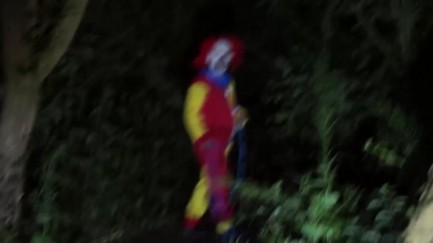 A rash of scary clown sightings have occurred in the U.S. in the last week in the state of South Carolina, mainly in Greenville and Spartanburg counties. The encounters have varied from clowns attempting to lure children into the woods, to a pair of citizens chasing two clowns into a waiting car driven by a third clown. The photo above is an actual shot made by a man in Greenville, which he posted to Twitter with the caption, "Just spotted a major freak behind Fleetwood Apts." The building happens to be ground zero for some of the clown sightings.
The favored explanation online for all this weirdness is that it's a publicity stunt for the new Rob Zombie horror movie 31. If that's the case, we've done our part for Rob by sharing the promotional poster just below. But assuming these sightings are publicity stunts, doesn't that seem like a very serious risk to take? American cops are trigger happy, and it isn't glitter and confetti that comes out of their guns. Let's say instead of a clown getting ventilated, though, he was arrested. For what, we aren't sure, since it isn't illegal to offer kids candy, which is what reports say one of the clowns did—but whatever, clown gets arrested. All the suspect would have to say is, "I'm a clown, it's true, but not that clown."
Absent fingerprints ("No prints, sir, he must have worn gloves."), shoe prints ("The casts are finished, sir—he wore size 37.") or DNA (best not to think about that), only an admission of guilt could connect the arrested clown to the previous clowns. Or maybe police could stage a line-up. Of clowns. Bring in a tearful witness. "Yes, officer it was the one on the far left. I'm sure of it. I'll never forget *sob* his big red nose."
Our guess is that these sightings are one of those instances of bizarro cultural programming, like the one that causes UFO or Bigfoot sightings. Rogue clowns have been reported lately not just in South Carolina, but in Ohio, Wisconsin, California, and even jolly old England. For our part, we hope the sightings simply stop. We don't need to get to the bottom of them. If they're real, we don't want to know who (doubtless one or more smug white guys, though) figured it was a perfectly fine idea to dress in a weird costume and terrify bystanders—this in a country where people wearing nothing more than dark skin end up shot for jaywalking. Which raises the question: if a clown were to be shot, would it be tragic, tragicomic, or just plain comical? Guess it depends on how you feel about them.


---
Never known a girl like you before.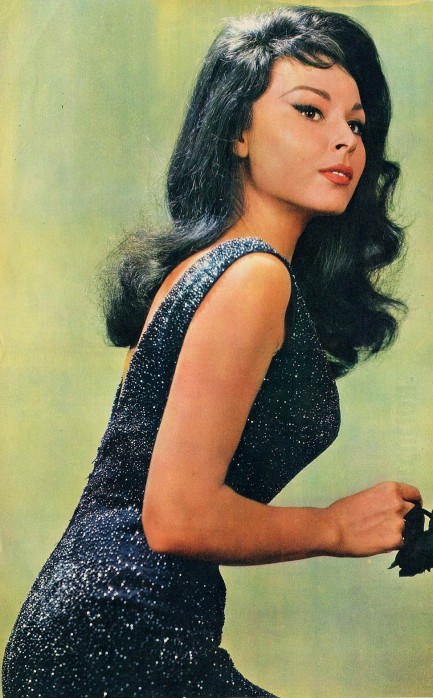 Above, a brilliant shot of French/Italian actress Dominique Boschero, who acted in about sixty films during the 1950s and 1960s, including OSS 77—Operazione fior di loto (aka OSS 77—Operation Lotus), Gli imbroglioni (aka The Impostors), and Agente 310 spionaggio sexy (we probably don't need to translate that one, right?). This image is from 1966.
---