Not with my daughter you don't.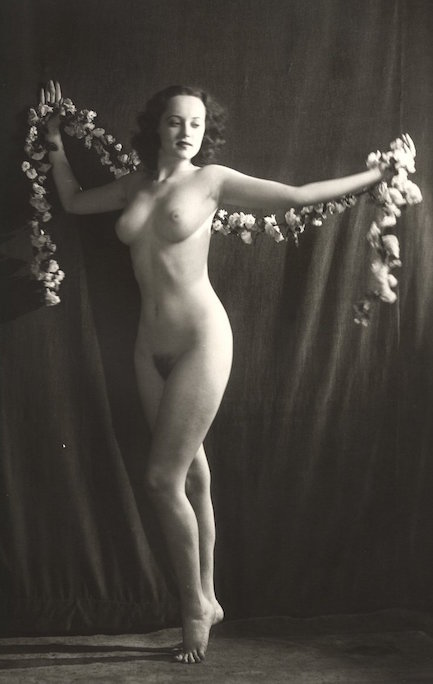 They say the apple doesn't fall far from the tree. We wonder if legendary pin-up painter and connoisseur of the nude female form Earl Moran was upset about that. We ask because that's his daughter above, Peggy Moran, posing in the altogether in this shot made by famed photographer Alfred Cheney Johnston around 1936. Did Earl and Al know each other? Well. That must have made for an interesting discussion. But what could Earl say, really? Of course, another intriguing possibility is that he never knew. Generally, models kept their early nudes secret. Marilyn Monroe changed the paradigm when her naked shots came out and she shrugged and said, "And? Pervs. So what?" We're paraphrasing.
Maybe Peggy kept her nude session quiet, but we prefer the idea of Earl and Alfred having a little tête-à-tête about it:
"But Alfred, I thought we agreed she was off-limits."
"I know, Earl, but look at her. I'm only a flawed fifty-something human male faced with youthful feminine perfection. I mean, she's 100% f'dilf."
"Wha... what? She's a what?"
"You know. A friend's daughter I'd..." *winks and grins*
"I'm gonna fucking kill you."
This stuff writes itself. In any case, two years after the above shot was made Moran got her break in films and by 1940 was a regular on the silver screen, appearing in One Night in the Tropics, Drums of the Congo, and about thirty other films. Talentwise, she had the goods, as a glance at the very enjoyable goofball horror movie The Mummy's Hand will confirm. Her career hit overdrive by 1941, but it didn't last long—she got married and gave up show business to raise a family. Her last role was in 1943. Her nudes finally saw daylight sometime after that.


---
In this instance it's fine to Strain your eyes.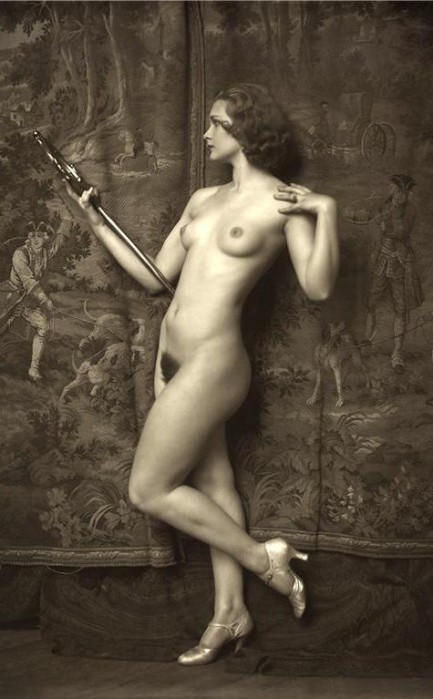 This rather awesome photo shows U.S. actress, singer, and dancer Drucilla Strain, a Ziegfeld Girl and Broadway performer whose career ran from 1929 to the mid-1940s. The date given on this everywhere online is 1920 but that's wrong. She was a child then. The image is probably from 1930 or 1931, which was right around the time her show business career was getting off the ground. The photo—again, rather awesome—was made by famed lensman Alfred Cheney Johnston, part of a trove of unseen studio nudes unearthed after his death in 1971.


---
And now for my talent I'm going to stun the room into total silence.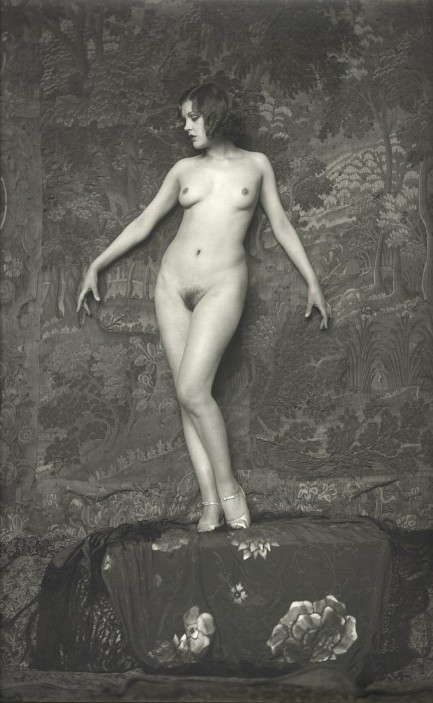 We're reaching a bit farther back than usual for a femme fatale with this great Alfred Cheney Johnston image of Jacqueline Schalley, aka Jacqueline Schally, a Folies Bergère and Ziegfeld dancer who was once chosen the "Fairest Girl in France." Based on that distinction she was sent to the U.S. to do a nationwide publicity tour before competing in New York City in an international beauty pageant. No word on whether she won, but then again, the judges probably never saw her like this. Photo is from 1927.
---