Gentlemen prefer blondes. So do elderly billionaires, used car salesmen, and pornographers, but let's leave all that aside for now.
We said we'd get back to Anita Loos and here we are. We said that eleven years ago, but what can you do? Above you see a French edition of her classic comedy Les hommes préfèrent les blondes, better known as Gentlemen Prefer Blondes, with Marilyn Monroe—who starred in the movie version—front and center on the cover. We read the book a while back—its full title is actually Gentlemen Prefer Blondes: The Illuminating Diary of a Professional Lady—but haven't talked about it, so we'll just tell you that it's simply ingenious, taking the form of the diary of a somewhat vacuous and entitled socialite flapper named Lorelei, who is to gentlemen what sugar is to flies. Lorelei is a material girl obsessed with wealth and status, who expects adoration and basically plies most of these guys for gifts. But of course she does choose someone in the end.
The novel is built from short stories Loos wrote for Harper's Bazaar in the early 1920s. It was originally published in book form in 1925, with this edition coming in 1959, a few years after film version's French run. Loos' masterpiece wasn't loved by critics, but it was a runaway success anyway and ended up being printed in thirteen languages. Little known factoid—unlike the film version, which takes place on a cruise ship, a chunk of the novel occurs aboard the Orient Express, with Lorelei displaying herself to the crème of European gentlemen from Paris to Budapest. She even meets Sigmund "Froid." Gentlemen Prefer Blondes obviously isn't pulp style at all, but Monroe had a pulp-worthy life, so that's connection enough for us. If you want a mental break from gunplay and mayhem, this is a good option.
---
And as far as gentlemen go, they'll take whatever they can get.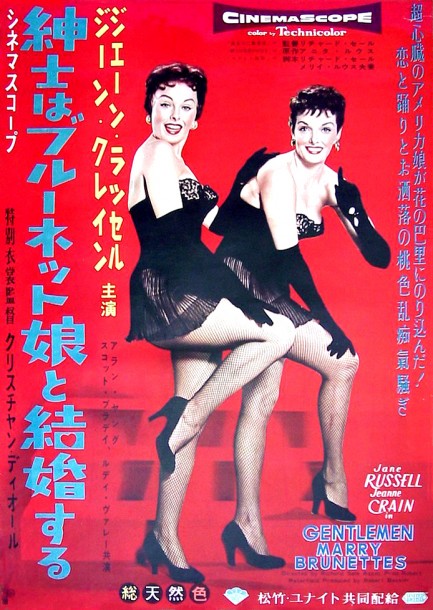 Above is a brilliant poster for the film musical Gentlemen Marry Brunettes starring Jane Russell and Jeanne Crain. Both Brunettes and 1953's Gentlemen Prefer Blondes had begun as novels written by Anita Loos, in 1927 and 1925 respectively. Blondes (it was actually the second time the book had been filmed) was of course a smash with Marilyn Monroe and Jane Russell in the leads. A year later Monroe was unavailable to reprise her role as Lorelei Lee, so both leads were rescripted into entirely new characters and Jeanne Crain scored the new part opposite Russell. Gentlemen Marry Brunettes appeared in 1955, but the result wasn't quite as electric as Gentlemen Prefer Blondes. Same old story—it's almost always pointless trying to capture lightning in a bottle twice, and a sequel without Monroe was destined to disappoint, at least artistically. But it did become one of the top box office movies of 1955. Amazing, considering it's almost forgotten today. Seems the audience has stated its preference rather clearly. Well, even if Brunettes fell short of Blondes in the memorability department, there's nothing forgettable about its Japanese poster.
---
Their eyes were watching bod.
We love this cover for Anita Loos' 1925 novel of ambition and materialism Gentlemen Prefer Blondes. Brilliantly rendered by Earle Bergey, the so-called gentlemen here are leering caricatures evincing monstrous thirst for the beautiful young blonde. The book became a bestseller and, twenty-three years later, a film with Marilyn Monroe and Jane Russell which premiered today in 1958. The book's cover image helped establish Bergey's reputation as an illustrator without peer, and more than eighty years later it's one of the most common pulp images on the internet. We'll post more Bergey art later, and also revisit Anita Loos.

---