Two men find out that nothing in life is truly free except trouble.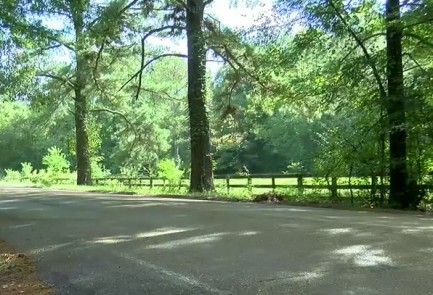 An interesting story came out of Byram, Mississippi yesterday that caught our eye because it's pure pulp. We actually read a book a while back that has the same plot set-up. We can't remember the title but we wouldn't kid you. Anyway, the story is two men happened upon an Acura sedan on the side of a country road with a sign on it reading "free car." The keys were in the ignition, so they took it for a ride, presumably with plans to keep it. In the book the guy actually was asked to drive the car, instead of finding it, but it had same basic opening.
At some point, we like to imagine, one of our Mississippi duo sniffed a couple of times, turned to the other and said, "Bro, was that you?" After a fierce fart denial, a counter accusation, and an agreement that the ten pine tree air fresheners scattered around the car's interior couldn't be making the aroma, they stopped, opened the trunk, and found a corpse. At least, that's how we picture them finding it. More likely, after the intial jubilation had passed, they simply realized a free car—even a used Acura sedan—was too good to be true. The baggage in back was identified as Anthony McCrillis, last seen a few days earlier. According to the Byram sheriff there were no signs of obvious trauma—on the corpse he meant, the two guys are probably still freaked. An investigation is ongoing.
The humor here—and yes, it's a little funny—comes in thinking about the note writer. Did this scheme spring forth from his brow unbidden, or had he worked his way up to it? Like did he start years back by leaving a bag of free clothes somewhere, but they were all infested with ticks? Then
maybe he left an umbrella somewhere but when someone opened it a dead parakeet fell out? And later, jazzed over his bird caper, maybe he left a free recliner on the road that had a cat under the cushion. The guy fascinates us, whoever he is. His cold, calculating callousness is a sheer marvel.
And yes, we're assuming there was a murderer, and McCrillis didn't plan to give the car away, wrote a note, made one last trunk check, oopsed his way inside and pulled the lid shut after him. There's a killer for sure. One with a wicked sense of humor. But the joke's on him because he'll get caught. He has to. You can't mess around with a car, a corpse, and a note, and leave no evidence unless you're Fantômas or Jame Gumb. After his conviction he'll be told he's getting a free prison cell, but find he's actually housed with some six-five lifer with face tattoos and a mental catalogue of callous ideas that have made three prison psychiatrists leave the profession. You know what that would be called, right? Karma.


---