Ready, aim, when the concession manager bends over we all nail him in the ass.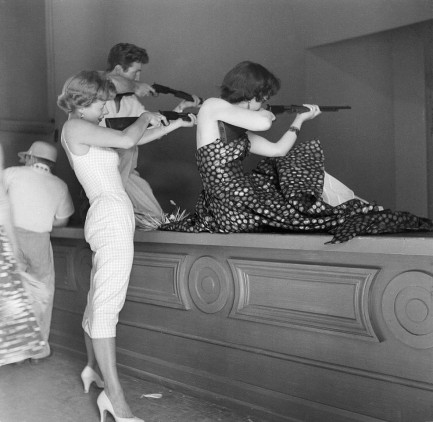 Today in 1955 the soon-to-be global tourist attraction Disneyland debuted to 28,000 invited guests, media, and assorted celebrities on hand to lend a bit of glitz to the kitsch. Stars who were present included Eddie Fisher, who hosted the festivities, Debbie Reynolds, Danny Thomas, Ozzie and Harriet Nelson, Art Linkletter, Irene Dunne, Jeff Chandler, Eve Arden, Marilyn Maxwell, George Gobel, Margaret Whiting, Gale Storm, Charlton Heston, and many more. The above photo shows, left to right, Adelle August, Steve Rowland, and Kathleen Case enjoying the air rifle attraction, and Case in particular must have been a hell of a shot, firing away from the hard-to-master seated position. No word on whether any of the trio won a prize, but we doubt it. On the other hand, considering the congestion and the mess 28,000 people can make maybe the prize was being allowed to the front of every line and having a celebrity potty watched over by a furry mascot wielding a mop and bucket. We aren't sure how long Case and Co. hung around—it was 101 degrees Fahrenheit that day and the water fountains weren't functioning—but it looks like they went above and beyond the call of publicity. If we had to guess, though, we'd say they left immediately after Case felt the monkey's warm anus on her bare shoulder.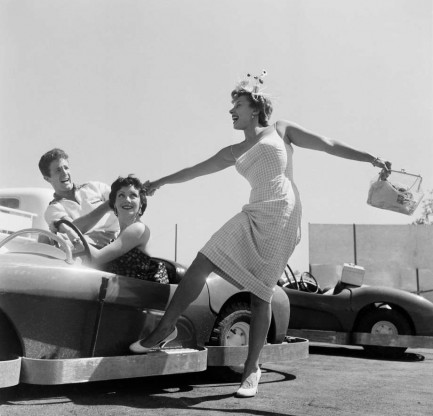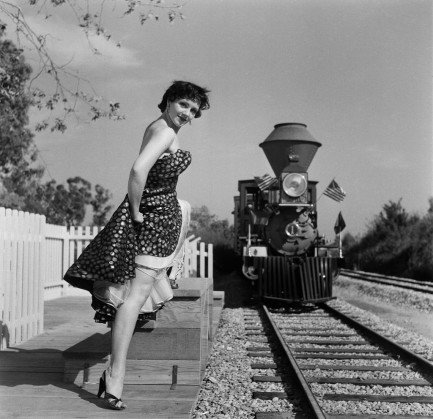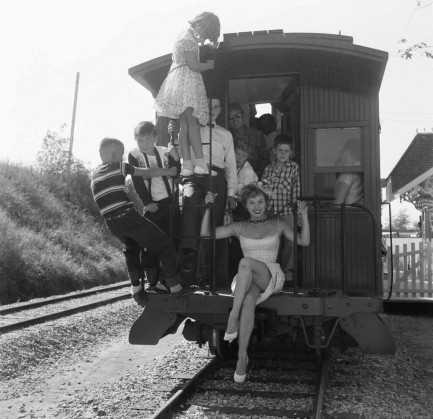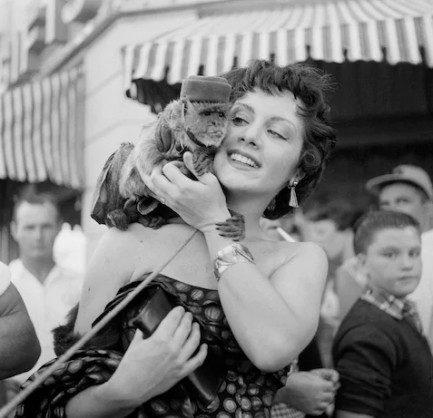 ---
We're gonna need a bigger tub.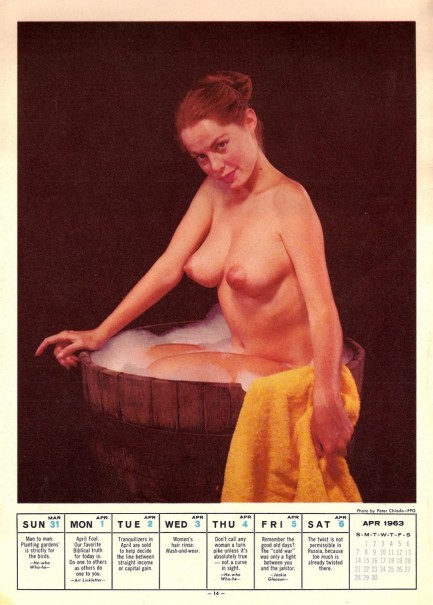 After two weeks of unknowns, we're back to a face we recognize on this installment of the Good Time Weekly Calendar of 1963. She's none other than Diane Webber, aka Marguerite Empey, one of the most popular nudist models of the 1960s, photographed by Peter Chiodo. We say "nudist" rather than nude because she specialized in posing for sun worshipper publications, of which we posted a rather entertaining collection here way back in 2008. Below are the usual transcriptions of daily quips from the calendar. And like always, some of them are nonsensical to us. For instance, did people really call women "turnpikes" back then? And what the hell is Jackie Gleason on about? No idea. But we'll keep sharing these little quotations anyway on the off chance you get a chuckle out of them.
March 31: "Man to man: Planting gardens is strictly for the birds."—He-who Who-he
April 1: "April Fool. Our favorite Biblical truth for today is: Do one to others as others do one to you."—Art Linkletter
April 2: Tranquilizers in April are sold to help decide the line between straight income or capital gain.
April 3: Women's hair rinse: Wash-and-wear.
April 4: "Don't call any woman a turnpike unless it's absolutely true—not a curve in sight."—He-who Who-he
April 5: "Remember the good old days? The 'cold war' was only a fight between you and the janitor."—Jackie Gleason
April 6: The twist is not possible in Russia because too much is already twisted there.
---