Nothing is harder to wipe off than otherness.
If you're in the mood for a movie built around a martyr complex Tarnished is just the ticket. In this one a man from a shunned smalltown family returns to his home after seven years to find everyone has heard he's been in prison. He's mistreated by nearly every resident in this backwater burg, but the thing is, he was never in prison. He was actually in the marines, was wounded on Tarawa, and spent a long period in a military hospital. But he won't tell anyone this. Even though all sorts of trouble results, not only for him, but for anyone who dares to treat him kindly, he still maintains silence about his past. Was this character wounded in the brain? No—he's just infected by a 1950s morality that existed mainly in the movies.

American morals changed due to the human slaughterhouse of World One I, the degradation of the Great Depression, and a return to the slaughterhouse during World War II. These shocks weakened previous social strictures. For example, by 1950 most women were having sex before marriage, though less so in small towns. That's why Tarnished is such an interesting film. People watching in New York City or Chicago in 1950 were probably almost as annoyed by these Podunkville values as viewers are today. And that's really the point. The movie creates a retrograde, antagonistic community, adds to this a protagonist stained by otherness but who has true integrity, and pits town against hero to show how self-destructive small-mindedness can be.

If there's a serious flaw in Tarnished, it's is that the internal logic falters somewhat when the protagonist actually does, in fact, admit that he was in the marines to one of his antagonists by way of explaining why he's about to commit a heroic act. If he'd left the man with no explanation for the subsequent heroism, the movie's point would have been even sharper. The screenplay was adapted from a novel by a twenty-five year old author named Eleanor Mayo, and we have a suspicion she had more interesting things to say in her narrative. Maybe we'll try to track it down. Tarnished, with Arthur Franz as the strong but silent hero and Dorothy Patrick as his love interest, premiered in the U.S. today in 1950.


---
When you get on his wrong side, it's the other side of a marksman's scope.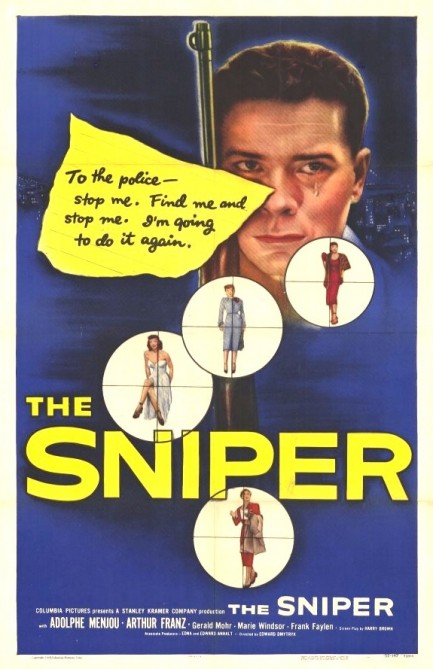 A few days ago we mentioned the Noir City Film Festival and waxed nostalgic about San Francisco. The festival schedule reminded us of noirs we haven't seen in a while, and revealed others we've never seen. On the Noir City bill this evening is a film from the latter category, Edward Dmytryk's 1952 thriller The Sniper. We watched it last night and it more than deserves a slot in a prestigious festival like Noir City. The film was shot in San Francisco, and stars Arthur Franz as a former mental patient named Eddie Miller who is gripped by murderous impulses. Perching in windows and on rooftops, he uses a carbine and scope to target unsuspecting victims. As yet the gun isn't loaded, but his sexual feelings for a female acquaintance catalyze his urges. The expert marksman begins killing, ultimately slaying four women (that's not a spoiler, given the four scoped targets on the poster art). Eddie Miller treads similar ground as hundreds of other cinematic lost souls, but film historians say he was first—American film's first serial killer. This one is worth it both for the movie and for its usage of San Francisco exteriors, which are so expertly and extensively intergrated into the production, we have a feeling Bay Area audiences will marvel over that more than the actual plot. But they should pay close attention to both. Dmytryk is the same director who gave the world Murder, My Sweet and Crossfire. This is top tier filmmaking.
---