Oshida and Co. may have been to reform school but once a boss always a boss.

First film in what would become the successful Zubekô banchô series, Zubekô banchô: yume wa yoru hiraku, aka Delinquent Girl Boss: Blossoming Night Dreams, aka Tokyo Bad Girls stars Reiko Oshida as a parolee from a reform school who takes a job in a Shinjuku hotspot called Bar Murasaki, but finds walking the straight and narrow a difficult ambition to fulfill. As usual in these pinku films set in and around nightclubs, a criminal syndicate wants to take over, which means she's soon stuck between a resistant owner and an insistent Yakuza. Some girls she knows from reform school have also found spots at the club, and in addition to Yakuza problems, Oshida finds herself drawn into the issues of her friends.
But it's good they're around, these girl delinquents, because when the climactic brawl with the villains happens, Oshida will need loyal friends at her side. On the whole Blossoming Night Dreams is tamer than later entires in the Delinquent Girl Boss series, but considering the sexual violence that began to appear, most would consider that a good thing. Of course, it's always important to remember that these films are counterculture in character, replacing the subservient women of previous eras with badass riot girls who always took violent revenge upon men who wronged them. The formula was both exploitative and pro feminist, with the sexploitation putting rear ends in the seats, whereupon the progressive message was hammered home.
Anyway, moving on to the poster, you may notice that, by a quirk of design, Oshida, star of the film, does not appear to be star of the promo art. The topmost position is given to Keiko Fuji. But a closer look reveals that Oshida gets a full body shot in the center foreground of the art, while Fuji is layered behind. It's still unusual that Fuji is placed where she is, though. While she plays
Bar Murasaki
's headlining performer, she has far less screen time most of the other castmembers. But she's good in her role, Oshida's excellent, Masumi Tachibana, Yukie Kagawa, and the rest of the troupe are having fun, and everyone deserves credit for making the movie well worth a screening. Zubekô banchô: yume wa yoru hiraku opened today in 1970.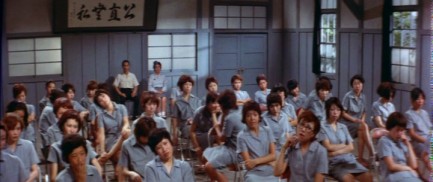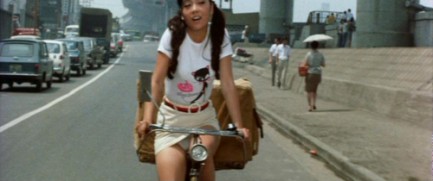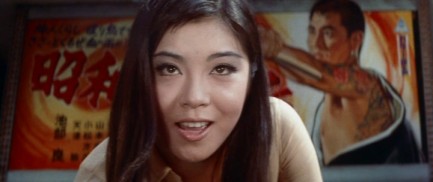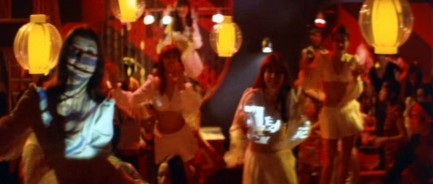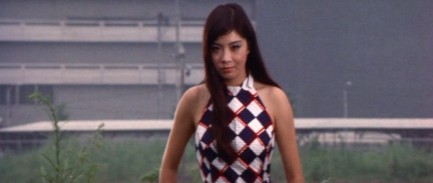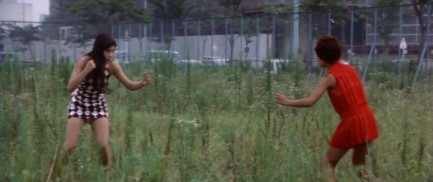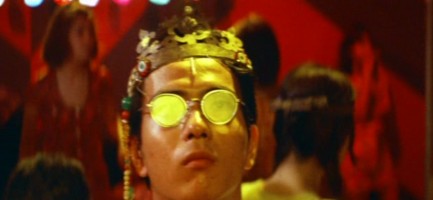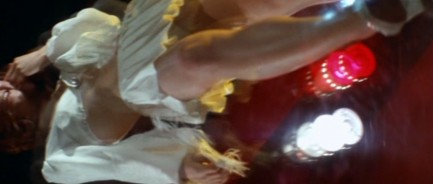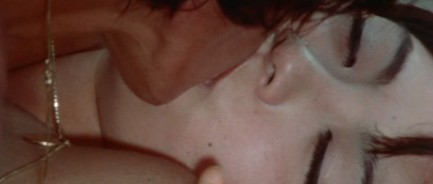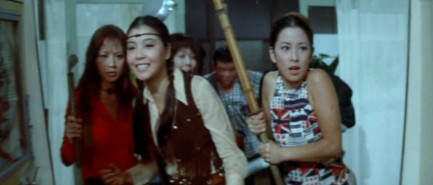 ---
Everything about this photo is right—except who's supposed to be in it.
Ah, the internet, that font of misinformation. The amazing photo above has made its way onto numerous web pages identified as Sharon Tate. It isn't. Only wishful thinking could make this model—though beautiful—look even remotely like Sharon Tate. The photo actually shows West German sexploitation actress Gigi Darlene, née Heli Leonore Weinreich, who is known for the 1965 sexploitation flick Bad Girls Go To Hell, as well as Hot Nights on the Campus, Nudes on Tiger Reef, The Very Naked Canvas, et al. Tate has plenty of amazing photos of her own, so when we saw this misidentified in so many places we figured we'd stand up for poor Gigi. Another shot of her from a webpage dedicated to her appears at right, and you can see that the above woman and the one at right are the same. As far as Tate goes, we like this shot.
---