How it started nobody can remember for sure. How it ended nobody can ever forget.
Above is a photo of the aftermath of the Cocoanut Grove fire of 1942. Its appearance belies the scope of the disaster that took place there. The Cocoanut Grove had been founded as an illegal speakeasy and, after the 1933 repeal of Prohibition, became Boston's trendiest nightspot. It consisted of several properties that had been consolidated into one, and was a labyrinth of tropical-themed bars, lounges, and dining rooms, complete with a famous "rolling roof" that allowed patrons to dance under the stars during warm summer nights. The club's cobbled together construction meant there were many points of egress, but owner Barnet "Barney" Welansky was preoccupied with the possibility of people using these to dash without paying their checks, and had hidden some exits behind curtains, locked others, boarded up a plate glass window, and bricked over an emergency exit.


About 10:15 p.m. one frigid November night a fire started for the most banal of reasons. A soldier in the Melody Lounge, which was in the basement, had either loosened or removed a light bulb in an artificial palm tree to create the privacy he desired in order to make out with his date. A busboy was ordered to replace or tighten it. He climbed onto a chair and lit a match so he could see, very likely using one from a matchbook like the one at right. Moments later the canopy of artificial palm fronds overhead caught fire. Whether it was the match or the light bulb that started the blaze nobody ever figured out for sure, though the busboy unambiguously blamed himself and the match.
But in any case, flames blossomed through the paper and rattan decorations. Waiters tried to douse them but they quickly became what witnesses described as a fireball. This fireball raced up a staircase to the lounges and bars on the ground floor and men and women ran upstairs with their hair ablaze. The flames burst into the main level and triggered a deadly crush at the revolving door entrance, which was immediately rendered useless as patrons tried to escape by pushing in opposite directions. Another crush formed at a set of double doors that opened inward from the street. In the panic, the patrons couldn't organize themselves enough to step back so the exit could be opened. As people struggled, passed out, and piled up before the doors, the flames consumed everything.
M
any people escaped. They ran through the kitchen, or squeezed through barred windows. The house band's bass player, Jack Lesberg, who later went on to perform with Louis Armstrong and Sarah Vaughan, among others, smashed his way out using his stand-up bass. Five survivors barricaded themselves in a walk-in freezer. In all, about half the occupants escaped, but in the end the fire killed 492, which was thirty-two more people than were legally allowed to inhabit the building. Some patrons were so quickly overcome by fumes that they died sitting at their tables. Firemen described charred corpses with glasses in their hands. Barnet Welansky went to jail for multiple counts of manslaughter, but was pardoned after only four years by Massachusetts Governor Maurice J. Tobin, who had been the mayor of Boston at the time of the fire. Helps to know people, and helps even more to drink with them. The Cocoanut Grove fire—or inferno might be a better word—was today in 1942.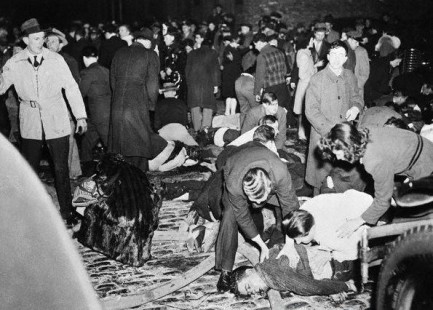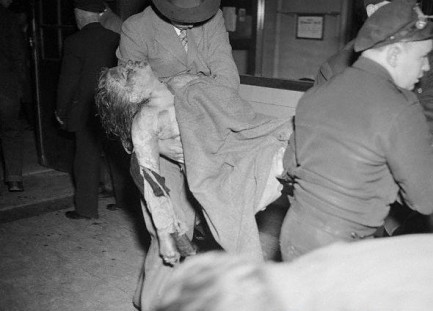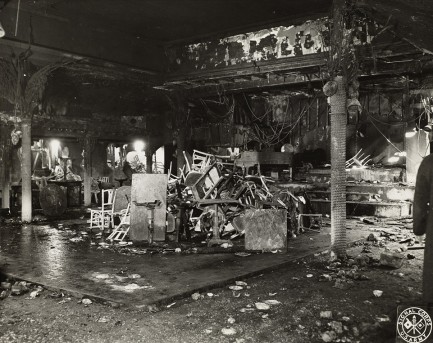 ---