When ragtag crooks hook up with a bevy of Bahama mamas a tropical storm breaks.
Basil Heatter 1963's novel Virgin Cay was an enjoyable tale, so when we saw this Robert McGinnis cover for Harry and the Bikini Bandits we couldn't resist. The novel, which came in 1969 with Fawcett/Gold Medal's edition appearing in 1971, is the story of seventeen-year-old Clayton Bullmore's trip to the Bahamas to see his nutty uncle Harry, who lives on a raggedy ketch and has a magic touch with women of all types. This is where the bikinis come in, but the bikini-wearers are not the bandits (except, technically, one). The bandits are Harry, a couple of his acquaintances, and Clay, who's dragged into a scheme to rob the big casino in Nassau. The combination of coming-of-age story and casino caper is fun, and Heatter mixes in humor, sex, and action, and folds it all into a winning waterborne milieu. He even manages to add a shipwreck, a deserted island, and buried treasure, so we'd say he includes all the most beloved tropes of tropical adventures. It'll make you want to run away to the Caribbean. Heatter is two-for-two in our ledger.


---
The view is amazing but the amenities are sorely lacking.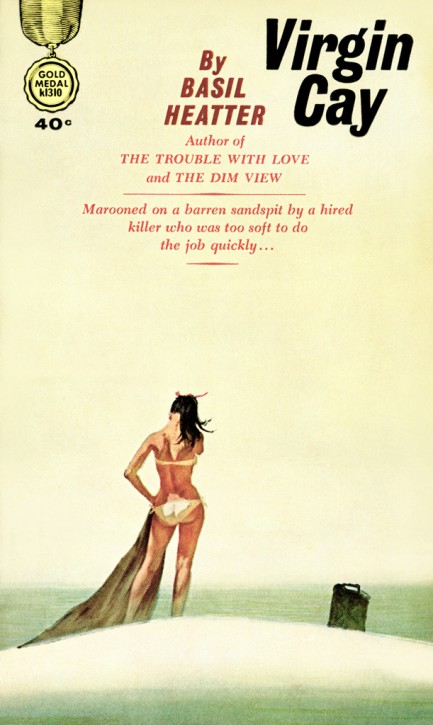 Charles Williams has made us love seagoing thrillers, so whenever see a book that seems to be along those lines, we grab it. When we saw this Robert McGinnis cover for Basil Heatter's Virgin Cay, we were immediately sold. And in fact, the novel feels like a lost Charles Williams tale, thanks not only to its aquatic focus, but the fact that it's written to a nearly Williamsian skill level.
The set-up is great. A guy washes up on a chi-chi Caribbean Island after his sailboat sinks, and his appearance from out of the sea, a stranger in a community where everyone knows each other, gives one resident the idea to entice him into a foolproof murder plot by promising him enough money to buy another boat. Since the castaway is not rich, and it would take him a lifetime to save for a replacement vessel, he's mightily tempted. It's from there that things get complicated.

The art on this Gold Medal paperback, in addition to its obvious beauty, reveals an important aspect of the plot—woman alone on an isolated hump in the sea with little more than a can of water. But how do we get from a shipwrecked sailor to a woman marooned on an island? Well, if you look at the rear cover, it's clear someone deliberately leaves her there. We won't say more. Nice effort from Heatter, definitely worth a read.

---
Life is like a box of chocolates—someone else always tries to take your favorite piece.
Basil Heatter's The Captain's Lady

is the story of a World War II vet who moves to a Florida fishing town and opens a charter boat business. It had been the dream of he and his buddy,

Forrest Gump

-style, and just like in

Gump

the buddy was killed in battle, so the protag Greg Cape has to go it alone. At least until he meets a tough woman named Billie, and it's good she's tough, because the local boating cartel plans to run Cape out of town. But when he decides to fight, Billie helps, and all hell breaks loose. It's still a bit like

Forrest Gump, but with Gump as a badass. The art for these editions, 1950 and 1953, is uncredited.

---