The greatest trick the Devil ever pulled was convincing the world it was an adventure film.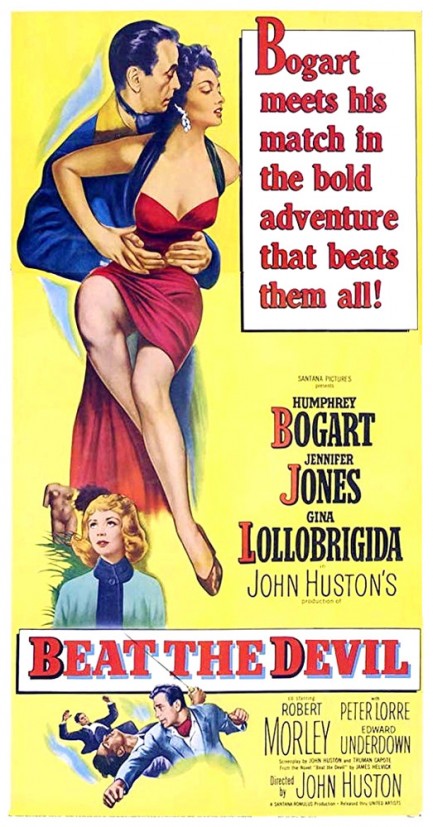 Above, a beautiful poster for John Huston's love-it-or-hate-it comedic African film Beat the Devil, which premiered in the U.S. today in 1954 and starred Humphrey Bogart, Gina Lollobrigida, Jennifer Jones, and Peter Lorre. This poster, while cool, is completely misleading. Beat the Devil is not an adventure. When it was made there was no category for it, but today such movies are called "camp." Only over time have audiences come to understand it. We wrote about it awhile ago and shared a Belgian poster, here.
---
When we said the Devil is in the details, we had no idea how prophetic that would turn out to be.

So, we got an email a few days ago from a reader named Paul about our Mort au diable

post "The Devil Is in the Details" from last month, and we were asked if we were 100% sure the art for that poster was painted by Jacques Thibésart. Well, we thought we were. Then we realized we weren't. Turns out the poster was from the Belgium's S.P.R.L. Belgique, and they have a mark that, if you aren't paying close attention, looks like Thibésart's signature. Thibésart signed his work Mik, Tib, or with his own name sometimes, but the

Mort au diable

signature, which reads Wik, is obviously different (see above). S.P.R.L. is a famous press, and their signature is well known—to everyone but us, as of a couple of days ago. Below is the last portion of our reply to Paul:
It's actually rather interesting, because for us the site is just simple fun, and we often joke in our posts about how we don't take it seriously. However our analytics tell us that people are continually cross referencing here and using it for research, and the traffic is far larger than we ever expected [snip]. With that in mind, we pledged a while back to try and get all our information correct, and we are quite diligent nowadays, but something still slips through occasionally. Without readers checking our facts, we'd never get everything right, so you've done us a big favor.
So there you have it. Epic fail on Mort au diable, but every mistake makes us a little better. We've corrected the earlier post, but didn't want the change to go unacknowledged. As it happens, yesterday we were in France, in a town called Bayonne, and at a vintage bookshop we saw another piece from S.P.R.L. Belgique. We didn't have any Thibésart handy to use for a detailed comparison of the signatures, but there was no need—we already knew we'd gotten it wrong. Now the good news. First, we picked up a stack of great French pulp. And second, we're going to get this Thibésart thing right today. All the great book covers below are his. They're from the imprint Presses Mondiales for their series Amour et Police, and were published during the 1950s. 100% on this. Seriously.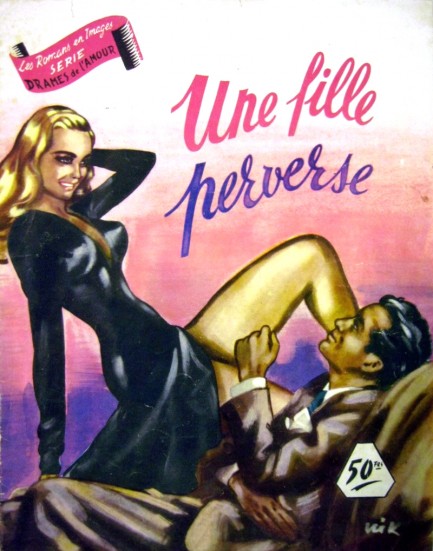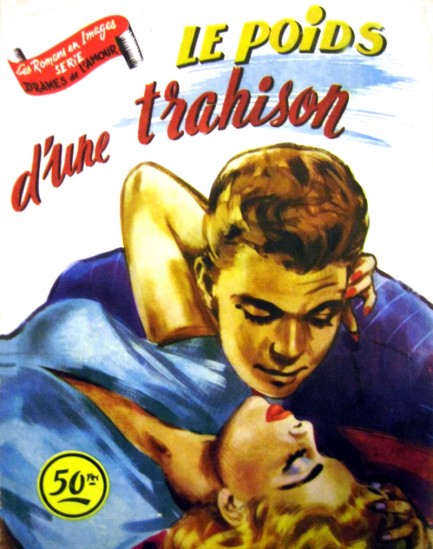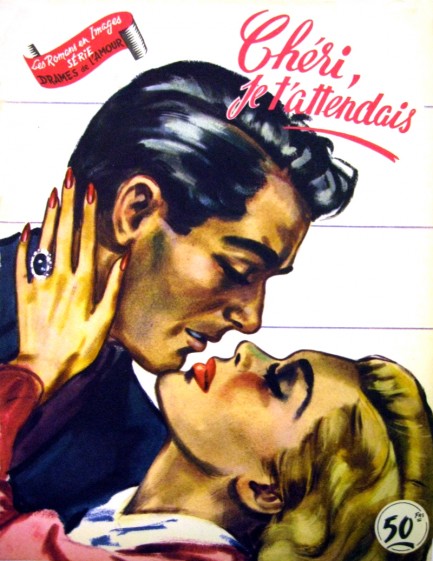 ---
Beat the Devil flopped in 1954 but today is appreciated as pioneering camp cinema.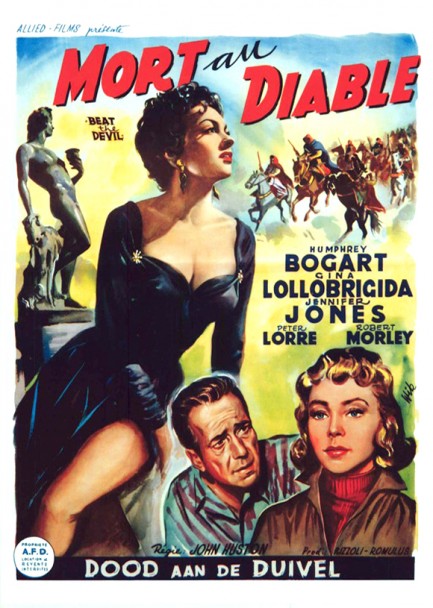 We'll tell you right now that we are not neutral when it comes to John Huston's Beat the Devil. We love it. It has Humphrey Bogart, Peter Lorre, Gina Lollobrigida, and the exquisite Jennifer Jones, so we loved it immediately. If only audiences had felt the same. The movie was such a flop that not only did it lose money, but its copyright went unrenewed, causing it lapse into public domain. But keen observers, after they got over being misled by the promotional campaign into thinking the movie was a standard Hollywood adventure, soon realized that what they had on their hands was something new—a camp satire bringing together some of the most distinct voices of 1950s cinema.
And we mean voices literally. You have Humphrey Bogart with his famous lisp, Gina Lollobrigida with her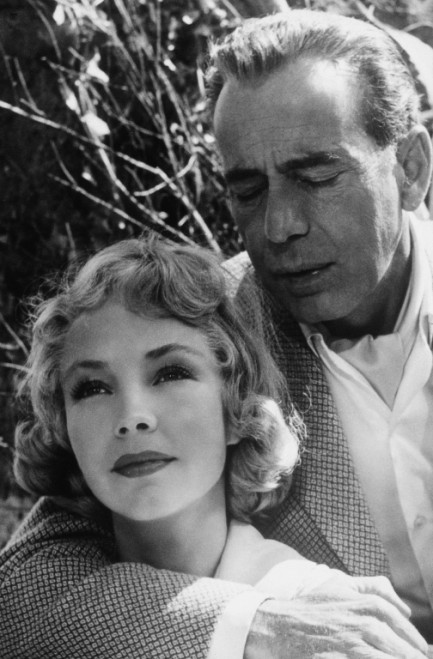 vampy Italian drawl, Jennifer Jones trying on an English lilt, Peter Lorre with his trademark Germanic accented sniveling, and more. The accents are your first clue that the movie is going to be all over the place.
The plot concerns a group of raggedy adventurers who hope to buy uranium-rich land in East Africa. Problem is, they need to get there. Seems straightforward enough, but the cosmos itself is aligned against them—cars fail, boats sink, betrayals ensue, information gets garbled, and just about any other obstacle you can imagine appears.
But Beat the Devil isn't slapstick. It's satire, which means it isn't funny in a conventional way. In fact, maybe there isn't a real laugh in the entire movie. Yet you have to smile when Marco Tulli introduces Peter Lorre's character O'Hara as O'Horror, you have to marvel at Jennifer Jones' crazy accent that sounds like an English version of Bogart's lisp, and you have to watch with heightened interest during her famous calesthenics sequence, in which she has an entire conversation with Gina Lollobrigida while doing... well, we don't know what she's doing, but it looks like this.
Despite these and other charms, Beat the Devil is polarizing. Bogart declared that only phonies liked it. Huston, on the other hand, was well aware of its uniqueness and even told Jennifer Jones—who had already been nominated for four Academy Awards and had won once—that Beat the Devil would be one of her most remembered roles. True enough. The French and Dutch language poster you see above is for the Belgian release, and was put together by S.P.R.L. Belgique. Beat the Devil opened in France today, and Belgium this month in 1954.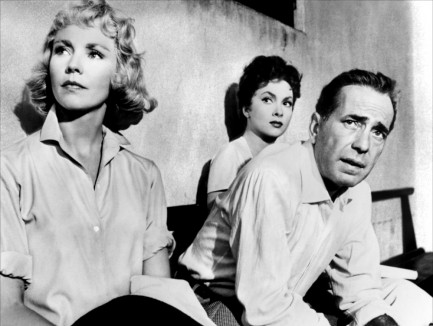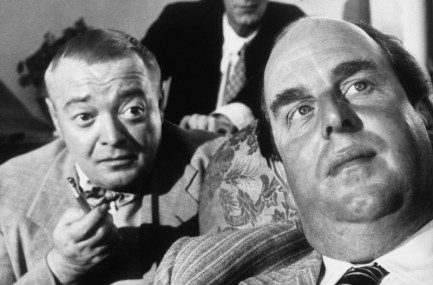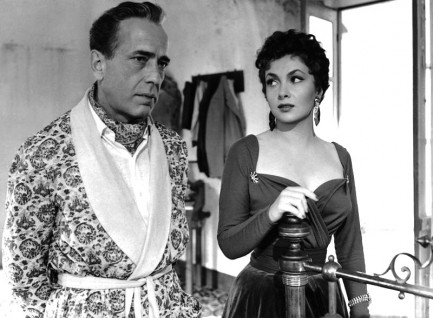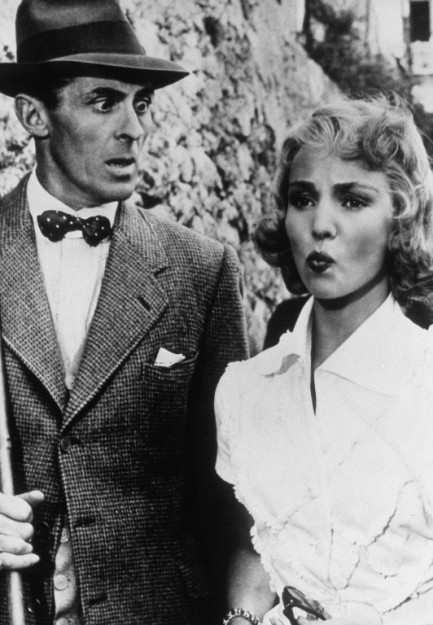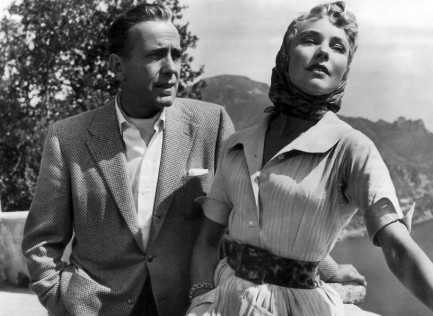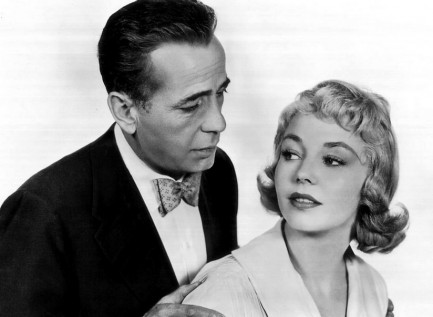 ---