The jail hasn't been made that can hold Honey Blake.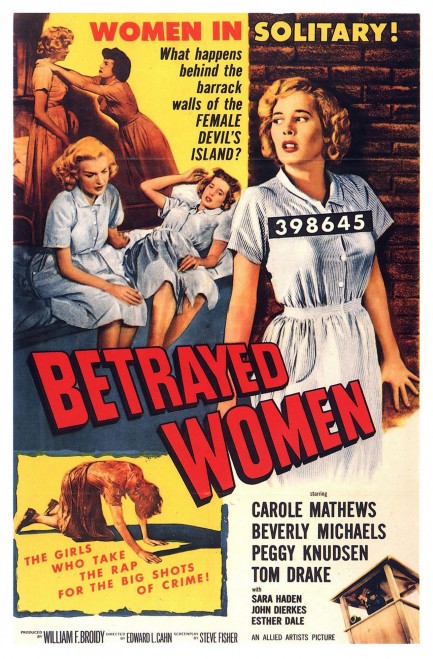 Above is a fantastic poster for the women-in-prison flick Betrayed Women, starring Beverly Michaels. The promo art might make you think this is something other than a bottom drawer b-melodrama, but think again. Michaels plays a gun moll named Honey Blake who gets tossed in the pen after being convicted as an accessory to armed robbery, and she immediately starts plotting to cut her sentence short via escape, while a cruel warden is intent on breaking her spirit—and possibly her cranium. Unintentionally humorous lines of dialogue include, "What is this? A cootie inspection?" and, "Ahh, who knows what goes on in this cockeyed world?" and, "I'm telling you that Blake dame's dynamite!" Michaels is the type of actress who somehow always managed to elevate weak material, but even she can do only so much. The movie has its moments, but not enough of them. It will generate a few laughs, though. It premiered in the U.S. today in 1955.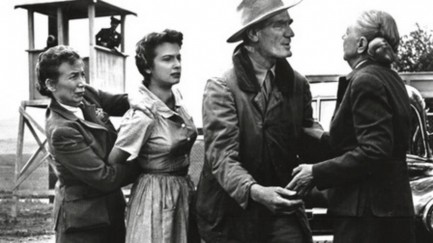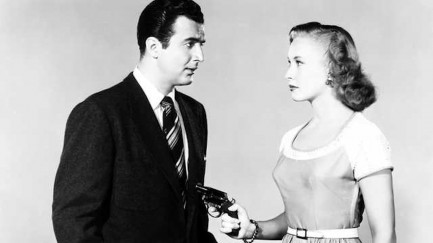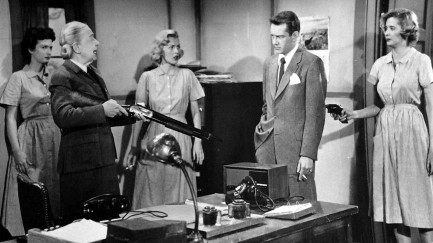 ---
The tune tells the whole tale.
We love when the opening song of a movie tells you everything you need to know about the main character. Wicked Woman stars legendary b-movie femme fatale Beverly Michaels, and here are some choice lines from the intro theme, sung by crooner Herb Jeffries:

Why is a wicked woman a fascinating game,
a thing a good man just can't leave alone?
You know before you start it you'll end up broken hearted,
but still you're like a moth to flame.
What does a wicked woman have burning in her eyes
that casts you in a spell you can't escape?
You know that what she's doin' is sure to cause your ruin
and still you listen to her lies...

Wicked Woman is pure cheeseball melodrama, but it's important because it established the icy cold Michaels blueprint that was copied in later movies—the lure, the scam, and the betrayal, all done unrepentantly. Michaels' fame derives not from acting ability, but from screen presence—i.e. she had that special it needed to play a femme fatale. In fact she's so bad you kind of root for her. Wicked Woman premiered in the U.S. today in 1953, and you can watch the whole thing at this link.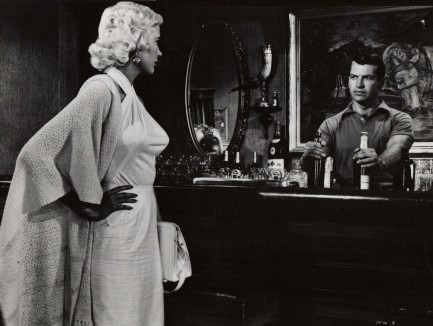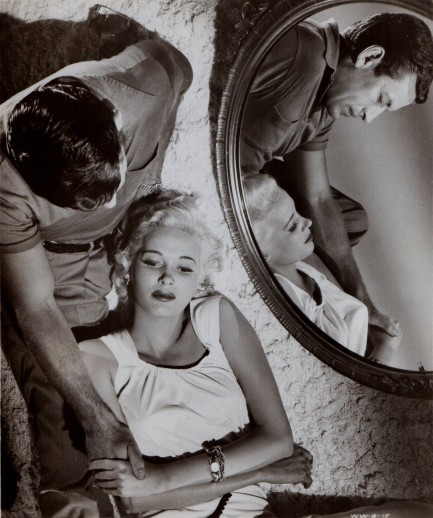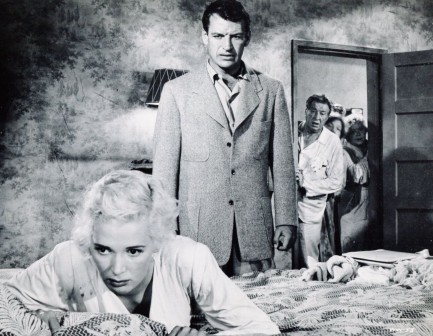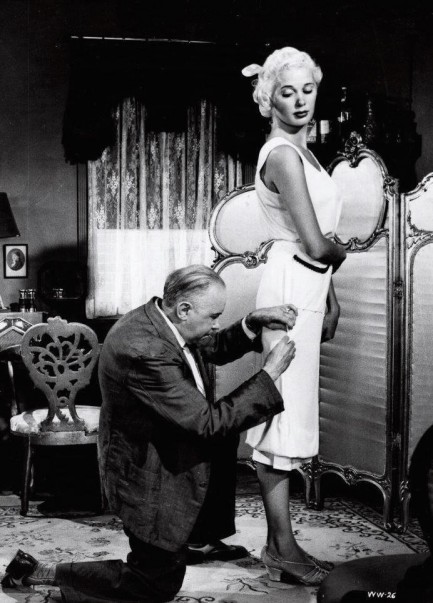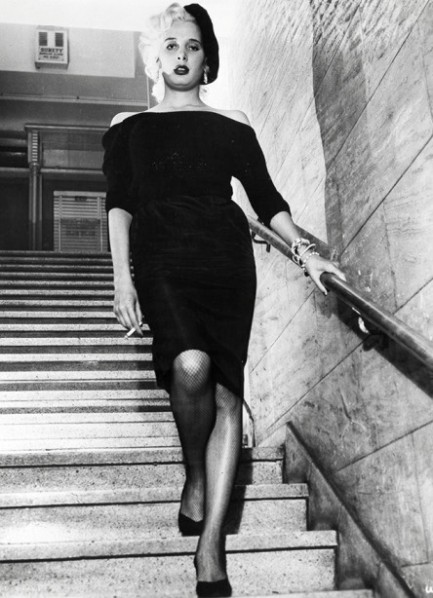 ---
First rule of plotting a murder: make sure the victim isn't listening in.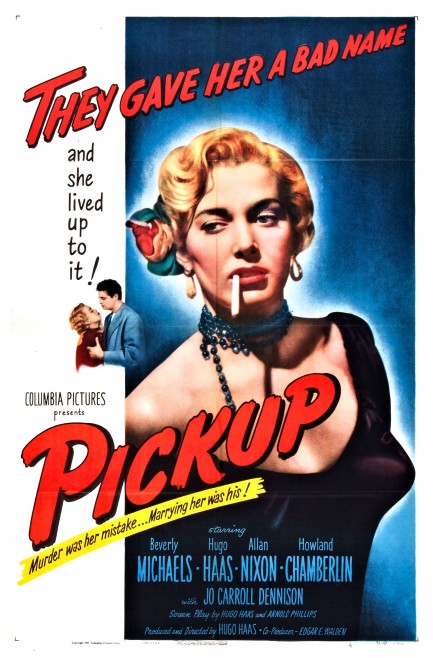 Above you see a poster for Pickup, one of the nastier little noirs we've run across our years maintaining this website. Beverly Michaels tries to worm her way into a retired man's affections in order to have the life of leisure she thinks she deserves. But her target, in addition to being old fashioned and a bit obtuse, has some sort of chronic or psychosomatic brain injury that results in confusion and hearing loss. Even so, she manages to marry the poor slob, then sets about figuring how to kill him to obtain his savings of $7,300. When he's hit by a car one afternoon his hearing returns, but Michaels has no idea it's happened and openly plots to murder him, assuming he's still deaf while the entire time he listens in horror. This isn't supposed to be funny, but it is, uproariously. Michaels says the most vicious things about the guy, behind his back and right to his face, day after day, with no idea he can hear every word. These crazy sequences are a big reason why this cheap little b-flick has survived the decades. Plus Michaels knocks her first starring turn over the center field bleachers, playing shrill, wall-eyed evil to the hilt. She was rewarded with more work, including similar gold digger parts in 1953's Wicked Woman and 1956's Blonde Bait. The latter was her last role, making for a short career, but a memorable one. We recommend Pickup, morbid plot, shoestring production values, and all. It premiered in the U.S. today in 1951.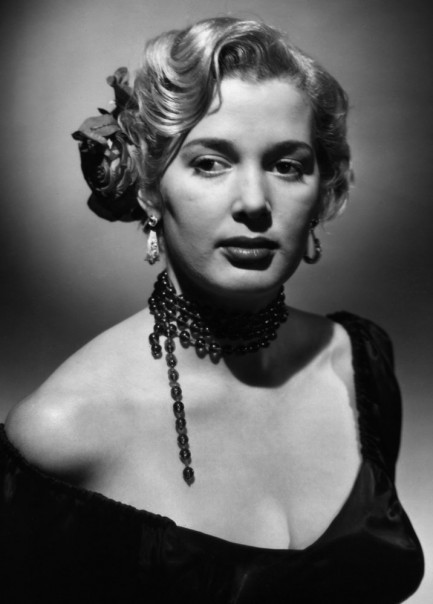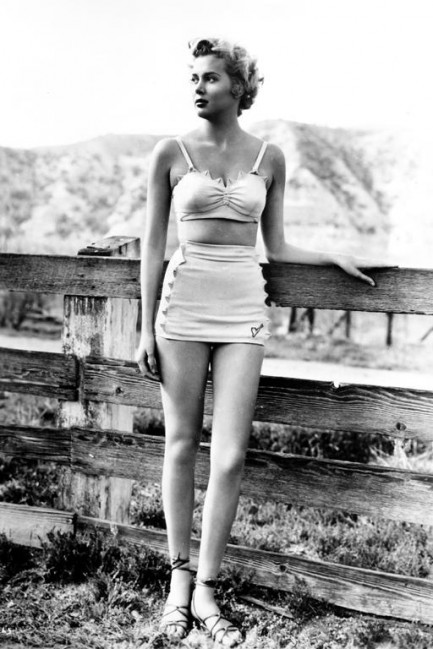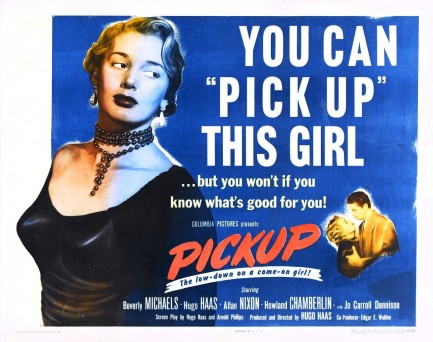 ---