In some ways she's a non-traditionalist.
Above, a nice geisha themed promo photo of Japanese actress Junko Fuji, star of scores of films spanning forty-five years. Among them: Kyokotsu ichidai, aka The Chivalrous Life, Bakuchi-uchi: socho tobaku, aka Big Time Gambling Boss, and the popular Hibotan bakuto aka Red Peony Gambler series. Fuji's showed no signs of slowing down and has another film on the slate for 2018. We don't have a date on this image, but figure late 1960s.


---
She was always eager to take aim at new targets.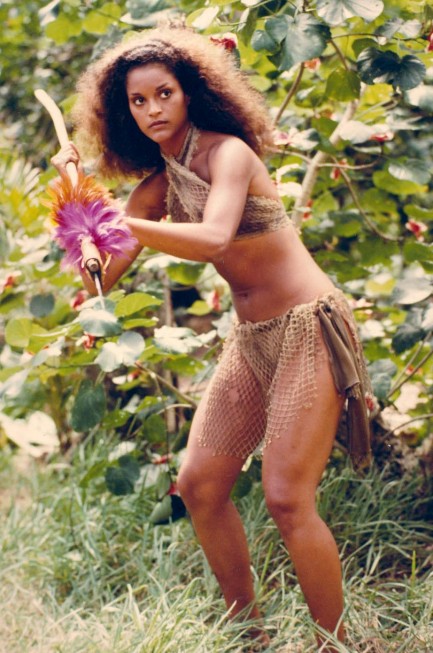 Above is a photo of American actress Jayne Kennedy from her hilarious television movie Mysterious Island of Beautiful Women. The shot doesn't begin to do her justice yet she still looks great in it. Kennedy started in beauty pageants before sliding into television roles and blaxploitation flicks such as The Muthers and Big Time, before veering into sports broadcasting in 1978 with The NFL Today. In pageants she was one of the first black women to blaze a trail, winning Miss Ohio in 1970 and making the semis at Miss U.S.A. the same year. In sportscasting she was one of the first women, black or white, to earn a prominent on-camera role, making her a dual trailblazer. Somewhere in there a sex tape leaked to the public, and since it was also one of the first, she can be said to have blazed a trail there too. Both of these shots are from 1979.

---