Eww! No way! If you want them shaved do it yourself!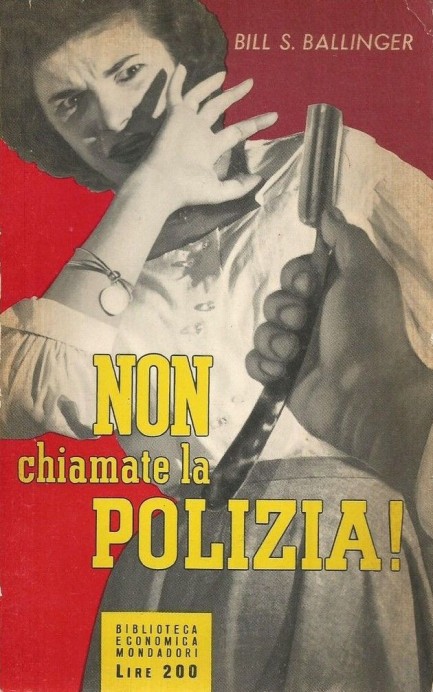 Non chiamate la polizia would translate as Don't Call the Police, a title chosen because that's exactly what doesn't happen. A Chicago businessman gets out of the shower to find his mistress dead, and he doesn't call the cops, instead relying on a private investigator named—wait for it—Barr Breed. That's one of the better names. This was published by Arnoldo Mondadori Editore for its Biblioteca Economica collection, and it's from 1955 and was written by Bill S. Ballinger, aka Frederic Freyer, aka B.X. Sanborn, aka Barr Breed. Actually, strike that last one. We just wanted to say it again. The book originally appeared in 1948 in the U.S., where it had another precisely descriptive title—The Corpse in the Bed. The art for Signet by Mitchell Hooks was excellent, and you see that below. We'll have more from Hooks later.

---
Okay, okay, I owe you five bucks—you can do more pull-ups than me.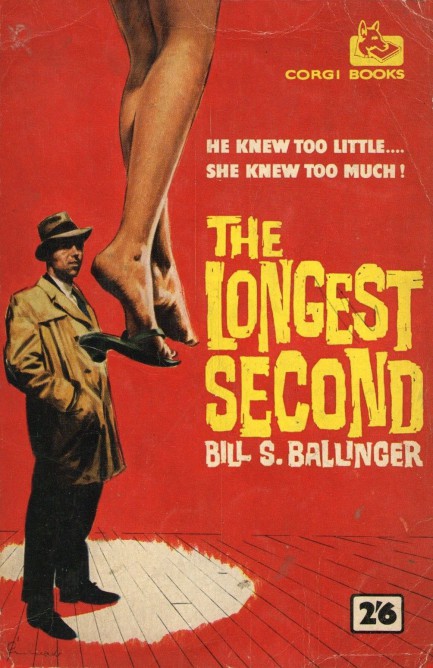 John Richards offers up striking cover art for UK imprint Corgi Books' edition of Bill S. Ballinger's The Longest Second. The story concerns a man who wakes up in a hospital bed with amnesia and a slashed throat who must go about finding his identity and situation. Unable to speak, and with no way to tell who is friend or foe, he digs for clues. He discovers his name is Vic Pacific, he was found naked save for his shoes—one of which contained a thousand dollar bill—and things just get weirder from there. Two women quickly become involved, but one of them… well, she ends up hanging around a bit too long. The Longest Second was originally published in 1957, was nominated for an Edgar Award in 1958, and the Corgi edition above is from 1960. It's considered one of Ballinger's best.
---
Crime goes around, crime comes around.
Well, we're back from Madrid, none the worse for wear. Here's a 1 euro find—a Circulo del Crimen with bloody cover art by Florencio Clavé and fiction by Bill S. Ballinger. The story here is based on the novel Rafferty, aka The Beautiful Trap, which Ballinger wrote back in 1953, but this translated and illustrated version dates from 1985. The 21 in the lower corner tells us there must be a lot of these Circulo del Crimen books floating around. We'll keep our eyes open for more.
---