Emanuelle goes after the wildest game of all.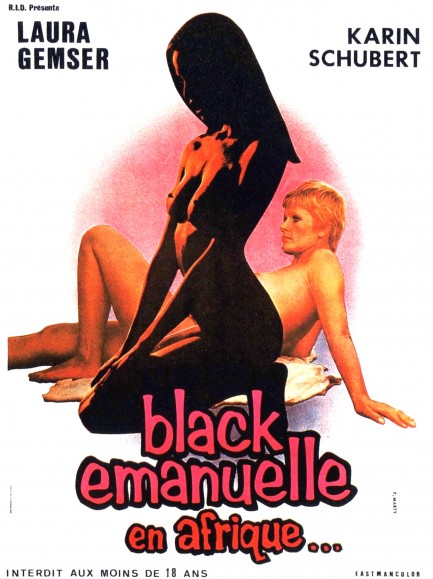 Above is a French promo for the sexploitation romp Black Emanuelle en Afrique, which was originally released in Italy as Emanuelle nera, and in the English peaking world as Black Emmanuelle. After opening in Italy in late 1975 it had its French premiere today in 1976. The promo art is more a photo-illustration than painting, but it's attributed to P. Marty, a minor French creator of promo art during the 1970s. We already wrote about Black Emanuelle en Afrique a few years ago, and let's just say Gemser goes to the developing world and serves as a one woman stimulus package. Want to know more? You can read a bit about the movie and see some eye-catching promo photos at that post.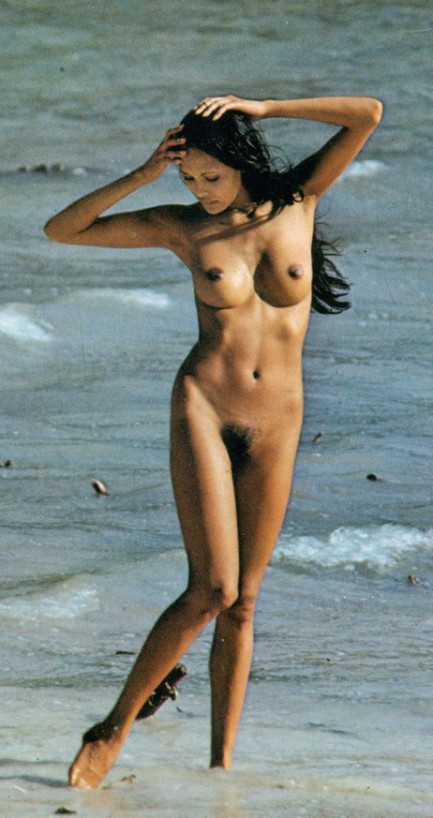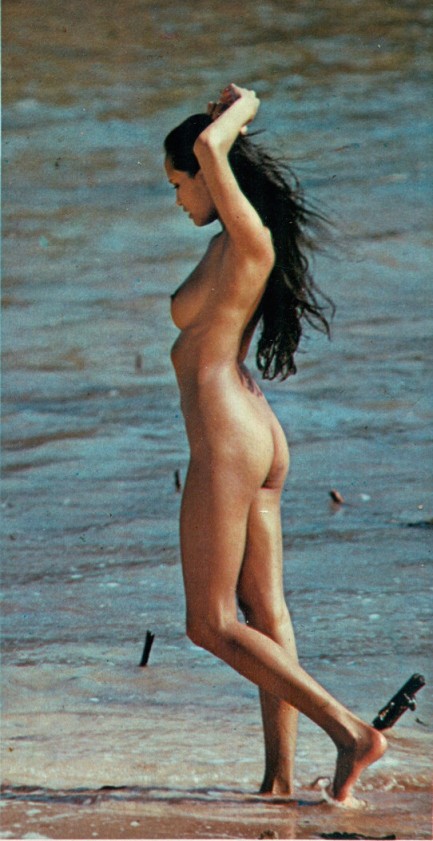 ---
Gemser heats up the deserts of Egypt.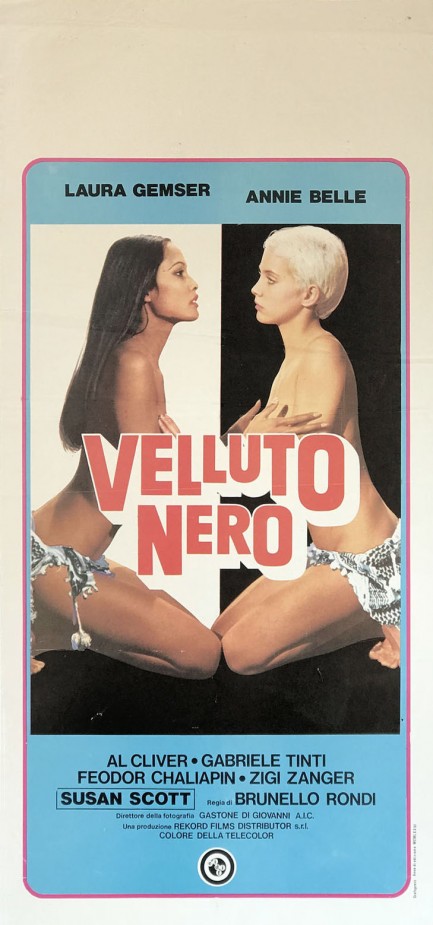 Cinematic sleaze was often fueled, the same as was mainstream filmmaking, by star power, so it was natural to bring two popular erotic performers like Laura Gemser and Annie Belle together. It happened today in 1976 with the Italian premiere of Velluto nero. At some point after its theatrical release it was renamed for English speaking audiences Black Emmanuelle, White Emmanuelle. Gemser was actually Indonesian, born in Surabaya, East Java, however 1976 was the blaxploitation era and everybody wanted a piece of that pie, including, obviously, Gemser's production company Rekord Films. Gemser could have played anything from half black to Persian to southern Italian to Hawaiian to Latina, so it was a canny—if cynical—bit of cultural appropriation. But back then it was seemingly no harm no foul. Audiences wanted to see her naked, and she always delivered.

In Velluto nero Gemser plays a model who vacations in Egypt with her horrible husband and meets the free-spirited Belle, who awakens her to better possibilities in life—ones that don't include her criminally abusive spouse. It's generally agreed that this is one of Gemser's most tepid Emanuelle entries. We have to concur. But Gemser and Annie Belle in the same movie are worth something, at least, and the Egyptian scenery is compelling. We also like that Belle's multi-colored sweater makes another appearance. She must have lifted it from the costume department when she filmed Laure. Velluto nero isn't the last we'll see of her or Gemser, and we'll just have to hope the next encounter is an improvement over this one.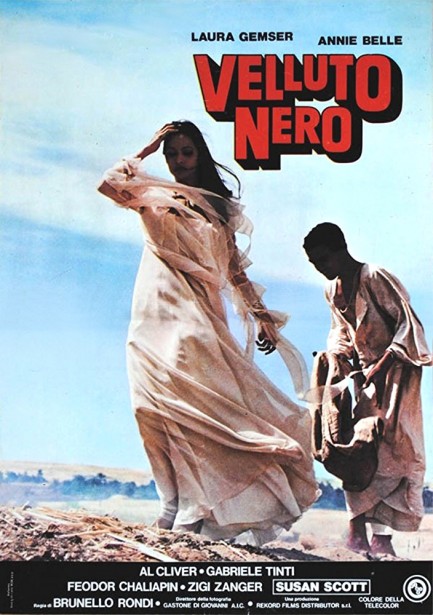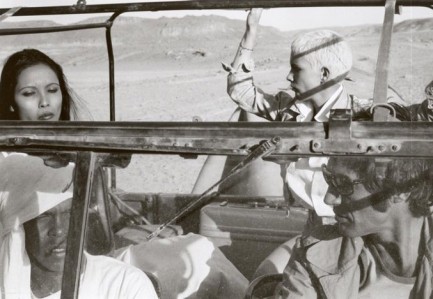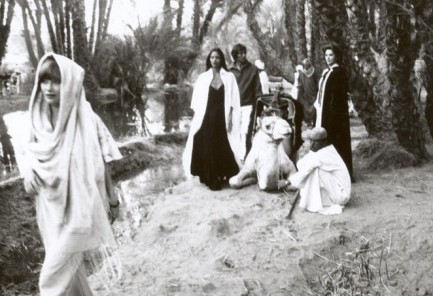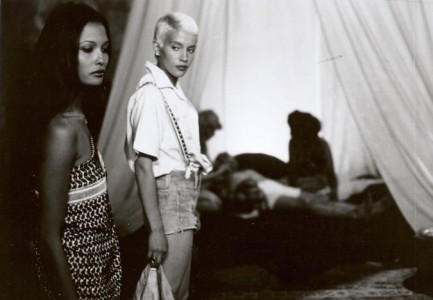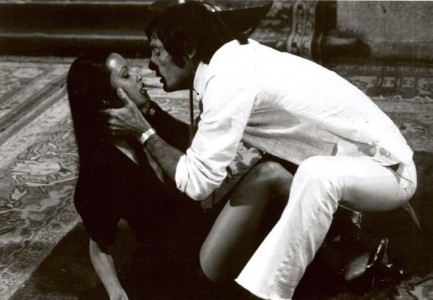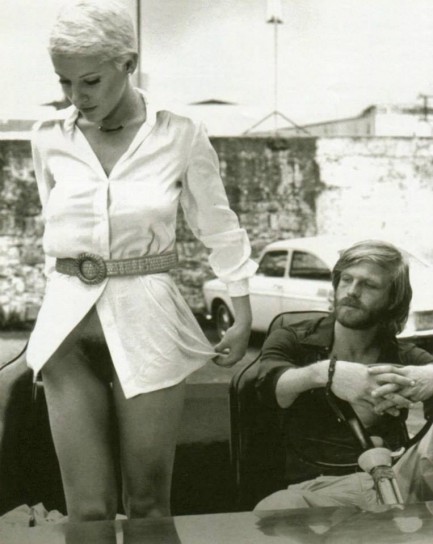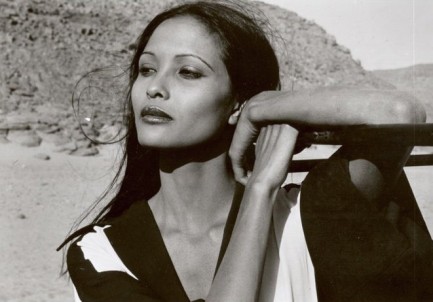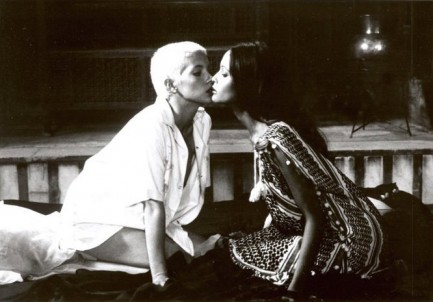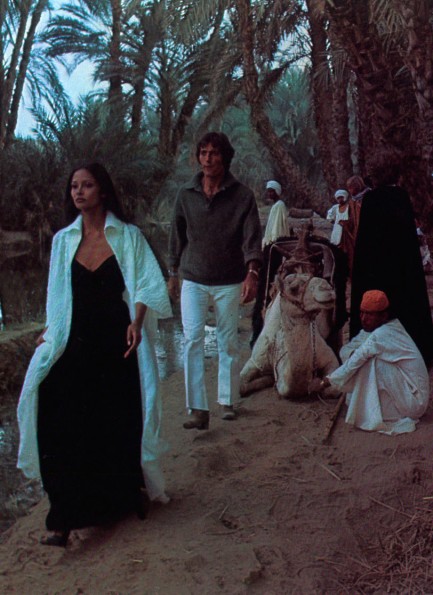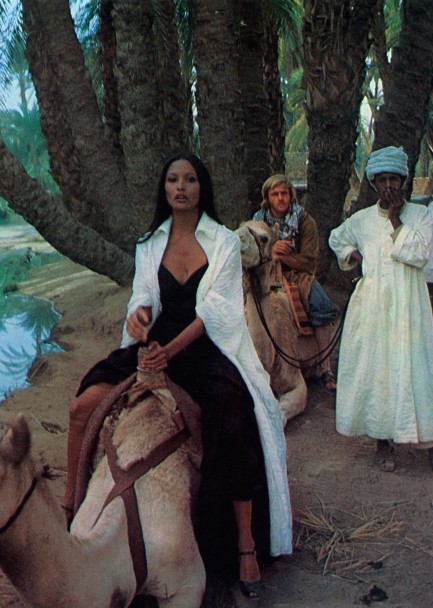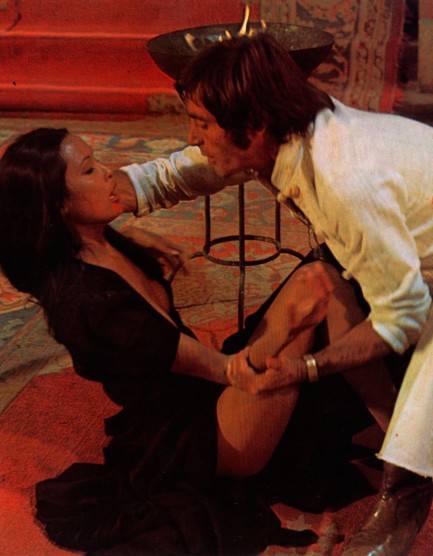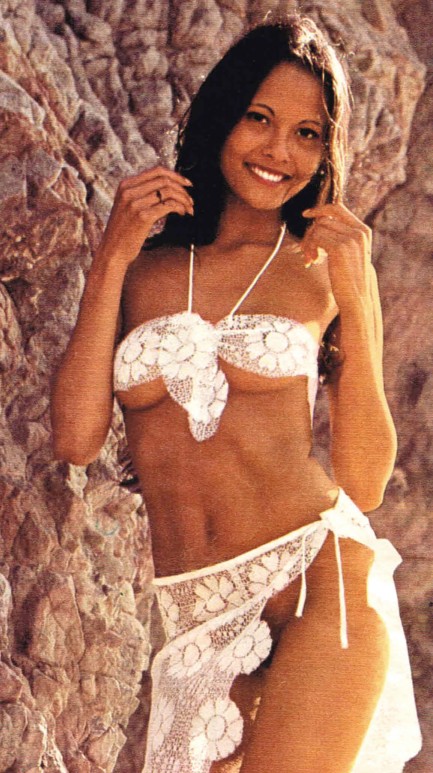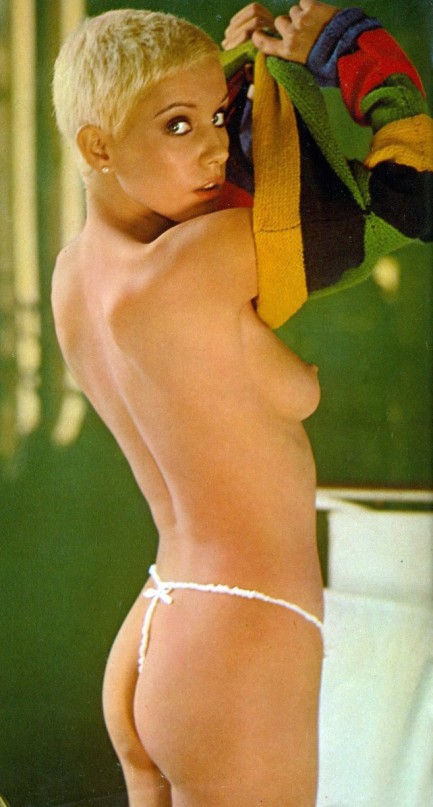 ---
Giving in to the inevitable.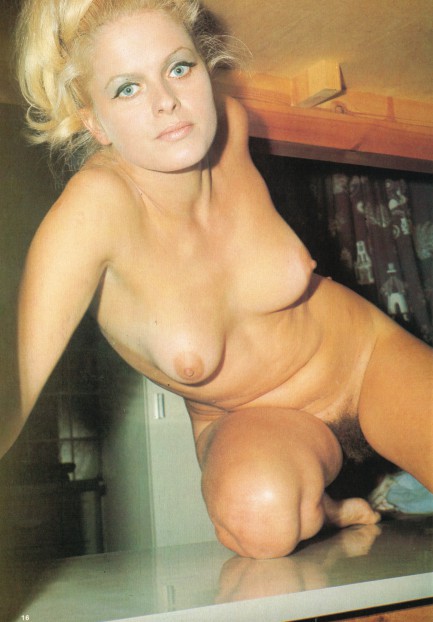 German actress Karin Schubert is an interesting figure in international cinema—she began in mainstream films in the late 1960s, appearing in efforts by acclaimed directors such as Edward Dmytryk and Yves Boisset, then transitioned into adult cinema. Usually actresses attempt to do the reverse. Some of Schubert's early roles, such 1975's Black Emmanuelle, were of the sexploitation variety, but it wasn't until 1985 when she was aged 41 that she starred in her first hardcore film, Double Desire. Some sources say there are rare prints of 1975's Il Pavone nero, aka Voodoo Sexy that show Schubert in x-rated action, but those sources are wrong—as was common at the time, down and dirty scenes performed by a body double were added later. However, Schubert did shoot fully hardcore magazine spreads earlier than her entry into adult cinema.
She last acted in 1994, and since then has dropped completely out of sight. We got curious what happened to her, and in our wanderings visited a forum where a user claimed he spoke to former adult film colleague of hers at a porn convention. According to the user, Schubert's colleague said she died, but we doubt that's true. Schubert was a significant star. Notices of a woman who had the unusual distinction of working with both film noir icon Edward Dmytryk and porn stallion John C. Holmes would have appeared somewhere in the German—if not global—press. We checked, and there was no word anywhere. As for the supposed info provided by her old colleague, picture this exchange:
"Say, Karin, I'm going to the adult film expo in Hamburg this year. You going?"
"Hell fucking no, and if anyone asks about me please tell them I died."
The photo at top shows Schubert from around 1975, and below are some of her many covers for the West German magazine Wochenend. You can also see a nice Ciné-Revue cover of her here. We'll try to get into some of her non-x-rated films later and report back.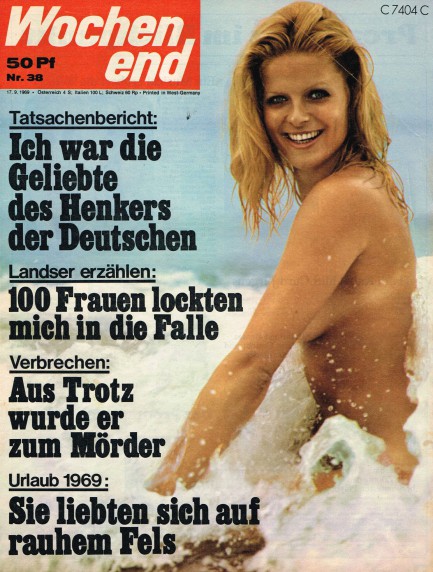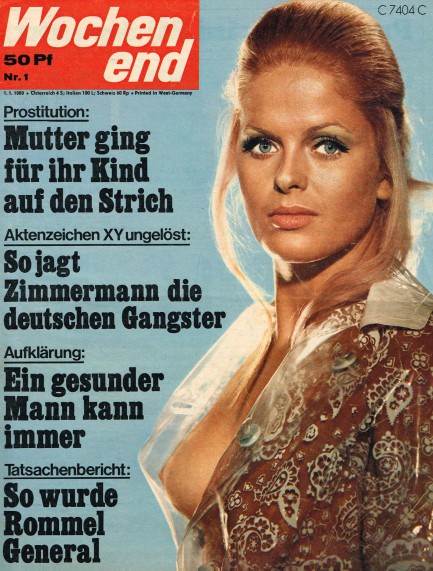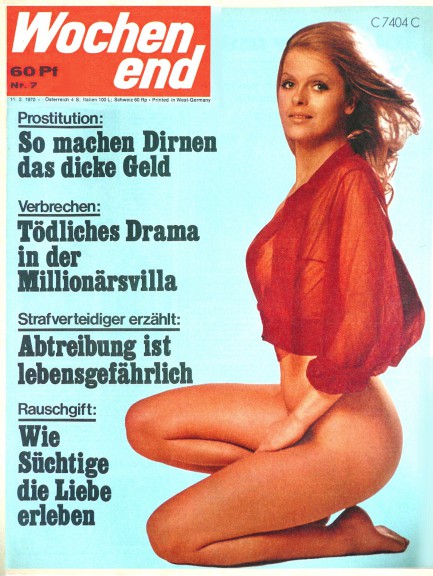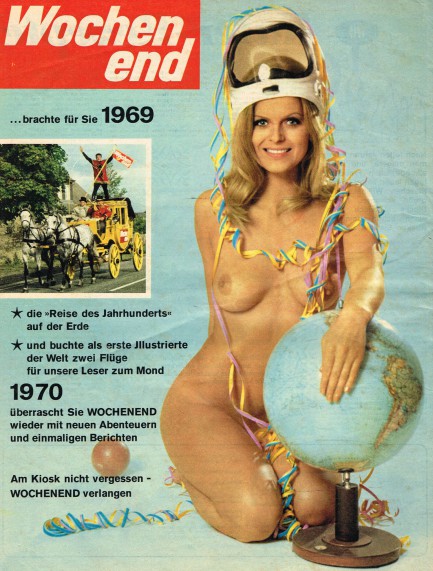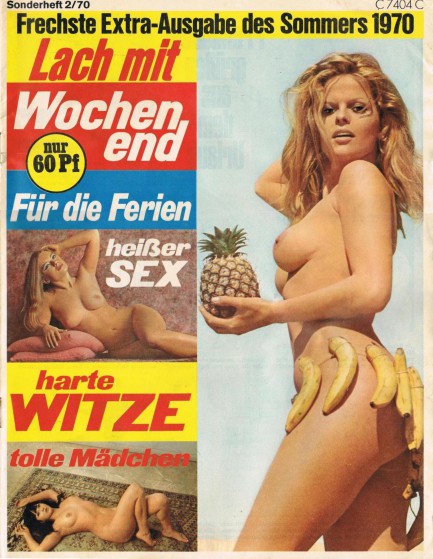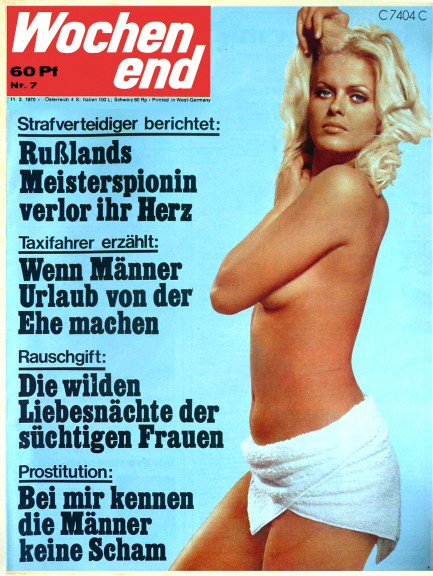 ---