How to be nude and fully clothed at the same time.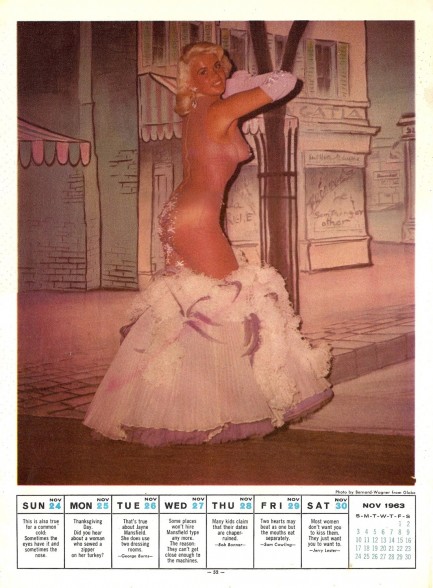 Above is a shot of Jayne Mansfield from Bernard Wagner showing the actress in a nude evening dress that covers her bits with a few stars and sparkles. We also love the Paris street-style matte painting behind her. Since we had both the name of the model and photographer, we were able to do an extensive search on the web and did not encounter this shot anywhere, which means we're going to claim that this is the first time it's appeared online. Always a proud moment. The weekly observations are below, and we're guessing that the quip for November 27 has something to do with typesetting, but we couldn't find any references to "Mansfield type" anywhere. Anyone have a clue on that? Drop us a line.
Nov 24: This is also true for a common cold: Sometimes the eyes have it and sometimes the nose.
Nov 25: Thanksgiving Day. Did you hear about a woman who sewed a zipper on her turkey?
Nov 26: "That's true about Jayne Mansfield. She does use two dressing rooms."—George Burns
Nov 27: Some places won't hire Mansfield type anymore. The reason: They can't get close enough to the machines.
Nov 28: "Many kids claim their dates are cheaper-ruined."—Bob Banner
Nov 29: "Two hearts may beat as one but the mouths eat separately."
Nov 30: "Most women don't want you to kiss them. They just want you to want to."—Jerry Lester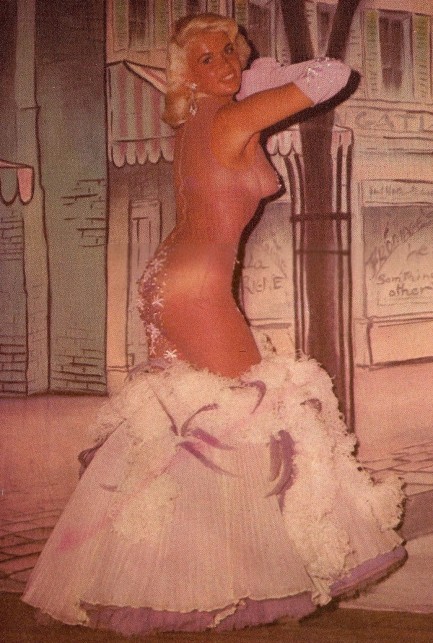 Update: Here's an e-mail we got from a reader named Lisa that may solve the mystery of the non-sensical quip.
This might be too old to care about, but the author thought that "Some places won't hire Mansfield type anymore. The reason: They can't get close enough to the machines" was a joke about typesetting. But it seems more likely that there's just a typo in the line. It should read "Some places won't hire Mansfield to type anymore." Then the second sentence makes sense.
Thank you, Lisa. It's amazing how long we can look at something and still simply not see things like that. That's why the extra eyes of readers are so important to us.


Update two: Here's Lisa again, with an even better take on this.
Well, I was basking in my typo-spotting glory on Facebook when a couple of friends pointed out that the joke is just as likely--maybe *more* likely--to be "some places won't hire Mansfield types anymore". Then the "they" in the second sentence is referring to "Mansfield types," which makes even more sense. And that's how vintage materials research is done, folks! Sorry to force a potential new update on you.
No worries, Lisa. We're flattered that anything we do would cause you to bask. What are you wearing right now? Never mind. Now that you've got us seeing the line in all its myriad possibilties, we might as well throw a third option—"Mansfield's type"—out there as well. That will certainly cover the gamut. Er, we think.


---