So when you sang "You're So Vain," the song really was about me, wasn't it?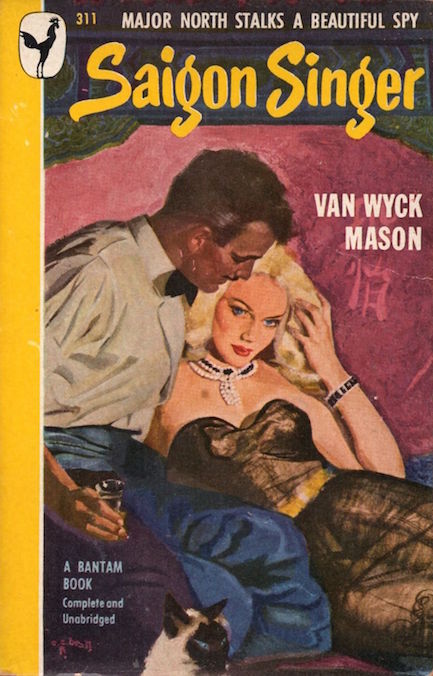 This is top work from artist C.C. Beale on this cover for Van Wyck Mason's Saigon Singer, especially the small elements of the background writing on the wall and the Siamese cat in the foreground. The singer of the title—who never performs "You're So Vain," sadly—is Pamela Saunders, a former prisoner in a Japanese internment camp who survives filth and near starvation to resurrect herself as singer in Saigon. Along the way she becomes known as Black Chrysanthemum before adopting the stage name Xenia Morel. Her transformation is interesting, but the star of the story is Major Hugh North, who turns up in Saigon looking for a dossier containing the names of British and American traitors who during the war sold secrets to a Japanese general. Saunders-Chrysanthemum-Morel survived the prison camp by becoming the mistress of the general, and it's due to this close association that she possesses the dossier. She'll give it to North, but only if he pays her enough money to get to Paris, where she wants to continue her singing career.

Mason knew this part of the world and uses his knowledge well in writing of Saigon social life, oppressive heat, scented baths, tiger hunts, French legionnaires, and other you-had-to-be-there aspects of post-World War II Vietnam. As number thirteen in a series of exotic Hugh North mysteries (others were set in Singapore, Burma, Manila, Bangkok, et al) we sense a formula here, but in the end we liked it despite the usual flaws of colonialist fiction, and we were envious of Mason for having travelled in that part of the world during that time, and having been lucky enough to make a career of writing about it. Well, maybe we can't complain too much—we've hit some good spots too. And we write, though we get fuck-all for it. In any case, this particular discovery makes us curious about earlier Mason books, so maybe we'll check out some of his Hugh North adventures. Saigon Singer was originally published in 1946, and the above edition is from 1948.


---