Brothers can you spare a production budget?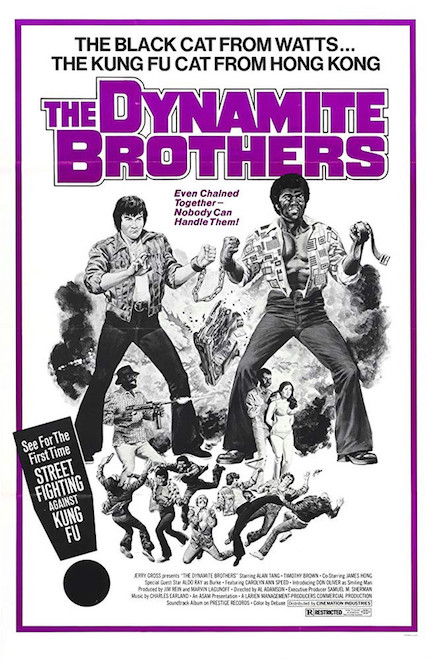 It's fair to suggest that most blaxploitation movies weren't good in the traditional sense. But The Dynamite Brothers, aka Stud Brown, which premiered in the U.S. this month in 1974, is probably close to the worst movie of the genre. It's a low budget The Wild Ones with a chop socky revenge thriller tacked on, and it has "rush job" scribbled all over it. Everything is off, from the direction to the screenplay to the sound effects. Not to put too fine a point on it, but it's films like this that helped kill blaxploitation.
Picture the first screening for the studio, Asam Film Company. Director Al Adamson managed to put up a brave front during the shooting schedule, but he's made his final cut and knows the movie is shit. He's cringing. He's slumped so low in his seat he looks like he's lost air pressure. He even considers scuttling for the exit during the second reel. If he stays low, like a crab, he might make it unseen. But he's still there when the lights come up, and various execs and investors are sitting around looking stunned. They're just white guys with money and don't know dick about this blaxploitation thing, so they have no idea what to think.
Finally someone ventures hopefully, "Was that good? Or..."
Someone else: "Al? Al? Where are you?"
Al: *sigh* "I'm down here."
"What the hell are you doing on the floor?"
"Uh, my back. Laying flat helps with—"
"Were you hiding?"
"Are we fucked?"
"Did you FUCK US?"

He fucked them. The Dynamite Brothers was an unremitting disaster. It turned out to be the only movie Asam Film Company ever made. Co-star Timothy Brown in particular had to be disappointed with the final product, considering his film debut was the all-time classic M*A*S*H, in which he played Corporal Judson. Top billed Alan Tang also had to be bummed. Back in Hong Kong when he was first approached about the project, someone told him mixing kung-fu into a blaxploitation flick was a no-brainer. Halfway through the screening he began to wonder if he'd misunderstood the meaning of that term.
Nevertheless, somehow both he and Brown survived The Dynamite Brothers and went on to have long careers, which is a tribute to their talent and persistence. Al Adamson kept working too, which is possibly a tribute to filmgoers' short memories. But like Bran the Broken in Game of Thrones, allow us to serve as the memory for all humanity here—steer clear of this one like the un-defused bomb it is. Get a tactical robot to delete it from your movie queue. It's baaaad. We don't mean cool-bad or funny-bad. It's just bad-bad.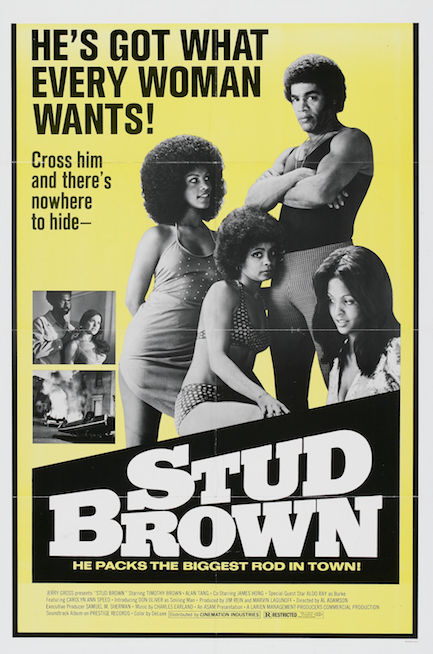 ---
It's hard out there for a pimp.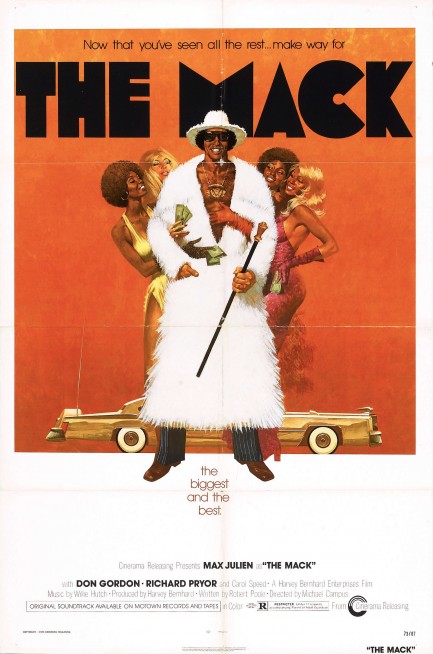 The Mack is about pimping. Let's just get that out there. Those with twenty-first century sensibilities will probably hate the film on principle. But is there anything more to it than sexual exploitation? Well, it's an offering in the blaxploitation genre that deals with an ex-con's plan to rise to the top of the macking game in the city of Oakland. The main character, named Goldie, has a brother who intends to rid the streets of crime. Goldie's main antagonists are a pair of corrupt cops who see no difference between him and his brother. The subtext is interesting. Goldie and his brother represent opposite forms of direct engagement—one works to improve his environment while opposed by authorities who see political activism as a threat; the other works illegally to get ahead and get out while opposed by authorities charged with fighting crime.
The movie chooses as its backdrop one of the most activist cities in the U.S., with one of the most corrupt police forces. Both of these facts were true when The Mack was made and remain true today. For example, while Oakland police are tasked with preventing crime, they repeatedly and brazenly break the law, and have paid out more in civil damages than almost any police force in the nation. This dichotomy calls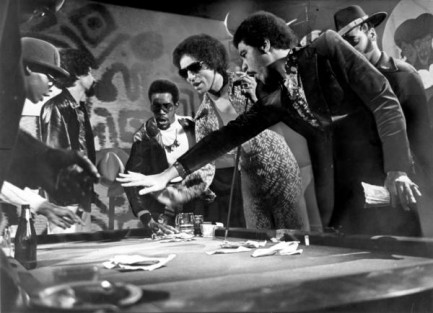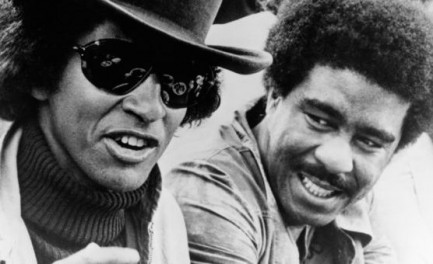 into question whether the police actually exist for the good of the community at all, or for a more complex purpose—say to protect the interests of elites by both containing crime and hemming in the possibility of political empowerment. Actually, the question is rhetorical. We've been to many countries, and in all of them police suppress political activity among the underclass. So yeah, there's more to The Mack than just pimping.
The movie was actually inspired by the real life struggle between the Ward Brothers, who were leaders of Oakland's black underworld, and the Black Panthers. Both groups wanted to bring Oakland under their respective control for opposite reasons. Film critic Elvis Mitchell described The Mack succinctly in 2013, saying: "Do you become this horrible kind of mutation of free enterprise, or do you take the nationalist route and help your people?" But the Oakland police ultimately considered power achieved through crime and power achieved th
rough
politics
to
be equally unacceptable. And that may be the entire disturbing point of the film. The Mack premiered in the U.S. today in 1973, and the awesome poster was painted by Fred Pfeiffer.


---
Why, why, why don't we listen?
We're contrarians here—warned away from something we usually jump in neck deep. That's how we ended up eating beef tripe last week, as our friends screwed up their faces in disgust. It's why we went to that Anthrax concert, and to this day can't hear tones above 19 kHz. And it's the reason we just watched 1973's Bummer, a film so scathingly reviewed we immediately did bio checks on director, cast and crew, to make sure mobs of critics didn't douse them all in kerosene and barbecue them on a giant pyre. The filmmakers survived, as far as we can tell, but we almost didn't. In fact, we finished Bummer about an hour ago and our girlfriends still won't let us near the silverware drawer unless we renounce the suicide pact we made about twenty minutes into the film.
Bummer has all the trappings of sexploitation cinema, but with none of the insouciance that makes it palatable. It's about a rock band and their groupies on tour together, and the problems that ensue when the bassist—a hairy, obese, psychotic rube named Butts—starts to spin off his axis. Butts is too repulsive to score, so he compensates by humiliating the groupies instead (hence the film's tagline, above, "You don't have to assault a groupie… you just have to ask!!"). Butts' daily abuse escalates to rape, then the strangulation of another girl, and finally to an unconvincing shooting that could only have been less believable if we'd actually seen the victim break a ketchup packet on himself to simulate blood. When finally Butts gets shotgunned by a vengeful Carol Speed his dying words are, "Why..? Why..? Why..?" Which is exactly what we're still asking ourselves. This one is going to sting for a while.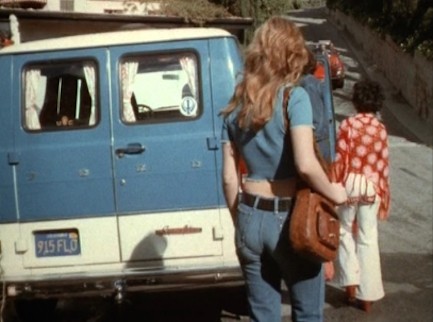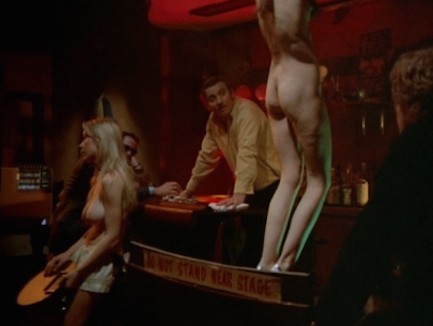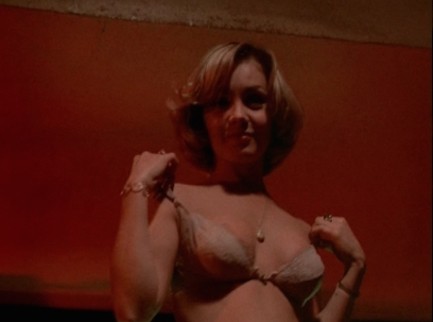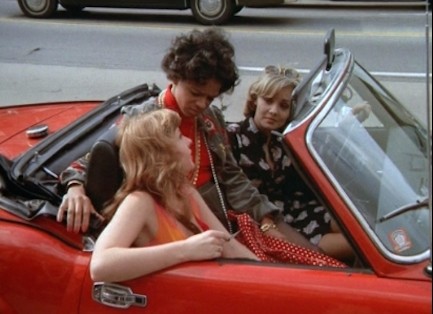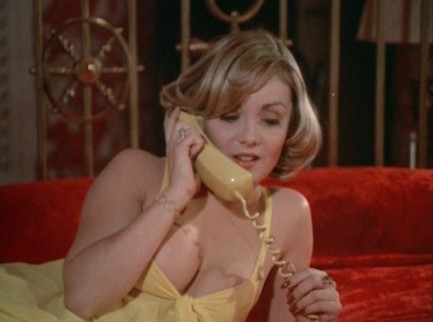 ---