It's always darkest just before the dawn.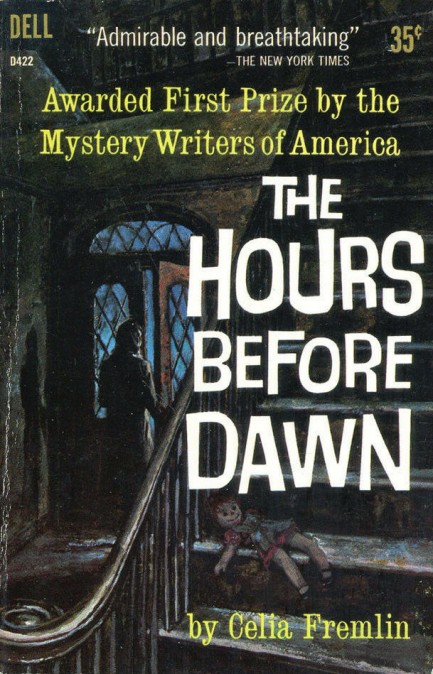 Celia Fremlin's 1958 novel The Hours Before Dawn was lauded by the Mystery Writers of America. You can see that for yourself by looking at the cover of its 1961 Dell paperback edition. You would assume, then, that the book is a murder mystery or thriller. Yes and no—it's really more of a domestic drama about a British woman named Louise who's overwhelmed by her three kids and husband. She's tired, stressed, unhappy, unlaid, and unlikely to find space for a breather or a recharge. Into this mix comes a woman who rents the family's vacant upstairs room and adds to Louise's problems by proving to be one weird bird. Who is this woman, where did she come from, and why does it seem as though her presence is not a random event? Yes, there's a mystery, but the vast bulk of the narrative is about Louise's daily life, her struggles with child rearing, her nosy and obtuse neighbors, and the problems caused by her accumulating lack of sleep.

Even without the mysterious renter angle this would be a good book. We thought we understood, basically, what it meant to be a mid-century housewife, but we were wrong. Fremlin brings Louise to life by dissecting her challenging existence, baring every bit of it for the reader's increasingly sympathetic inspection. Love is not the issue. Nor is desire. The issue is simply time. And rest. And peace. No wonder then that her boarder is able to embark upon an insidious plot without very much worry of close observation, and of course when Louise begins to understand something is truly amiss—and is not just the imaginings of her weary brain—she finds it devilishly difficult to find an ally, within her household or without. A mystery novel? Well, yes, but not of the type that can be puzzled out by readers. A highly effective depiction of all the ways in which a woman can work so hard and so thanklessly? One of the better ones you'll read.


---