All bets are off when the Für starts flying.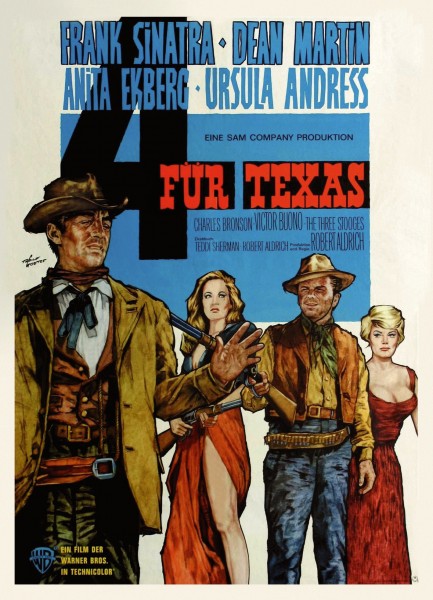 4 für Texas opened in West Germany today in 1968 after premiering in the U.S. the previous December as 4 for Texas. This was a high powered production, starring Frank Sinatra, Dean Martin, Anita Ekberg, Ursula Andress, Charles Bronson, and incredibly, The Three Stooges. The movie was terribly reviewed when released, but it isn't as bad as all that. Sinatra and Martin vie for a fortune in stolen cash, and later for ownership of a profitable Galveston riverboat casino, but join forces to deal with Bronson, the villain. Ekberg and Andress are mainly interested in getting married. Critics of the time might not have been dazzled, but today, with Andress the only main member of the cast still living, 4 for Texas emits a strong aura of Rat Pack nostalgia. The poster art is by Rolf Goetze, a prolific illustrator who produced something like eight-hundred promos between 1958 and 1972, of which this one is surely among the best. See another example of his work here.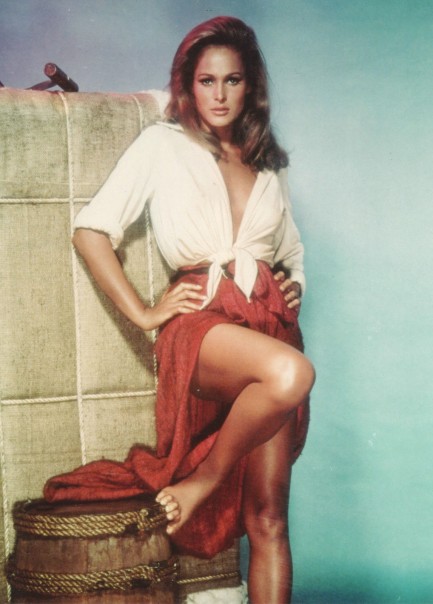 ---
Okay, now that you've lined yourself up, just decrease your altitude and you'll touch down ever so softly...
Does the guy on this cover look a bit like Charles Bronson to you? He's supposed to, apparently—the main character is actually named Charles Bronson. He teaches several women that the best way to fly is by being gentle with the stick. 1973 with uncredited art.
---
Assorted album sleeves from Argentine soundtrack maestro Lalo Schifrin, circa 1970s.

---