Albert Camus' fatal 1960 auto accident may have been a KGB assassination.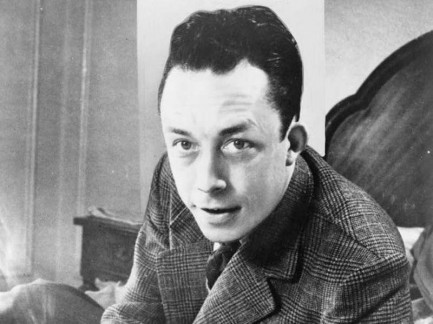 Italian author Giovanni Catelli has just published a book that claims French writer Albert Camus was assassinated by the KGB, rather than dying in an auto accident, as largely believed. When you say the words "Cold War intrigue," we're all in, so the story caught our eye. Catelli's theory, which he first began airing in 2011, is that the KGB silenced Camus because he was a globally famous figure who made a habit of criticizing the Soviet Union. The order was allegedly given by Dmitri Shepilov, the USSR's minister of internal affairs, after Camus slammed him in the French newspaper Franc-Tireur in March 1957. Camus died in 1960, so the killing took three years to come to fruition, according to Catelli.
His book length argument, La mort de Camus, is getting white hot press right now, however it's very interesting to look back at contemporary articles about the crash. Camus was riding as a passenger in a car driven by his publisher Michel Gallimard, with Gallimard's wife Janine and their daughter Anne in the rear seat. Michel Gallimard died, but his wife and daughter survived to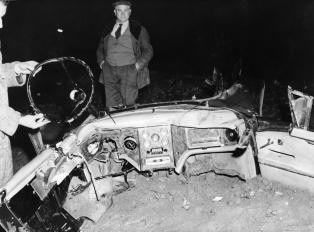 describe the crash. Michel was driving fast and had been told to slow down, and had drunk wine at dinner.
A gander at the wreckage of the heavy Farcel Vega HK500 attests to its speed. We checked the various articles popping up online and found none that mentioned either the velocity of the car or the drinking of the driver, but that's how the internet works—a fantastic claim circles the world five times faster than anything resembling balance or a fact check.
Catelli, though, has an answer for the reckless driving theory—the Soviets had attached a device to the car that would puncture a tire only in the event of sufficient speed. If the Soviets came up with the device described, it would not kick in without the added ingredient of driver haste, which often happens in conjunction with alcohol consumption, which in turn is a near certainty when talking about French people, all of which means the chances of a crash with muddied circumstances were pretty high. The device, if it ever existed, was certainly clever. It would be like a device that tied your shoelaces together, but only if you went downstairs in a rush, and you happened to live in a fourth floor flat with a balky elevator.

Catelli's belief that Camus was disposed of via assassination is bolstered by the fact that the car he was riding in somehow careened off a stretch of straight road thirty feet wide. Nobody described Michel Gallimard trying to dodge a hedgehog or pothole, so despite speed and possible drunkenness, some unforeseen factor seems required to send the vehicle into the weeds. On the other hand, three years is a long time to enact a death plot. We've seen Yankees and Red Sox fans patch their shit up in less time. But let's move this death from the settled bin into the mysterious bin, which is where we like everything to be anyway. Camus, the famed absurdist, once wrote that, "There can be nothing more absurd than to die in a car accident." And if Catelli is correct, nothing can be more convenient either.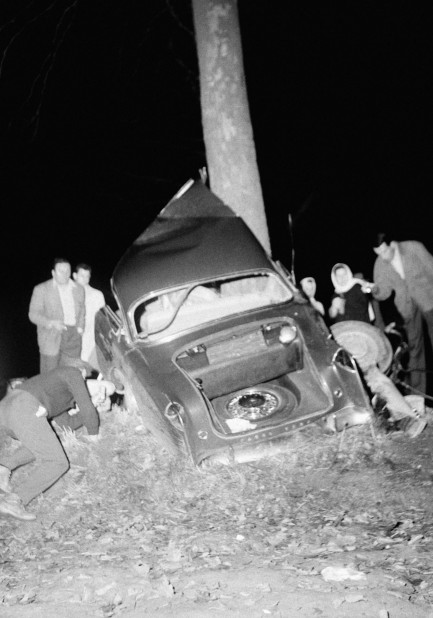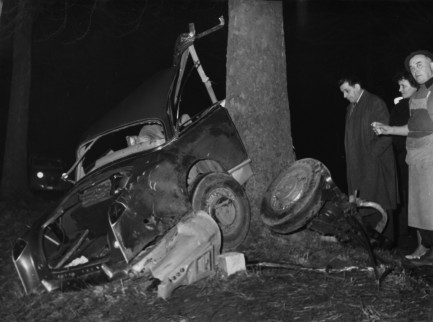 ---
Ban the bomb! The other side's bomb, we mean.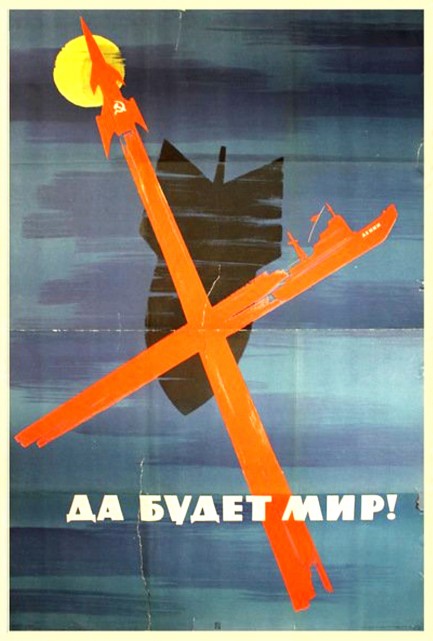 Soviet painter Nikolai Litvinov was a prolific producer of political art during the Cold War. Above you see one of his efforts—an anti-nuclear poster from printers Sovetsky Khudozhnik with text that reads: "May There Be Peace!" This is from 1959, but we've seen some purported to be from 1961, so if that's the case these were probably made throughout the early Cold War. Blaming the other side for the nuclear arms race was of course the same strategy employed by the U.S. We're going to get back to Litvinov shortly. In the meantime, you can see more Soviet propaganda here, some U.S. propaganda here, and a mixture from several countries here.


---
Every move you make, every step you take, they'll be watching you... from inside a catfish.
We just couldn't let this one pass. The CIA set up YouTube and Flickr pages this week at which you can learn everything about the agency they ever wanted you to know. For instance, you can have a laugh at some of the devices their tech eggheads cooked up during the Cold War, including an intelligence gathering dragonfly and a remote controlled catfish named—wait for it—Charlie. That's hilarious, you see, because Charlie was a tuna on those old Starkist…
What's important is that the CIA, that wellspring of deadly coups and dirty wars in far-flung corners of the globe, also has a cuddly side, which the YouTube page is presumably supposed to showcase to the public, even as the egghead section is busily working on better, smaller catfish so compact they can swim right up your urethra and beam your thoughts
to a central computer located in Virginia. Disturbingly, as of this writing most of the links on the YouTube page don't work. We tried them, and quoth the raven: "404." Which means, maybe they aren't links at all. Or maybe it's all part of a plan to make us civilians think the CIA is incompetent, and then, just when we least suspect, here come the nano-catfish up our pee holes to paste links into our brains.
But we digress. Back to the YouTube page—even if some of the links don't work, the main link to cia.gov does, and we were pleasantly surprised to find that there's a kid's section, which we're currently scouring for a waterboarding set-up we can mail-order for use on some troublesome local teens, or failing that, some electrified genital clamps because, well, these kids are really a pain. Anyway, you can check out the CIA Flickr page here. Or don't. The page is interesting, but the choice is yours. We aren't suggesting a course of action one way or the other. Doh! Our subtle reverse psychology has got even us confused.
---