They don't make virgins like they used to.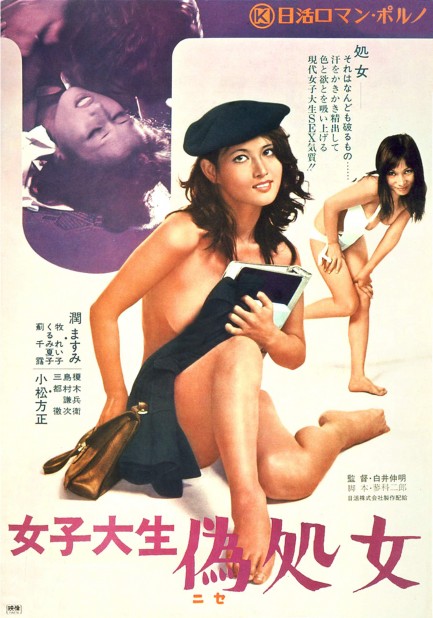 When Nikkatsu Studios attempted comedy, it may have been uproarious for audiences of the 1970s, but to us it's usually about on the same level as a Pauly Shore movie. But Joshidaisei: Nise shojo, known in English as College Girls: Fake Virgins, is, we have to admit, actually a bit amusing in parts. Or maybe it was just our mood at the time. We aren't going to watch it again to test the theory. When it comes to Nikkatsu, because its films are capable of being so shocking, when you get something pleasant you take your profits and don't look back.
Basically, what you get here is Kenji Simamura as a habitual molester who runs a real estate company. He meets Masumi Jun, Reiko Maki, and Natsuko Kurumi when he feels up Maki on a train, and is stunned when she snaps a pair of cuffs on his roaming hands. She isn't a cop. She just has them around because gropers are apparently a problem on Japanese trains of that time. From this auspicious encounter Sinamura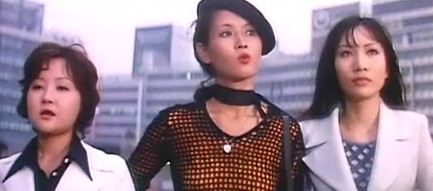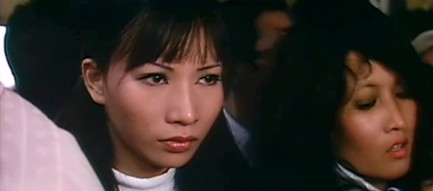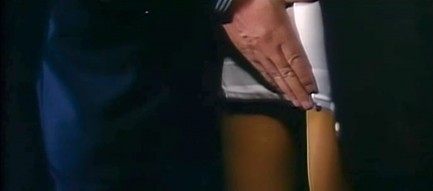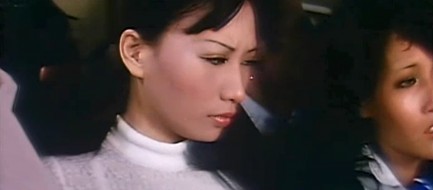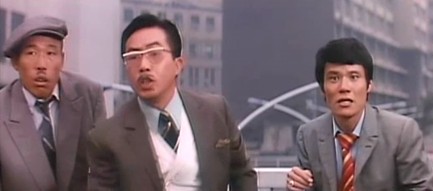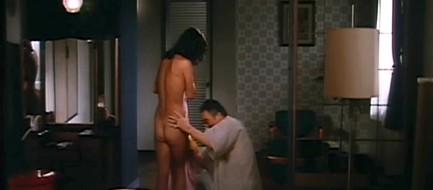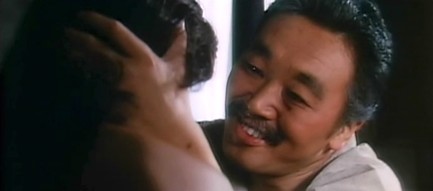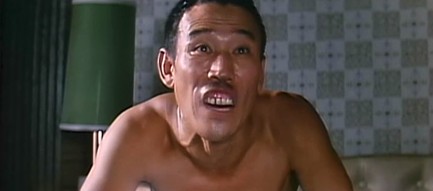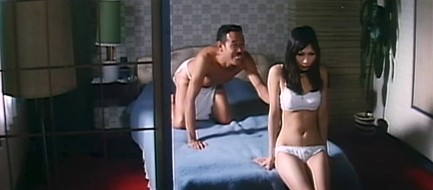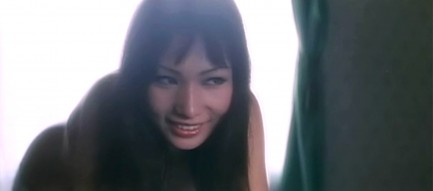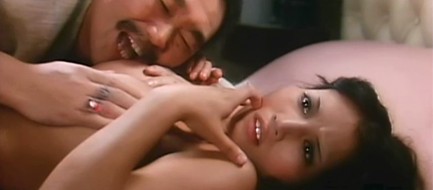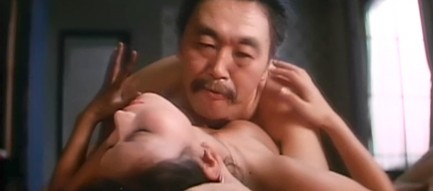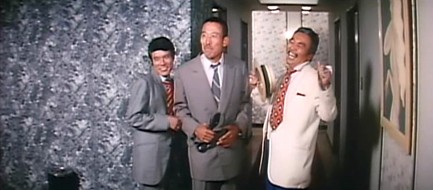 ends up hiring the girls to pose as virgins for three unsuspecting squares who own vast tracts of land he covets. Virginity is—at least as posited by the movie—what all men want. The three land-rich marks are, of course, unattractive klutzes, and not very bright besides, but for all that, it's obvious Simamura's grand scheme won't come off as planned.
The humor in this film is on a pretty basic level, but as we said, there are a few good moments. How can you not be amused when, after that groping on the train, the girls make Simamura buy them lunch—while still handcuffed to Maki? But most of the comedy is lame. Luckily, the movie has its beautiful leads to compensate. Since Jun and Maki star on the poster, we're having them star in the promo images below. Joshidaisei: Nise shojo premiered in Japan today in 1973.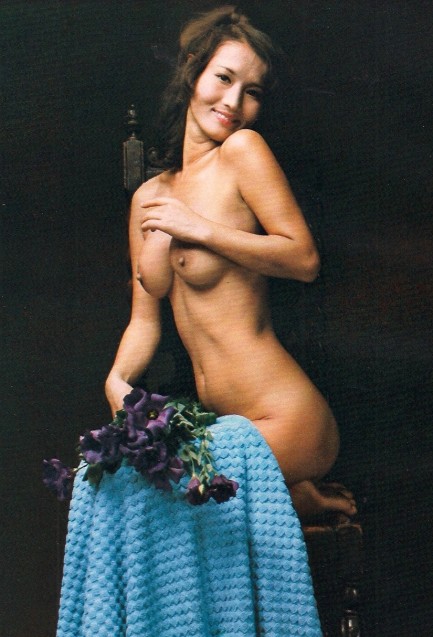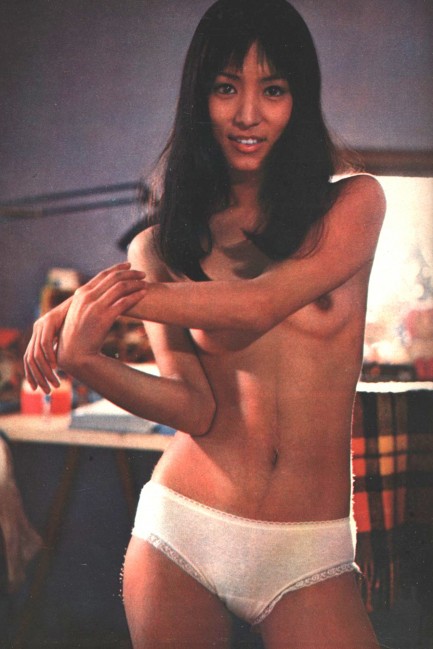 ---
The most important entrance requirements are proper positioning and good lubrication.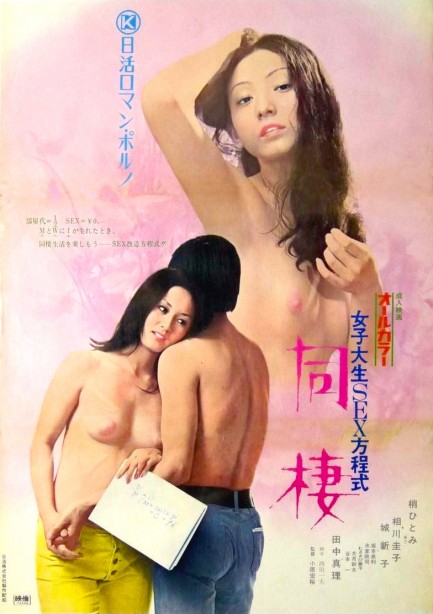 Roman porno filmmakers used every possible Japanese social niche and professional realm for sexploitation fodder, so there's no chance they would overlook a milieu as ripe as higher education. Above are two pretty posters for Joshidaisei: sex hōteishiki, aka College Girls: Sex Equation, with roman porno goddesses Mari Tanaka and Hitomi Kozue. It premiered in Japan today in 1973. Basically, they're attending university but decide to do some nude modeling as a side hustle and things go weird in that roman porno sort of way. We looked around for a copy of it with no success, so we'll have to hope we see it later.
Want some bonus images? Alrightee, we are always happy to comply. Below you see Tanaka reacting with embarrassment after getting busted raiding the fridge when she's supposed to studying for her poli-sci exam. Meanwhile Kozue's study session has been so intense she doesn't even have the strength to make it to the kitchen. This is more or less how we've felt the last few weeks of this lockdown thing, but there's light at the end of the tunnel, or so we're being told. We shall see. Plenty more Tanaka and Kozue in the website. Just cllick their keywords below.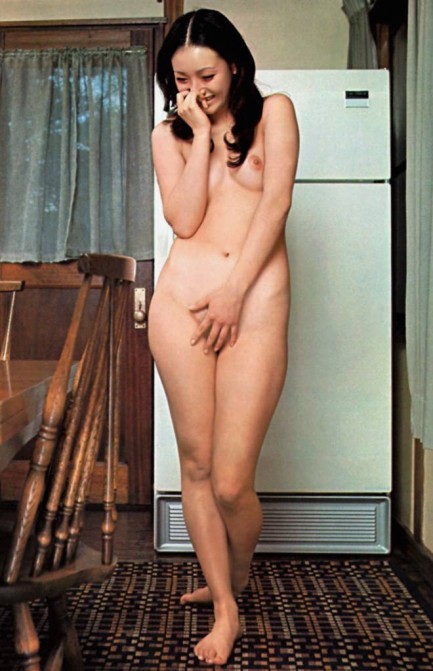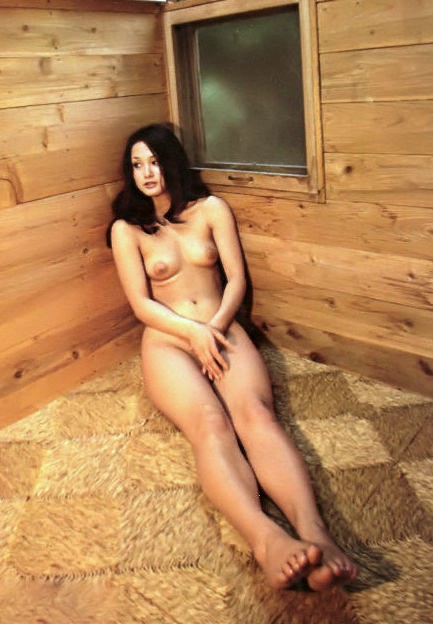 ---
A new tabloid hits the newsstands with a twist on the usual formula.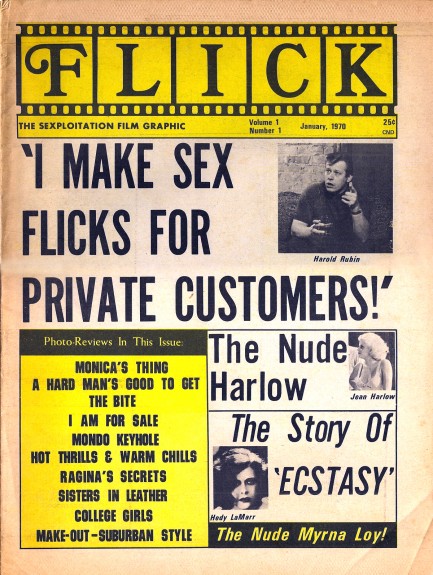 In our continuing search for rare magazines of high entertainment value (if sometimes dubious quality), we stumbled across the above gem—the first issue of the self-described sexploitation film graphic Flick. Published in the U.S. out of Libertyville, Illinois, it was basically just reviews of x-rated films in tabloid form. The publishers admit in their introductory editorial that the tabloid market is glutted, but insist America needs a magazine that helps porn consumers separate the wheat from the chaff. They do it with utter seriousness and, as a bonus, also throw in some musings on film history, with discussions of Rudolph Valentino, Douglas Fairbanks, Theda Bara, Jean Harlow, and Hedy Lamarr, who all had pre-Hays Code flirtations with screen nudity.
It might be difficult to imagine actors appearing nude on screen during the 1920s and 1930s, but the idea back then was that, because the medium was considered an art form, motion picture nudity was no different from nudity in sculpture, photography or painting. Theda Bara's and Jean Harlow's screen nudity was merely implied, but Hedy Lamarr went all the way in her 1933 Czech-made romance Ekstase, aka Ecstasy, in which she ran starkers through the woods, giving audiences a gander at her backside and breasts. She was known at the time as Hedy Kiesler, but it's her.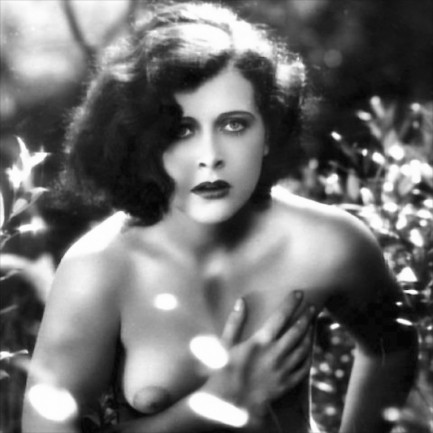 There's also a non-nude love scene containing what some critics believe is the first cinematic depiction of an orgasm. As you can imagine, Ekstase was controversial. Only four-hundred prints were ever made, and most of those were butchered by censors. By the 1940s, the only complete copy known to exist was in Russia. It had first been Hungarian property and had been exhibited in Budapest in '33, but because the Hungarians had fought alongside Nazi Germany and helped conquer swaths of Russian territory in the early 1940s, when the Russians reversed those gains and occupied Budapest in 1944, they sort of helped themselves to a few choice cultural treasures.
Elsewhere in this inaugural Flick you get reviews of the adult films A Hard Man's Good To Get, Sisters in Leather, College Girls, and Jack Hill's first full-length effort Mondo Keyhole. The editors remind readers that their magazine is a collector's item. At the time—January 1970—they probably imagined it would be quite valuable in forty-one years. Well, we got it for $4.00. But just for the hell of it, maybe we'll hang onto it for another forty-one years. You never know. By the way, if you're curious, you can actually see that famous Hedy Lamarr nude scene here. It is not a complete version, though. We doubt a complete one exists. See ten scans from Flick below.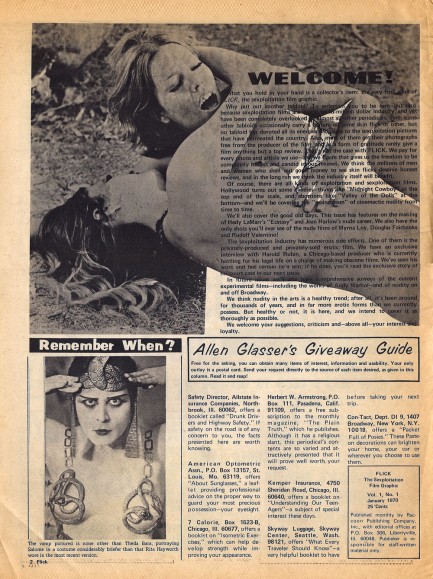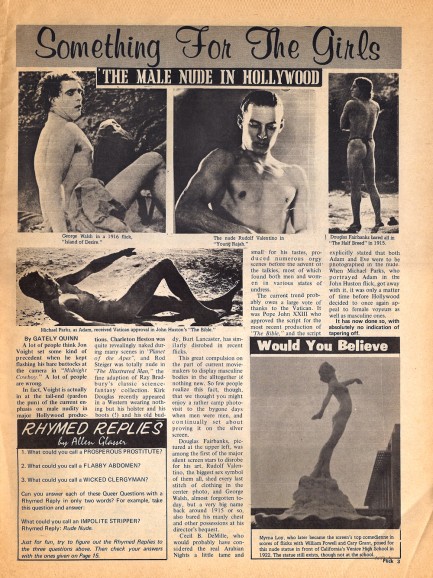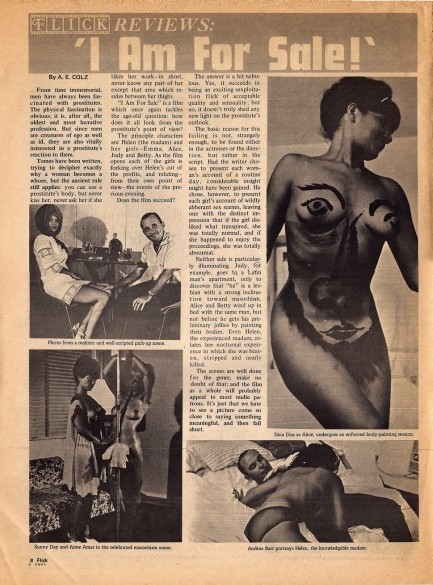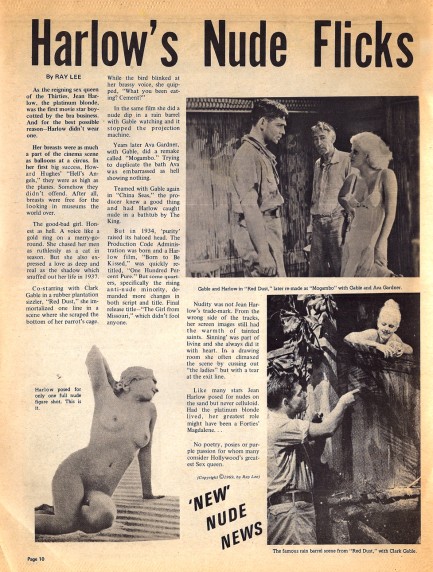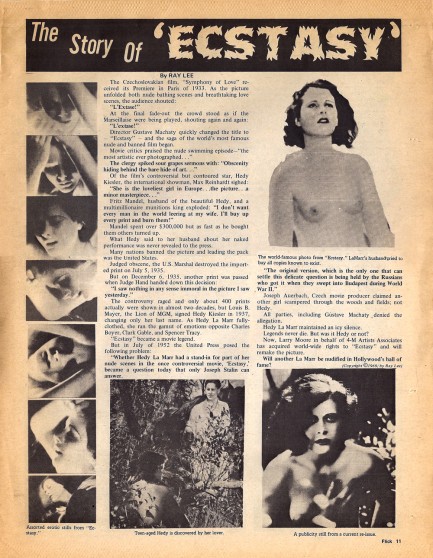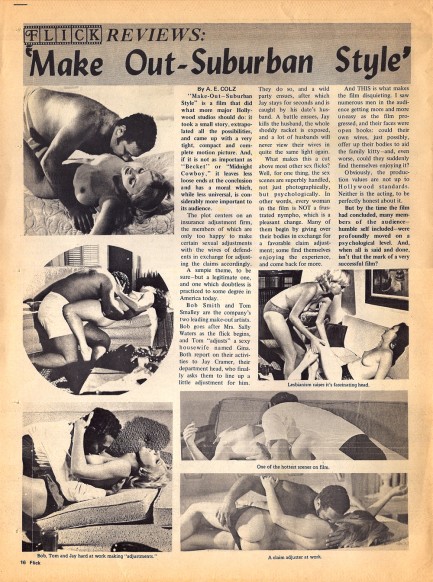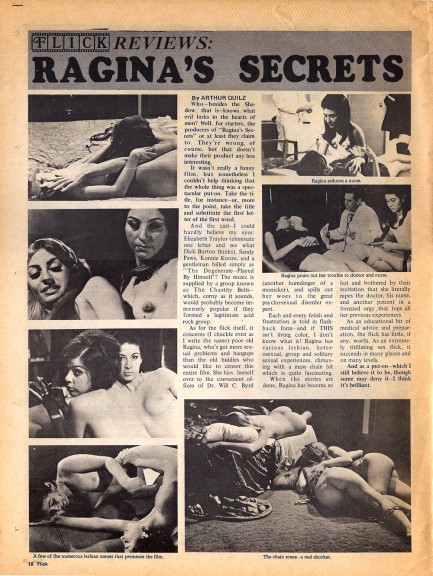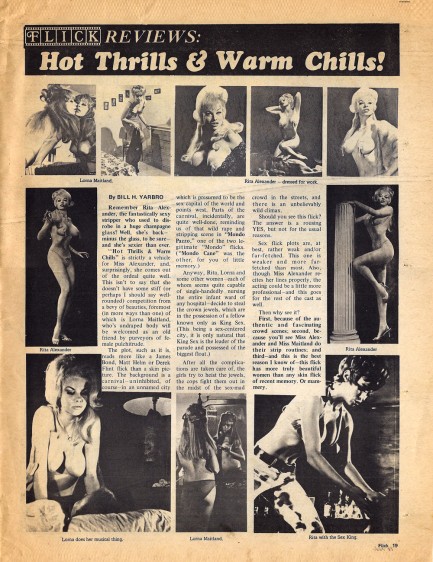 ---