Demongeot heats up and cools down.
There are Bardot people and there are Demongeot people. We're Demongeot people. Well, not really, because there's no need to make a choice. But we like French actress Mylène Demongeot quite a bit. Like Bardot, she made many romantic comedies, but also succeeded in dramas and was nominated for a BAFTA in 1957 and two César awards in 2005 and 2007. What's more she's still working. Her latest film is this year's Maison de retraite. The above issue of the French pop culture magazine Cinémonde features Demongeot on the cover keeping cool with a Spanish fan. She's one of the hottest stars in French cinema at this stage, in July 1960, with hits like 1961's Les trois mousquetaires and 1962's Copacabana Palace just around the corner.
The magazine also offers four pages of Demongeot inside, including a photo with the interesting caption, "Mylène Demongeot – une flamme pure de l'enfer," which means "a pure flame of hell." We assume that's a compliment. Another of the photos is our favorite of Demongeot. It shows her in some sandy niche of Torremolinos, Spain playing guitar (or seeming to) during the filming of The Singer Not the Song. Are you feeling a sense of déjà vú with her and this magazine? That may because we've featured her in two other issues. You can see those here and here. If you aren't Demongeot aficionados we recommend watching Bonjour Tristesse or Upstairs and Downstairs. Also, for those of an aesthetic mindset, you can see her at her most beautiful here and here.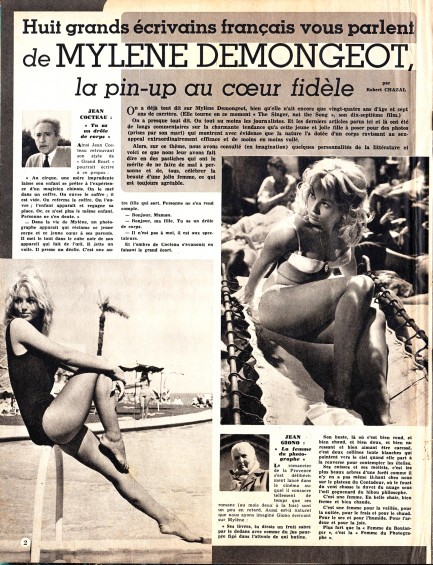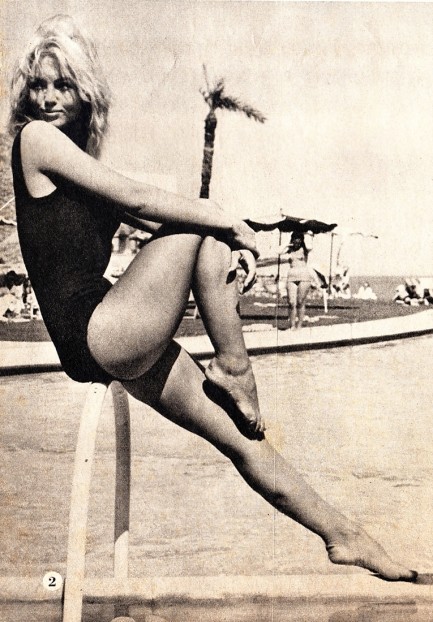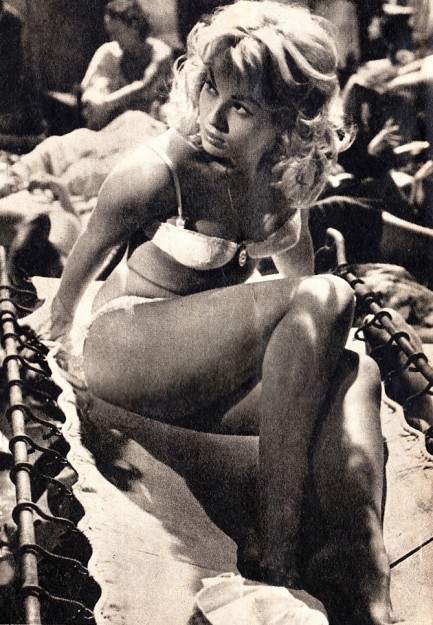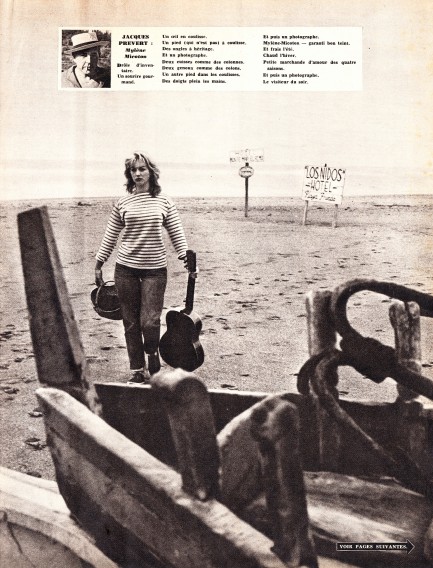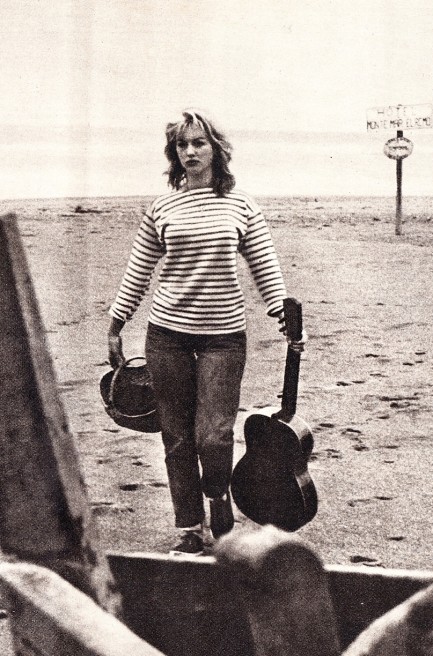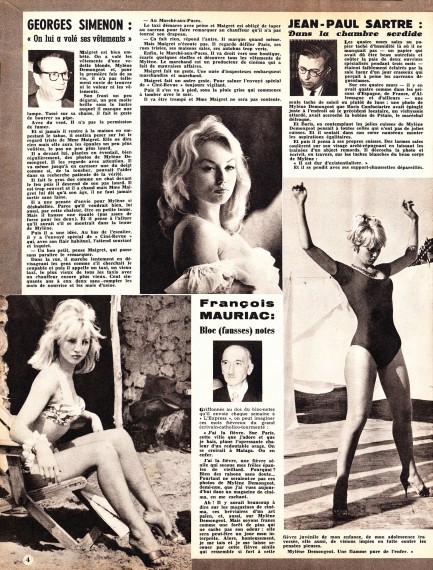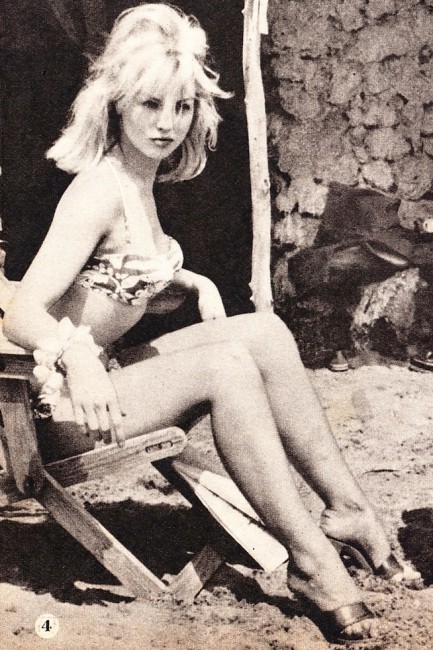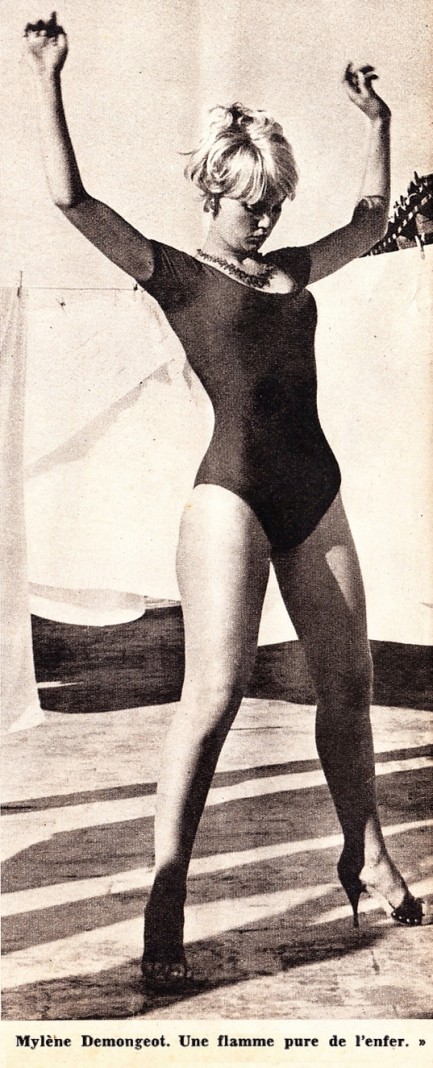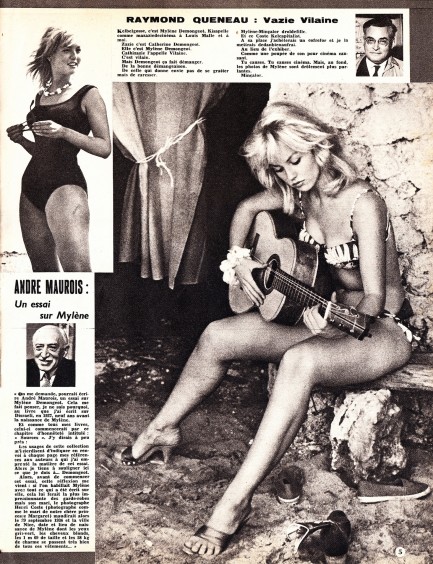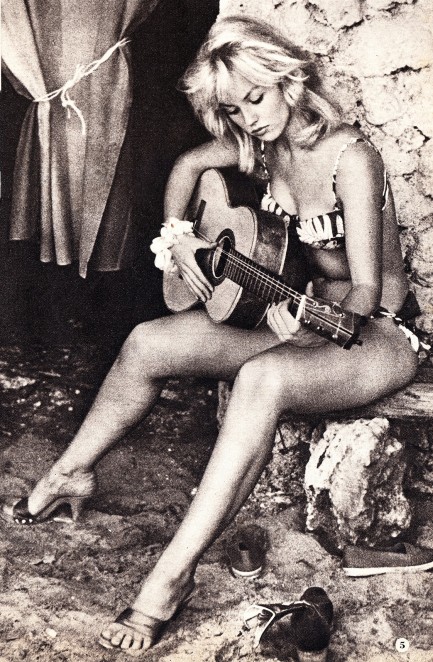 ---
It's not an N95 mask but it's all I've got.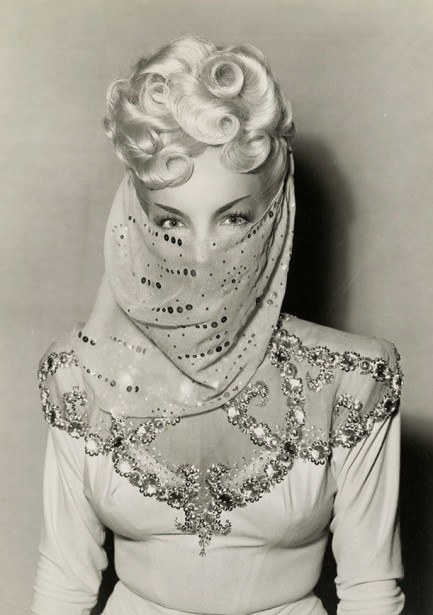 Visual references change. This is obviously a veil, but when we saw it the first thing that came to mind was mask. It's an elegant, somewhat erotic shot, which is no wonder, as veils are generally seen as sexy. Masks, meanwhile, are not, but might that change? There's already mask porn. Doesn't do anything for us, but maybe we're just not cutting edge enough. Anyway, this rare photo was made to promote the 1947 Groucho Marx comedy Copacabana, and the face behind the veil is that of legendary Portuguese-born Brazilian singer Carmen Miranda. We know what you're thinking. This can't be Carmen Miranda. But it is. In the film she's trying to hide her identity, which is why she's made-up so pale and is wearing a blonde wig. Her ruse worked, and not just in Copacabana—websites have misidentified this shot as everyone from Chili Williams to Lili St. Cyr.


---