Revenge is a dish best served on land. Served at sea it might come back up the wrong way.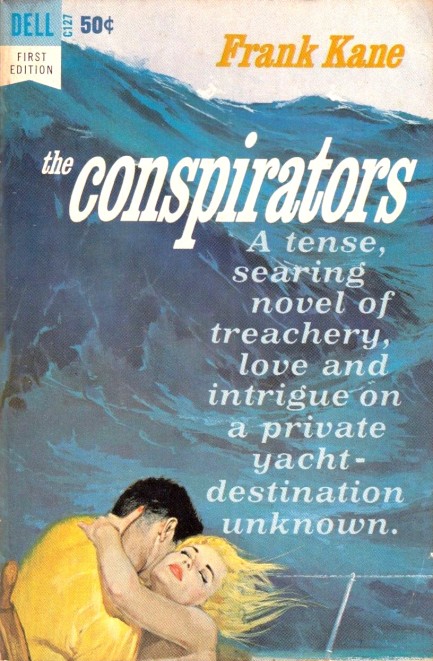 Mort Engle art fronts this Dell edition of Frank Kane's 1962 novel The Conspirators, the improbable tale of a tycoon named Howard Carter who takes an ill-fated yachting trip from New York City to the French Riviera and onward toward Crete and Turkey with his wife, lawyer, and various acquaintances. Carter is not a nice guy, while his guests are mainly sniveling, underhanded, and weak. Why then has he invited them onto his yacht? Good question. He plans to hold them helpless while the machinery of revenge churns. They tried to double-cross him on a land deal, which in reality was an elaborate loyalty test/entrapment he set up in the first place. He can't wait to see their faces when he reveals that they've profited nothing except maybe prison terms for embezzlement, and, stuck on the boat, they can do nothing to help themselves—except possibly beg for mercy.
But Carter hasn't considered that this disloyal crowd might fight back. They might, for example, knock him over the head and toss him overboard. We didn't blame them a bit for deep-sixing him. Carter is one of the meanest characters we've come across in fiction. There's an Ayn Randian shading to his portrayal, and you already know we hate Rand's objectivist horseshit. The land swindle was even over a parcel named Galt, just to make Kane's thinking clear. In any case, sending Carter over the side is not the end of the conspirators' problems, but we won't tell you more of the plot except to say that it's malarky. But Kane can write, so the story comes across mostly okay. We can't say we were enamored of him repeatedly describing one of the characters—a blonde woman—as "the snowtop." That's just bizarre. But all authors have quirks. The Conspirators is an entertaining voyage.


---
In 1929 Max Schmeling was just another hungry young boxer.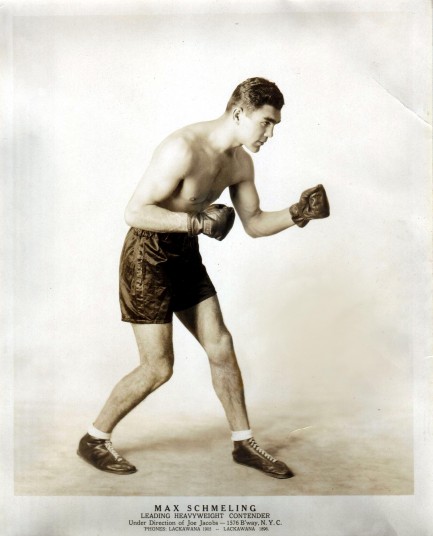 As long as we're on the subject of promo materials (see next post), here's another rare find. It's a publicity still of German boxer Max Schmeling from late 1929, a time when he was being touted as a contender for the world heavyweight boxing title. The photo was shot in New York City, and was used as a press handout for newspapers and magazines writing features on the fast-rising fighter. Schmeling soon won the heavyweight belt, albeit in controversial fashion, and held it until 1932, when he lost to Jack Sharkey, also controversially.
Actually, controversy followed Schmeling his entire career, peaking around the time of his second bout against Joe Louis, in 1938 at Yankee Stadium. The bout was billed "The Fight of the Century" because by then Schmeling had been anointed a hero of the Nazi Party (though reluctantly, biographers tend to agree), which made his first round destruction by Louis a cause for celebration (though it should be pointed out that many Americans, particularly some wealthy and prominent ones, were openly pro-Hitler).
In 1939 the winds of war began to sweep across the world, and Schmeling fought for the German army in Crete. After the war he became an exec at Coca Cola in Germany, and amassed considerable wealth. Time passed,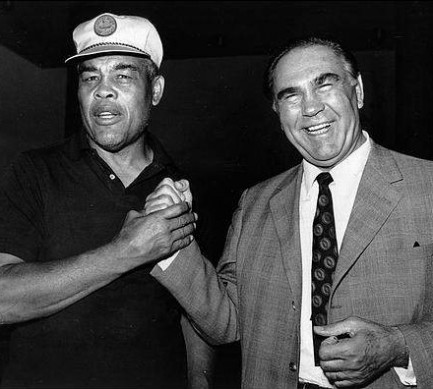 and he and Joe Louis became friends. When Louis died impoverished in 1981 Schmeling paid for a funeral with full military honors.
Max Schmeling lived fourteen more years, finally dying this week in 2005 at the age of ninety-nine. He is yet another of those complex characters from history, which means we may revisit his story sometime down the road. In the meantime, if you're inclined, you can read a bit more about the great Joe Louis here.
---