Cooler heads will not prevail.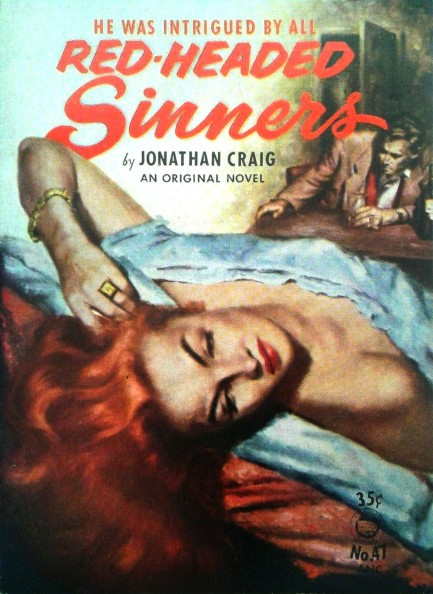 Above: a beautiful cover for Jonathan Craig's Red-Headed Sinners. We discussed the book a while back, but the version we read was from Lancer, published in 1963 with uncredited art. This version, the first published, arrived in 1953 from Croyden Books with art by another uncredited talent. It could be Lou Marchetti, since he was working with Croyden at the time, but there's no way to attribute this definitively. Into the mystery bin it goes.
---
Frankly, I've learned that the best therapy is to make a lot of money. That's why I'm a psychiatrist.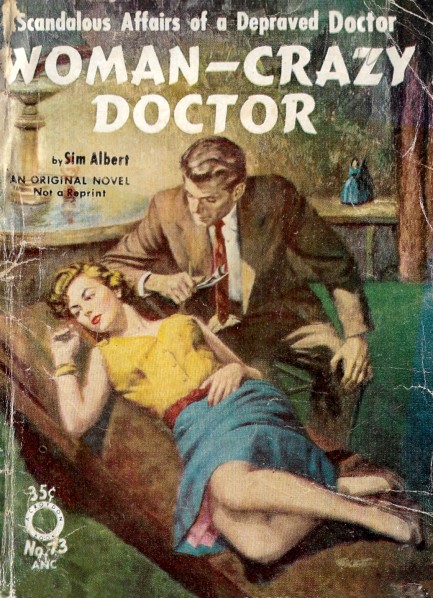 Yes, we've found yet another therapy cover, Sim Albert's 1954 sleazer Woman-Crazy Doctor, for Croyden Books with Lou Marchetti art. These covers are so fun to riff on. We've done it multiple times, and you can see those posts by going to this link, and following the subsequent links in that entry. This is the second book from Albert we've read, after 1953's so-so Confessions of a B-Girl. Here he tells the story of a psychiatrist named Horton Foote who, in his desire to bed his beautiful patient Norma Strothman, hires her as his secretary. Surely that's against the Hippocratic oath. Do psychiatrists take the Hippocratic oath? *checking internet* Yes, they do. But oaths were made to be broken.
Horton has other women he sees—hence "woman-crazy"—but Norma remains his overriding pursuit, and of course it wouldn't be a sleaze novel if he didn't succeed. Actually, the book could be called "Man-Crazy Patient," because it's Norma's suddenly awakened sexual desires that drive the plot. She just can't get enough lovin'. Into this scenario Albert mixes manslaughter, concealment of a corpse, and attempted suicide, making the tale crime novel-adjacent. He even manages to occasionally interject genuinely affecting emotion. In short, we were surprised at his competence. So surprised, in fact, that if we can find another effort from him, he's earned another go-round.


---
French toast, French doors, French kissing, and now French nursing. You people make an art out of everything.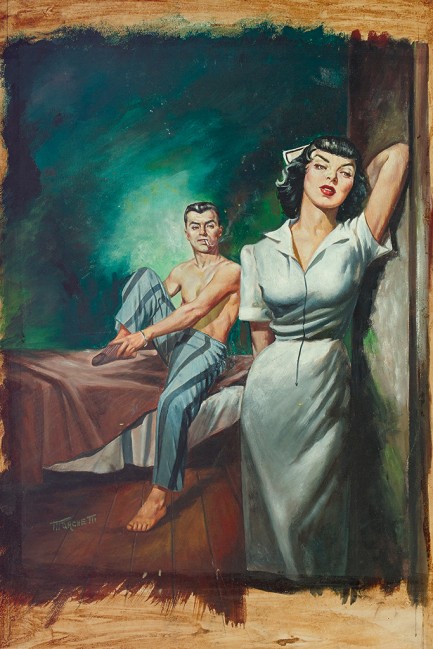 Above: a very nice cover plus textless original art painted by Lou Marchetti for Florence Stonebraker's 1954 sleaze digest Intimate Affairs of a French Nurse. There's a lot of Stonebraker out there on the auction sites (and in Pulp Intl.), but we consider all the ones that interest us to be a little too expensive. Fortunately, she wrote more than eighty novels, which means that, inevitably, something will turn up at a good price.


---