Dan J. Marlowe gives readers an immersive experience.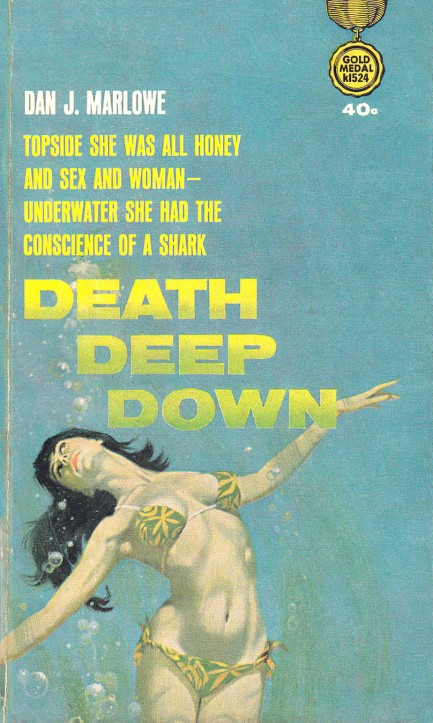 Death Deep Down, a thriller from the typewriter of the prolific Dan J. Marlowe, was published in 1965, which is a significant year compared to the books from the '40s and '50s we typically read. Books from the mid-sixties and later usually have pacing more similar to today's novels, with faster movement and more action-oriented plot beats. That's true here, and combined with good writing skill, the result is that there isn't a single page Marlowe has written that readers would likely be tempted to gloss over at any point. But let's not get ahead of ourselves.
The story revolves around a potential fortune-making modification to scuba equipment (or SCUBA if you prefer), and the various forces—business, government, and non-aligned—that all want the rights to it. When you think scuba you think warm waters, and the cover illustration reinforces that notion, but all the aquatic action is in the freezing waters of Long Island Sound, off Oyster Bay. The protagonist Rocky Conrad, a marine on leave from the Vietnam War, is drawn into the plot when his half brother, who developed the gear, is tortured to death. This is juxtaposed against an inheritance drama within a wealthy family, while lurking in background are mysterious assassins of sadistic bent, who flay skin, break bones, and cut out eyes. Who they're working for is one of several mysteries Rocky needs to unravel. He goes about it the way you'd expect of a guy with his name—fists first.
This was Marlowe's tenth novel, and he knew exactly what he was about. There aren't many flaws, though it's at times jarringly pervy, with female characters getting fully or partly naked according to flimsy authorial pretexts. We love nudity, but within the narrative flow. Rocky's asides get a little digressive. Even so, the female characters play important roles both behind the scenes of the caper, and front and center in the action. One such instance involves a vicious fight. We just mentioned how rarely authors write truly knock-down drag-out battles between two women, and presto—here you go. This fight is amazingly hateful, with face scratching, hair ripping, and the combatants rolling off a deck. At the end both require serious medical attention and are likely to be scarred for life. It's a nice punctuation in a book filled with good action.
Turning to the striking cover, this Gold Medal edition features the instantly recognizable work of Robert McGinnis, and his genius shines through even on what is an understated effort by his standards. As often occurs with mid-century paperbacks, the blurb is misleading. Topside she was all honey and sex and woman—underwater she had the conscience of a shark. That's every woman in the book apart from the main love interest Dulcie, which makes it potentially foolish that Rocky treats them all dismissively. The only thing more dangerous than a femme fatale is, like, three of them. We're going to try another Marlowe. Based on how involved we got in Death Deep Down, more is mandatory.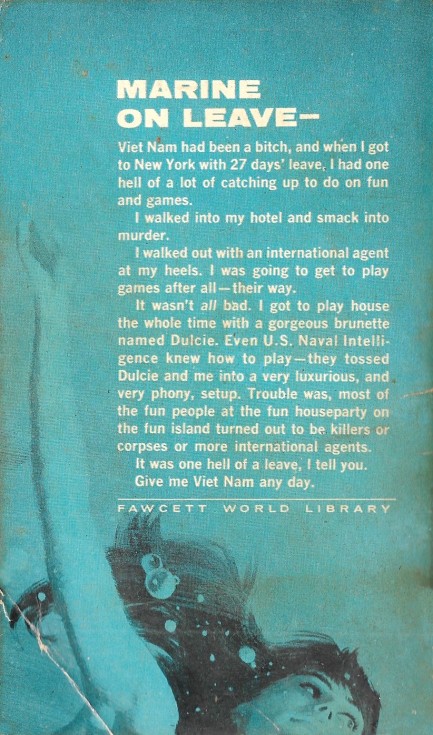 ---