Oh darling, I'm so proud of you. It's tough to get any kind of work right now.
In a down job market you take what you can get, especially if it makes your woman this happy. This cool cover for Brett Halliday's Murder Is My Business was painted by William George Jacobson for Dell Publishing in 1949. Halliday was reprinted a bunch, so there are multiple covers for this book. The one just below is the original hardback from 1945, and after that, in order, are the 1945 paperback by Gerald Gregg, a photorealistic 1958 cover, a 1963 Robert McGinnis cover, and lastly, the recent Hard Case Crime version with Robert McGinnis cover art once again. There are others, as well, but we couldn't track them all down.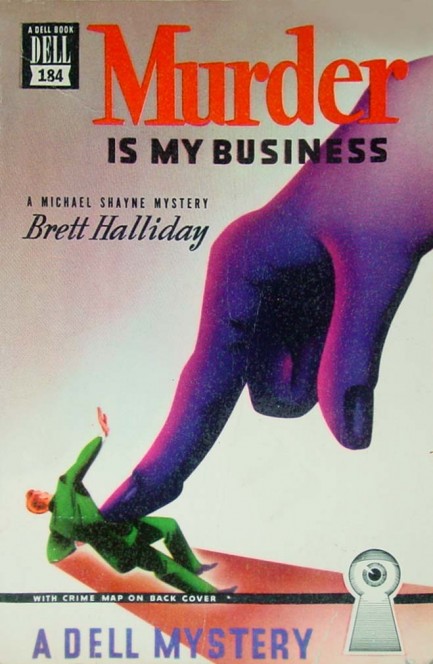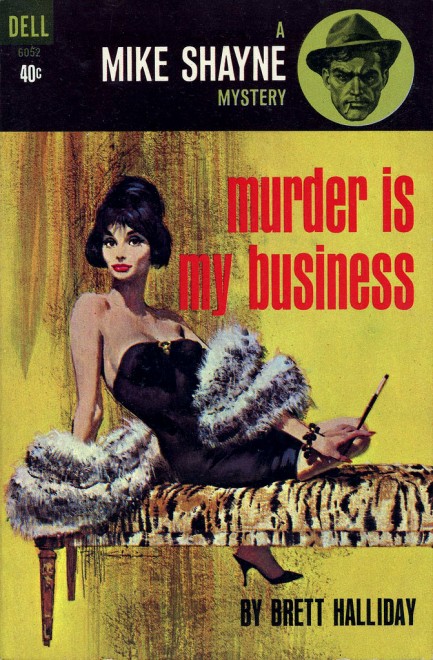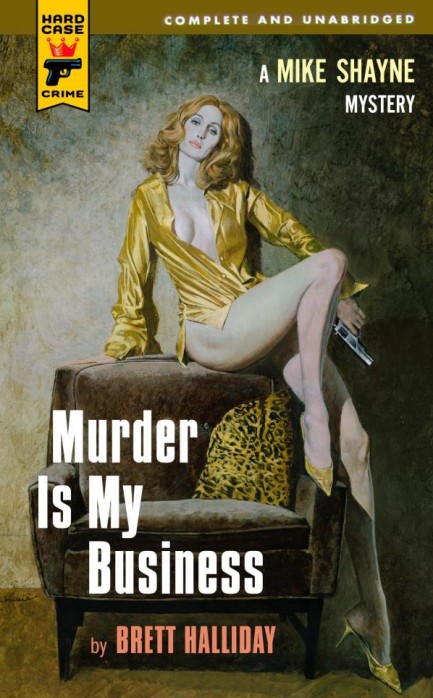 ---
I don't know. Last time I saw her she was sitting over by that patch of mushrooms and now look at her.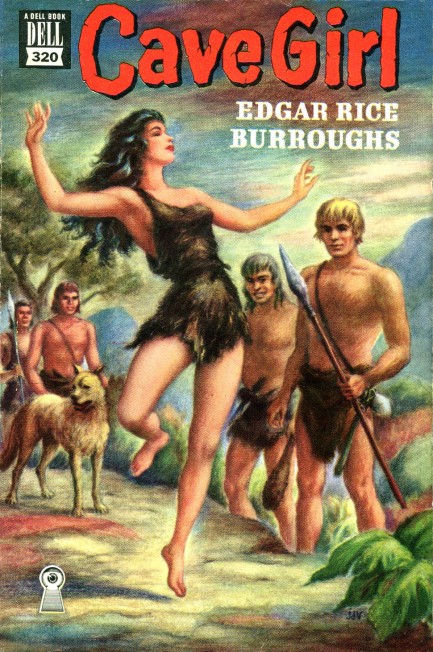 Although there aren't any psychedelic mushrooms in Edgar Rice Burroughs' The Cave Girl, it's still a fun book. Basically, a wheezy, wimpy, uptight city dweller named Waldo is swept overboard during a Pacific sea journey and fetches up on an island of Neolithic savages. He meets a girl and the rest of the book involves him turning into Rambo in order to defend her from the men of her own undeserving (obviously) tribe. Ultimately it turns out she was never a savage, but rather a regular white chick born on the island twenty years earlier to a shipwrecked American woman. The woman died and the girl was raised as an islander. So it's a good thing Waldo washed ashore to keep those primitives from defiling her flesh. Burroughs helped pioneer the entire Lost World genre, so despite its flaws, The Cave Girl is worth a read for that reason alone. It began as two separate stories in 1914, was melded into a novel in 1925, and in 1949 was released in the Dell paperback edition you see above, with the title shortened to simply Cave Girl, and with cover art by Jean des Vignes. Interesting and action-packed, this one should keep you entertained for a couple of days, and it's in the public domain, which means you can download it.
---
Looks like the "do not disturb" sign isn't working.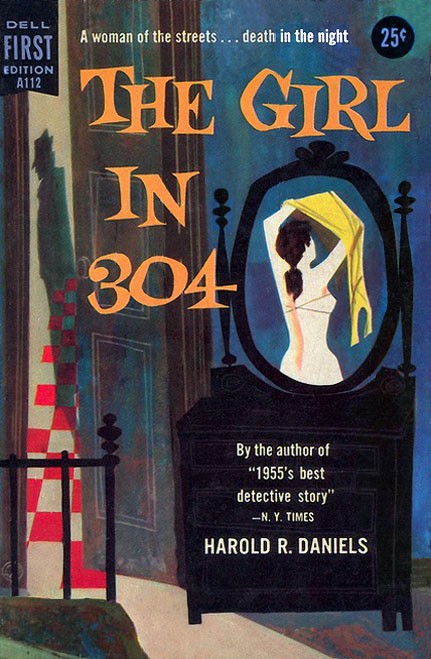 Walter Brooks isn't mentioned as one of the great paperback illustrators, and he probably wasn't, but certainly this cover for Harold R. Daniels' The Girl in 304 is dynamite. From the angled, ominous male shadow, to the stylish font, and the blue color palette with checks of red and a splash of pink flesh and yellow fabric, this one is a winner in all categories. Brooks, who was born in Glasgow, served as president of NYC's Society of Illustrators, wrote books about painting, and designed U.S. postage stamps. And notably, he was the art director at Dell Publishing in 1958 when he was shown the work of Robert McGinnis by agent Don Gelb. Brooks assigned McGinnis his first two covers, thus helping to launch a legendary career. He also gave William Teason, who illustrated more than 150 Agatha Christie covers, his first shot that same year. So even if Brooks was not a great himself, he certainly knew talent when he saw it. This piece dates from 1956.
---