How do you spell murder in Italian? H-i-t-c-h-c-o-c-k.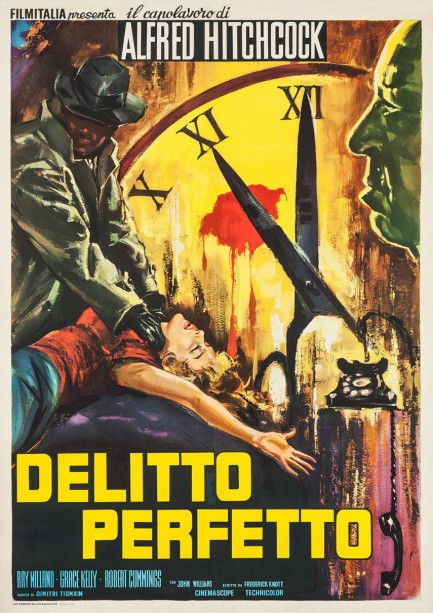 Above is a beautiful Italian poster for Delitto perfetto, better known as Alfred Hitchcock's Dial M for Murder, a movie we watch every five or seven years and always greatly enjoy. This semi-abstract effort isn't the only Italian poster for the film, but it's the best, in our view. We weren't able to find out who painted it, and considering it sold on a swanky auction site without that info, it seems as if nobody knows. Such good work uncredited, it's a shame. However, below you see another poster for the film, and this one is signed by Angelo Cesselon. Since both have a Hitchcock profile, and there's a stylistic similarity in other areas too, especially if you focus on the women's faces and the males' trench coats, we think it's possible Cesselon painted both pieces. The evidence wouldn't hold up in court, but it's good enough for us. Nice work, Angelo. Delitto perfetto premiered in Italy today in 1954.
---
Their issues have gone way past the point of counseling.
Dial M for Murder, which starred Grace Kelly and Ray Milland as spouses whose problems make other bad marriages look like a Sunday picnic, is a very entertaining movie. For its Italian release today in 1954 it was called Delitto perfetto. This violent but brilliant promo poster was painted by the genius illustrator Angelo Cesselon, who we've featured before. And Hitchcock, nothing less than an international phenomenon in his day, gets his profile into the mix. See Cesselon at his best here.


---
Hello, is this the murder helpline? I'd like help killing my cheating ass wife.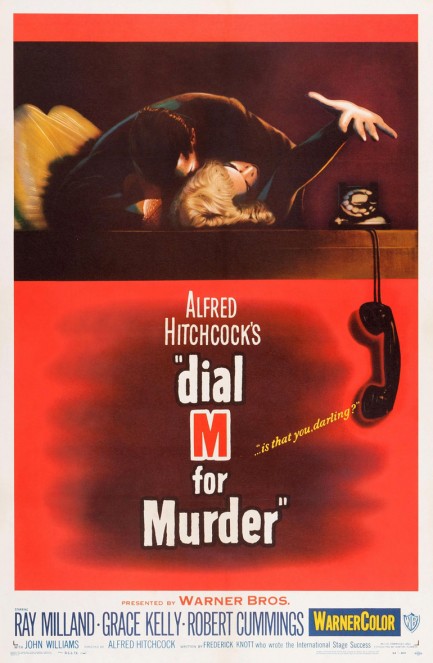 Most people who haven't seen the Alfred Hitchcock thriller
Dial M for Murder
jokingly ask, "How could anyone want to kill Grace Kelly?" Well, because she's cheating with another man. Not that infidelity justifies murder, but it certainly can be expected to provoke
some
sort of serious reaction. Probably Ray Milland, her husband, should have confronted her with the usual questions: "When did it start?" "Do you love him?" "Is his dick bigger than mine?" "Does he make you orgasm and if so how?"
But instead of being reasonable Milland decides his wife needs to be gone from the Earth, so he devises a foolproof murder plot. It goes wrong anyway and that's the fun of the movie—seeing how he cleverly improvises over and over only to have his scheme unravel anyway because of one tiny thing he neglects to consider.
Dial M for Murder
is another winner from Hitchcock, one you should see if you haven't. It went into general release in the U.S. today in 1954.
The famed poster for the movie was painted by Bill Gold, whose credits include everything from
Casablanca
to
Unforgiven
. Gold was active from 1941 to 2011, accumulating numerous awards along the way, and is now retired at age ninety-seven. If you want to learn more about him there's a website that discusses and showcases his seven decades of movie work which you can access at this
link
. It's well worth a visit.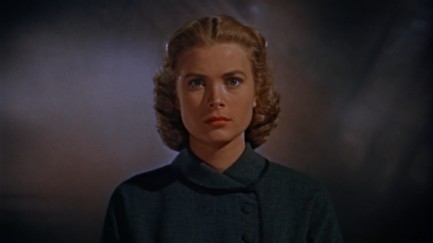 Could he really be trying to kill me?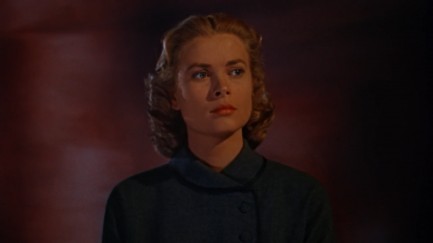 I guess it's possible, considering I cucked and humiliated him.
Maybe I shouldn't have told him I'm multi-orgasmic now.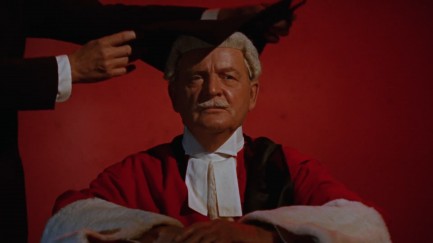 For the crime of murdering the male ego I sentence you to hang by the neck until dead, dead, dead.


What? Seriously? But I've only gotten a third of the way through 101 Sex Positions.


---