Okay God, I've done the hard part of sculpting my perfect woman. Your part is easy. Just bring her to life.
Here's another interesting entry for our collection of books with "wanton" in the title—Wanton Venus by French author Maurice Leblanc, who you may remember invented the character Arsène Lupin, aka the French Sherlock Holmes. The story here doesn't involve Lupin. It's about a man who comes across a breathtaking nude statue and searches out who posed for it. He travels all over France and ends up narrowing his suspects down to four beautiful sisters living in a Mediterranean chateau. This is another one of those novels that was spruced up with new art. The original was published in 1935, and the fact that it was pretty daring for the time made it a natural for a Stateside reprinting. This Novel Library edition from Diversey Publishing appeared in 1948 and the fun cover painting is by the great Ann Cantor. You can see more from her here and here.
---
I've reformed. I still smoke, drink and sleep around, but I don't feel guilty about it anymore.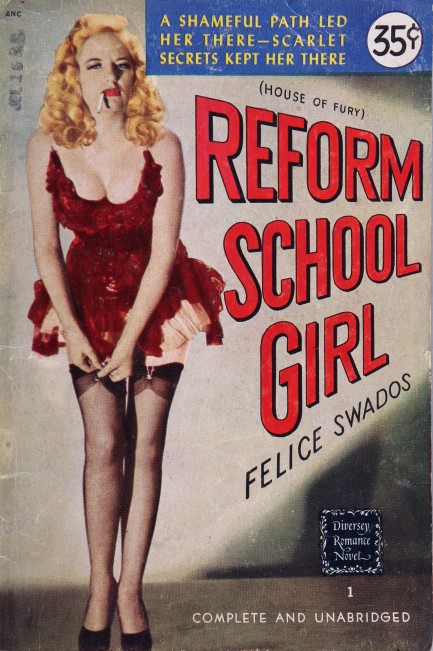 Would you believe someone was asking $900 for this copy of Felice Swados's Reform School Girl? It went unsold, but we've seen it go for around $400, which is an indication how rare it is. The story deals with assorted free spirits on lockdown at a home for wayward girls. It was published by Diversey in 1948, but originally appeared in 1941 as a Doubleday hardback called House of Fury. Diversey had the genius idea to rework the cover art and ended up putting Canadian ice skater Marty Collins on the front, dressed far less demurely than in her competitive routines. Despite the look of the novel, Swados was a serious writer, which is why Reform School Girls focuses its plot on racial oppression and the dangerous decision by two of the cruelly treated black girls to bust out. There's also a nod to lesbianism, though not explicitly. Swados cooked up a classic with this incendiary debut, but her rare skills—which even scored her an editorial gig at Time magazine—were never broadly showcased due to a case of cancer that killed her in 1945 when she was only twenty-nine. Way too early for someone who drew comparisons to William Faulkner and Carson McCullers.
---