'Tis the season for generous giving—of prison time.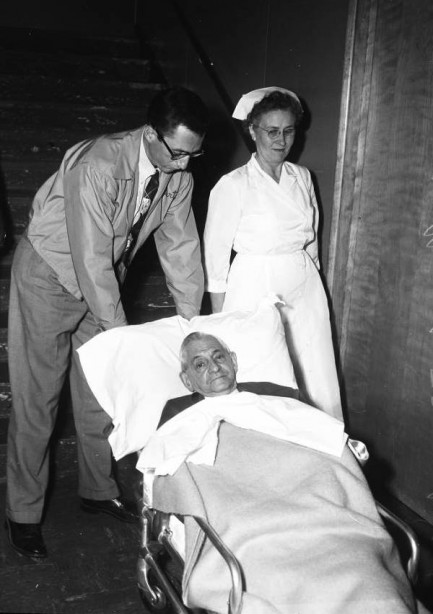 This unusual photo made today in 1953 shows a man named Edward Hallmark, aged seventy-three, being wheeled into a Pasadena courtroom to testify against twenty-four year old Donald Randazzo. Apparently, the previous September Randazzo kidnapped and beat Hallmark in an effort to rob him of his life savings. The shot is part of the large Los Angeles Examiner archive held by the University of Southern California, and which we've mined for interesting historical shots often.
In the photos below you see the defendant Randazzo conferring with his lawyer Edward S. Cooper. Randazzo is being shown a page from an edition of Advance California Reports. Advance reports or advance sheets are legal aids—specifically, pamphlets containing recently decided opinions of federal courts or state courts of a particular region. So basically Cooper is informing Randazzo of something relevant to their court appearance.
And we know exactly what that relevant something is—a standard in California case law stating that when the chief prosecution witness is trundled into court on a stretcher the defendant is seriously screwed. We have a feeling a wheelchair would have worked fine for Hallmark, but when you're facing your kidnapper you play your best card. The bedridden victim card beats everything king and below. Cooper is doubtless saying to his client, "As you can see here in Advance California Reports, Donald, legally you're fucked."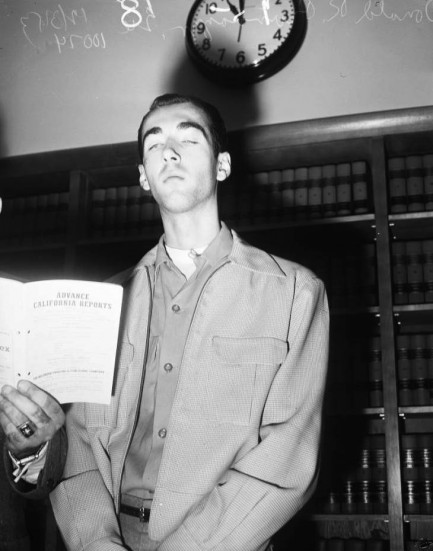 ---