Burlesque sensation Blaze Starr takes the obvious next step in nudity related activities.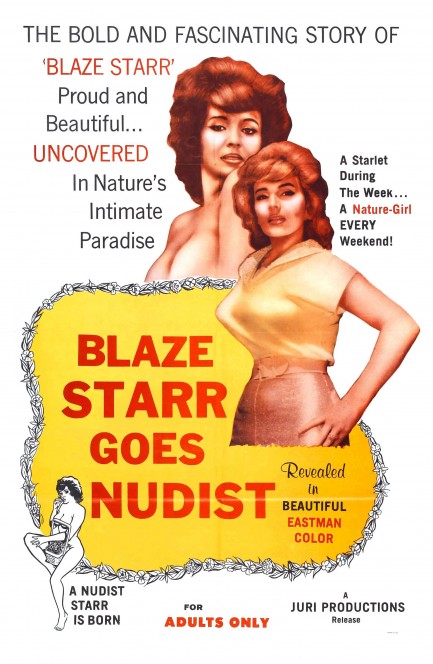 Blaze Starr was one of the most famous burlesque dancers of the mid-century era thanks to both her on- and off-stage activities. She began headlining in clubs during the early 1950s, soon earned the sobriquet "The Hottest Blaze in Burlesque," and later became not just famous, but infamous, due to having embarked on a tempestuous affair with Louisiana's impulsive governor Earl Long, who she was still seeing when he died of a heart attack in 1960. Above is a promo poster for Blaze Starr Goes Nudist, which premiered today in 1962, well after Starr had become a household name.
In the film, Blaze, who plays a mainstream actress rather than a stripper, decides she needs a break from her demanding career and busy public life. She decides to spend weekends at the Sunny Palms Lodge in Homestead, Florida in order to enjoy a little nude rest and recreation under the phony name Belle Fleming. Her sinister looking agent/fiancée is apoplectic about this, but he'd be really annoyed if he knew Starr and the camp administrator were making googly eyes at each other. Aside from flirting, Starr indulges in the usual nudist colony activities—sunbathing, archery, dozing in a hammock, tiptoeing around the communal pool, taking romantic walks in the mosquito infested woods, and listening to some schlub play an accordion.
Forget anything resembling acting ability here—everyone is atrocious, and Starr is worst of all. The blame may not be entirely hers, though. The movie was obviously made fast and cheap, and it was directed by Doris Wishman, who helmed such epics as Nude on the Moon and Bad Girls Go to Hell, and is considered by some to be one of the worst practitioners of her craft ever. But we all know the movie is simply meant to be eye candy. On that score it works. Considering the unflattering range of bodies possessed by normal humans, it's clear that most of the female nudists involved in this production are models, and probably some of the males too. Starr looks pretty good herself, even with her wonky boobs and ridiculous helmet of flaming red hair.
The movie is meant not only to display Starr, but to espouse and promote the nudist lifestyle—and really, considering that there's a little plug for Sunny Palms at the outset, it could actually be considered a long form advertisement for the colony. We bet the membership—so to speak—really expanded—so to speak. We can't say Blaze Starr Goes Nudist is a good movie, but it's totally harmless and infectiously fun. There can never be too much of those things in the world. You can see more of Starr at the bottom of this post, and you can see a fascinating piece of Starr memorabilia here (sent to us by a reader way back before our Reader Pulp uploader bit the dust).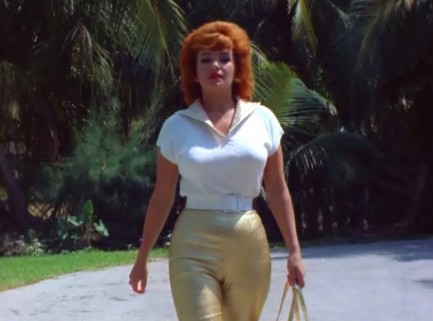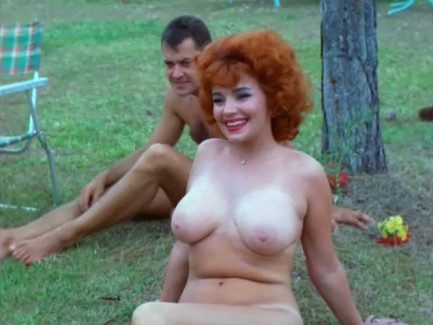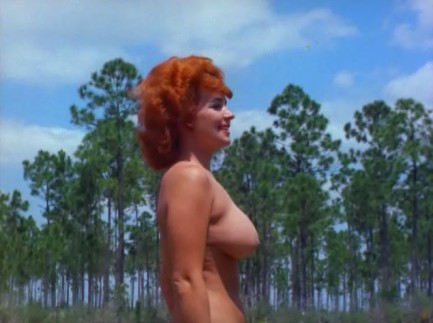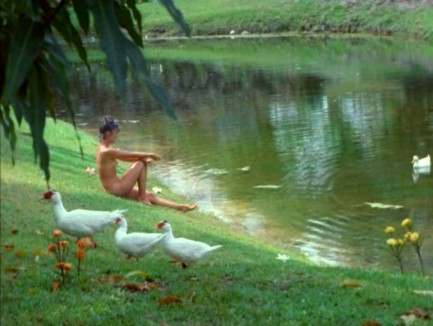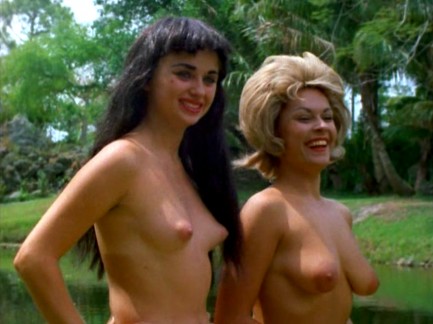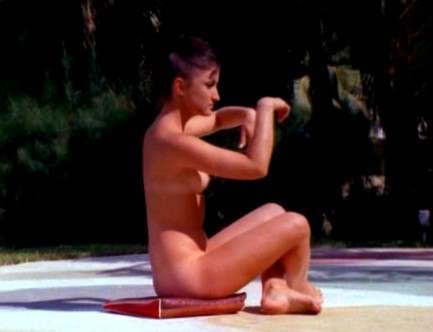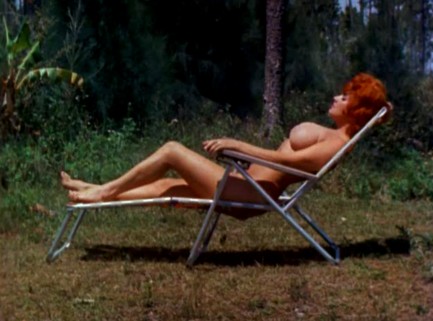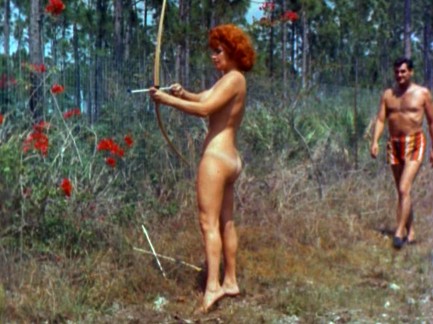 ---