So here's the thing I prefer about indoor cats. You never have to do this.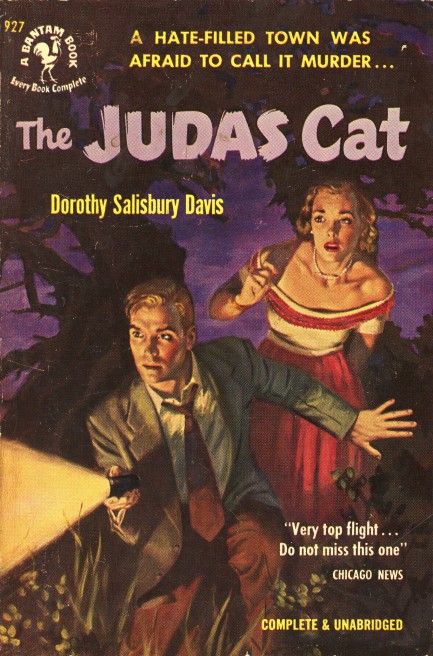 The Judas Cat by Dorothy Salisbury Davis is an unusual mystery about a ninety-two-year old toymaker and engineer found dead in a locked room with a terrified expression and scratches on his face. A few reviews of the book say the main suspect is the man's cat. Not really. Davis makes clear from the beginning that some malefactor may have used the cat in a mysterious way to facilitate the murder. The police chief Fred Waterman, who was so intimidated by the cat's aggressive behavior that he shot it just before discovering its owner's body, has it sent for a post-mortem to determine whether it was sick, had been posioned, or perhaps had poison on its claws. Local newsman Alex Whiting is the one who first notices something unusual about the animal's body. Thus begins the novel-length team-up between chief and reporter as they try to unlock the puzzle. While the method of murder continues to baffle them, the motives slowly coalesce around valuable patents, a will with a recent codicil, and hidden connections between various townspeople.
In general we liked the book. The characterizations are pretty sharp and the portrayal of life in a town where everyone knows everyone else's business is both fascinating and frustrating, as Davis intends. The story may not contain enough menace or action for some readers, but it's a pretty good example of a rural mystery, a decent examination of the effects of murder on a supposedly wholesome community, an interesting look at the quaint courtship rituals of the immediate post-war period (where a woman must simply wait to be noticed and courted), and a reminder of how political power was wielded in a time when those in control had fewer fears of exposure. We would read Davis again without hesitation, especially considering The Judas Cat was only her first novel. She probably got better with experience. We'll find out. We have another of her books. The nice purple cover on this 1951 edition from Bantam was not credited, and as we always say, that's a crime in itself.
---
To a hammerer every problem looks like a nail.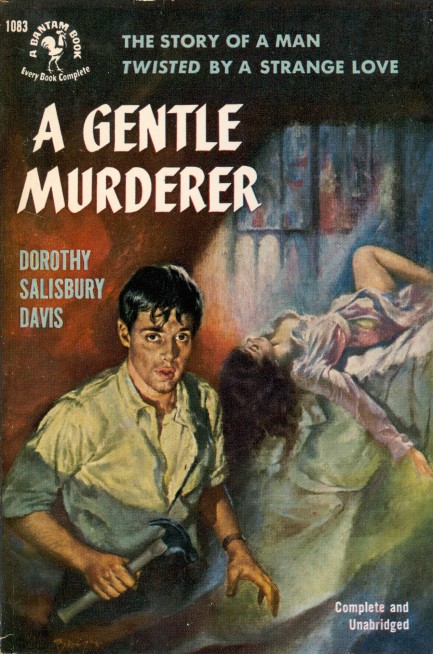 In Dorothy Salisbury Davis's A Gentle Murderer a man visits a confessional and reveals murdering someone with a hammer and flees into the night before the priest knows what to do. The dismayed padre decides to search for the mysterious man who burdened him with this terrible knowledge, thus taking on the role of detective in the story, though the police are on hand to conduct a parallel investigation. Naturally, another murder will soon occur if the killer isn't caught.
The plot is similar to that of Alfred Hitchcock's 1953 film I Confess, but appeared in hardback two years earlier. However, the Hitchcock movie was actually based on Paul Anthelme Bourde's 1902 play Nos deux consciences, so perhaps Davis was also inspired by the play. Whatever the genesis, the result was a highly regarded mystery, considered by some to be among the best of the era. The cover art on this Bantam paperback edition is by Charles Binger, and dates from 1953.
---