I have something very serious to ask you. I'm ready. And our relationship is ready. Darling... will you lend me your car?
Above: Robert McGinnis cover art for Eugene Mirabelli's 1959 novel The Burning Air, with this Eagle Books edition coming in 1960. It's basically a drama about a young couple with some tricky relationship issues to work out. Like how he's going to get home when she leaves him there.


---
But it's just a bunch of white splatters. Is this all you managed to paint the two weeks I posed nude for you?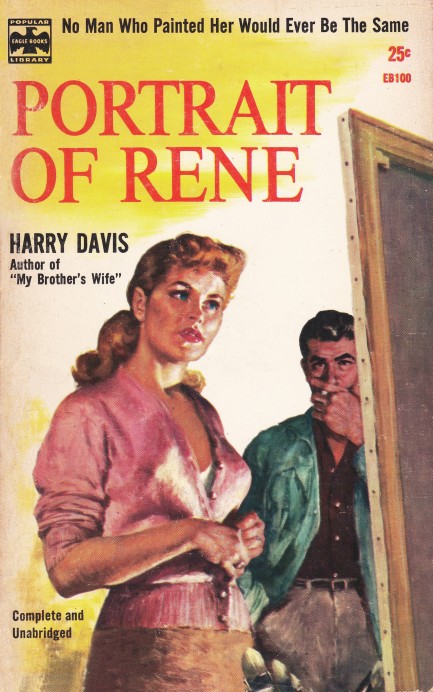 Our subhead is crude, but where else do you go with a cover like this? Cue the Pulp Intl. girlfriends: "White splatters? Not that far." Maybe not, but hell, making up this stuff isn't easy. Speaking of which, Harry Davis's 1957 novel Portrait of Rene is about an artist named Lex Chaney who's not having an easy time. But his luck appears to change when he sells a portrait—the titular portrait of Rene—and the rich buyer, whose name is Ilse, hires him to administer art therapy to her invalid brother Paul. She lets Lex move into a property she owns where other friends and acquaintances of hers hang about as well. Lex finds himself in an environment of permissive behavior, and also of foreboding secrets having to do with inheritance, family history, and murder. Add in a layer infatuation and marital jealousy and you have yourself a recipe for trouble. We gravitated toward this particular book because we put together a collection of models and artists a while back and this fit right in. At least, we thought so, but the woman on the cover isn't a model—nude or otherwise—but the buyer Ilse. Close enough for us, though. See that collection here.


---