What she thinks is written all over her face.
Above is an uncredited 1951 cover for The Agony Column by Earl Derr Biggers, a book we read a couple of years ago solely because of its strange title. It was originally published in 1916, turned out to be a sort of romance rather than the thriller we expected, and taught us that big city newspaper sections where people wrote anonymously to other readers were called "agony columns." Example: "Dear Pulp Intl. girlfriends. Don't you know I'd treat you better than those two glib losers? I'm funnier than those guys too. Anonymous admirer." To which we'd reply, for example, you'd better stay anonymous, or we'll teach what agony really is. You can read what we wrote about the book here.


---
Biggers isn't always better but he tried.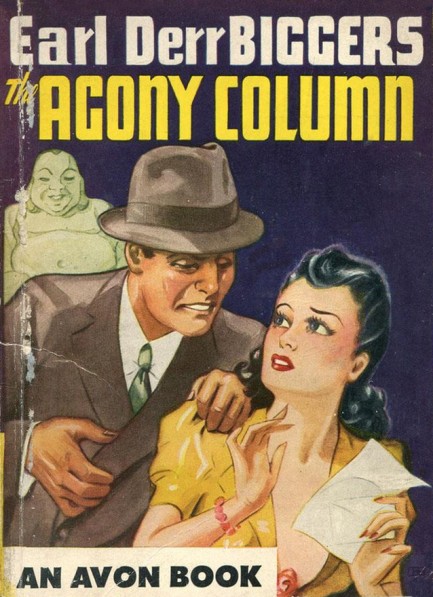 What's an agony column? Basically it's a newspaper feature in which readers writes messages to other readers. For example: "Regular at Main Street Cafe who takes her coffee every weekday morning just before 9:00. Would you be amenable to meeting a certain gentleman who has admired you from afar?" You get the idea. The "agony" in the terminology derives from the fact that people who write in generally are suffering from some sort of heartache or other.
The Agony Column is basically an epistolary mystery, in which a man writes letters to the crush he contacted through a London newspaper's agony column, and details his involvement in a puzzling murder case. It's a very esoteric set-up for a novel, and besides mystery there's a dose of cute romance. Nearly the entire book takes the form of the main character's letters, though some sections are conventionally written.
The nature of the novel requires more suspension of disbelief than usual, simply because nobody really writes letters with detailed, multi-character dialogue, but once you get over that hurdle it works pretty well. There are other hurdles. About London's Chinatown the main character writes, "Not only the heathen Chinee so peculiar shuffle through its dim-lit alleys, but the scum of the earth of many colors and of many climes. The Arab and the Hindu, the Malayan and the Jap, black men from the Congo and fair men from Scandinavia."
Ouch. That brought the cuteness to a screeching halt. But readers should note that Biggers evolved, and would later create the Chinese American detective Charlie Chan partly as a counter to racist portrayals of Asians. The books were popular, but as the decades progressed people soured on them because Chan too is a racial stereotype. It's difficult for authors to write characters—especially outside their own ethnic group—that stand up over time as social mores change. But they keep trying, and should, in our opinion. What would fiction be like if they didn't?

The Agony Column has plenty of positives. Being set on the eve of World War I in a London gripped by tension over the looming global hostilities lends it atmosphere, and the mystery itself contains a few surprises we doubt most readers will foresee. It's also a short tale, which keeps the epistolary gimmick from wearing thin. We think it's worth a read. The Agony Column originally appeared in 1916, with this Avon edition, illegibly signed by the cover artist and unattributed inside, coming in 1943.


---